3rd Owner, Rio Yellow - 25k miles !
01-13-2018, 06:26 PM
3rd Owner, Rio Yellow - 25k miles !
---
Hey all, thanks for viewing this thread
A quick background,
I've always wanted an s2000. I started searching the forums, and must have gotten lucky as the previous owner just listed this car for sale. I immediately contacted him and left a deposit.
Fast forward a week, my brother and I drove 12 hours each way from NJ to IN (through snow on the way there) to pick up this gem.
I am am in absolute love with everything about this car.
My goal is to get her boosted, and then get her ready for some light tracking.
Thanks and enjoy below!
Right after the title signing. The 11 hour trip back was a lot more fun for obvious reasons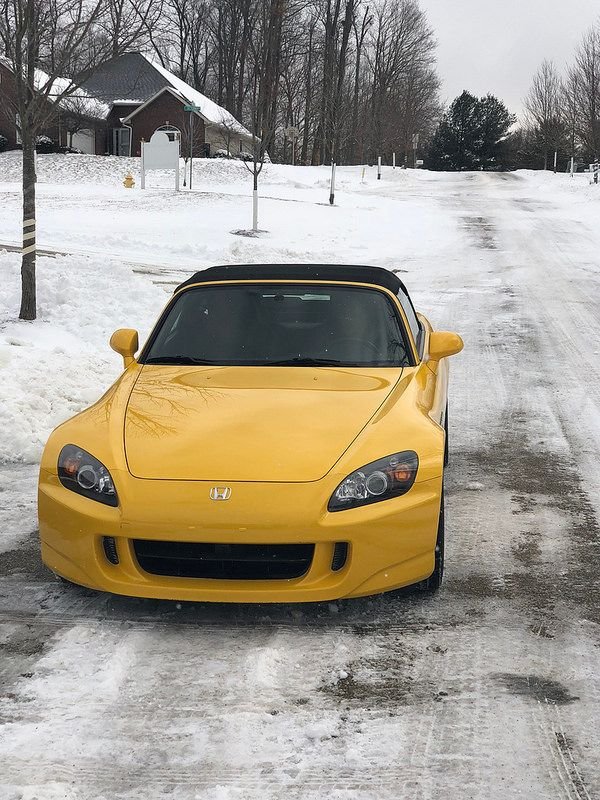 Parts start to arrive ! I wanted to add something so I could listen to my phone, and decided to add a few other pieces.
More parts begin to arrive. AEM EMS, wideband, and boost gauge.
Slotted rotors and project mu pads.
Competition stage 2 clutch (going to keep my flywheel stock)
My Te37 SAGAs in DGM arrive !
Mounted on Ventus Evo V12s
Kw V3s
Coilovers installation
Rotors and Pads installed (getting the rotor screws off were, for the life of me, one of the most annoying processes i've ever done).
Engine Bay
Bonus pic of my DD and S2000
Did some research and because i'm planning on going turbo, I decided to go with the berk 3" headerback exhaust.
Heavy stock exhaust out!
Picture of exhaust before mounting
and exhaust mounted !
Right before I mounted the TE37s
Wheels mounted.
Quick story. I took the s2000 to get my wifes registration from the subaru dealer, and I come out to three salesmen attempting to get me to trade the car in. One wanted to purchase the car from me, but I told them she wasn't for sale.
Starting to get ideas on if I want to wrap her or not. My favorite color is blue, but the yellow is pretty sweet, so I'm torn.
Oem front lip installed ! I love the black weatherstrip. Makes it look pretty clean imo.
This is how she currently looks.
Updated 4/19/2018
So, a lot has happened since my last post. Heres a quick picture of my daily and the s2000 before the turbo install
Since then, I've installed the competition clutch. I figured since I removed the oil pan to tap it for my turbo, I would just change the clutch since I was in the area. From there, I'll post pictures from start to finish.
GTX 3576 Gen 2!
Removing some necessary parts !
Had to remove the strut bar
Everything ready to install!
Test fitting some pieces
There was no way the IC piping would fit over the stock fan shrouds, so I had to purchase aftermarket ones,
Had to bend the bracket for the fmic to fit and even then, it wasn't a complete fit
Slowly looking better..
Some temporary lines
Random picture of my son
I was actually more nervous with the electrical/wiring of the gauges/aem ems than the actual install, but made it through
I was sent the wrong size injectors, so that is all that is left before I can start her up. Fuel pump was replaced with FBM 340. How she currently sits!
05/14/18 Update
So after installing the injectors and the EMS, I was having a difficult time getting her to start. With the help of various members on this forum, we narrowed it down to fuel or timing issue. I really did not feel like getting to the fuel pump again; plus I had wires everywhere from the gauges/EMS. I then decided to get her towed to the local shop in my area (labworx) and have them complete the installation for me.
Here is a photo of her before getting on the flatbed
In the shop
Her on the dyno for the first time, I have actual videos of the pull on my instagram (instagram.com/walis2k).
How she sits as of today at the shop getting a few more things tweaked
There was contact with the fuse box, so we did a battery relocation to the trunk. This is how she currently looks. Next up will be a catch can, and then probably a bbk.
---
Last edited by Bajabajabs; 05-14-2018 at

04:54 AM

.
01-14-2018, 08:11 AM
---
Nice.
I picked up MY04 rio, in 2012 with only 7000 miles on it, mint condition of course.

Enjoy the car - I did year around for a couple of years in Chicago. Now it sits as my fun toy car on weekends when it's nice out (if I'm not on the bike).