Dreaming_S2k's Painfully Slow Build Thread - Supercharger Tuned 7/22
03-04-2014, 08:12 PM
Join Date: Oct 2009
Location: Charlotte Area, in NC
Posts: 3,175
Dreaming_S2k's Painfully Slow Build Thread - New Parts Incoming - 4/10/17
---
Hello there everyone!
I figured it was time to post up a build thread even though there isn't much done just yet. I've owned the car for about 4.5 years now, and while pretty much everything that's been done to the car is fairly subtle, I feel it's been enough up to this point to warrant documenting some of the changes. And away we go...
There were a few months spent finding this particular car. I knew I wanted as new and as low miles as I could afford, it had to be white (no exceptions) and it had to have at least red/black 2-tone interior, if not full red interior if I went AP1. I eventually found the one I was looking for around 1,000 miles away from me in Texas. I made proper plans and went to pick her up. This is unfortunately the only 1-2 shots I have from that trip:
The guy that I bought it from was very nice. He ended up basically throwing in a brand new set of KWv3 for free because he "didn't feel like uninstalling them to part them out" and still sent me home with the stock suspension. I also left with 3 quarts of brand new Honda MTF and a brand new TCT that he had bought in case the original one went bad at some point. The car even had all the CR interior bits upgraded (I hadn't realized that when I agreed to buy it). He sent the original black pieces with me as well.
It didn't take long for me to start getting into it...17x8/9 RPF1's were first: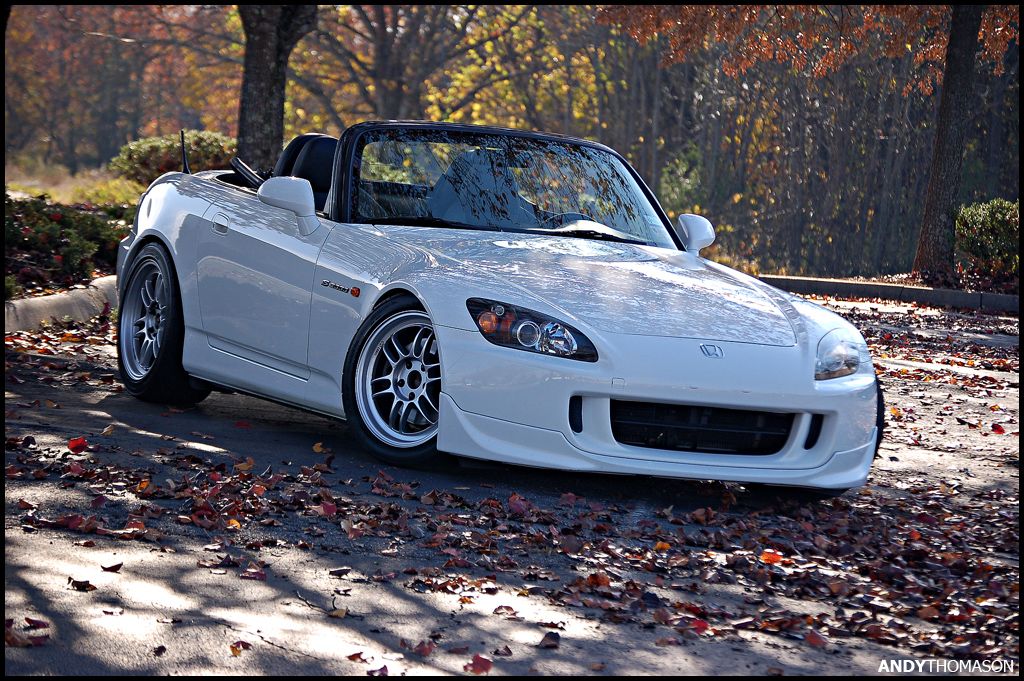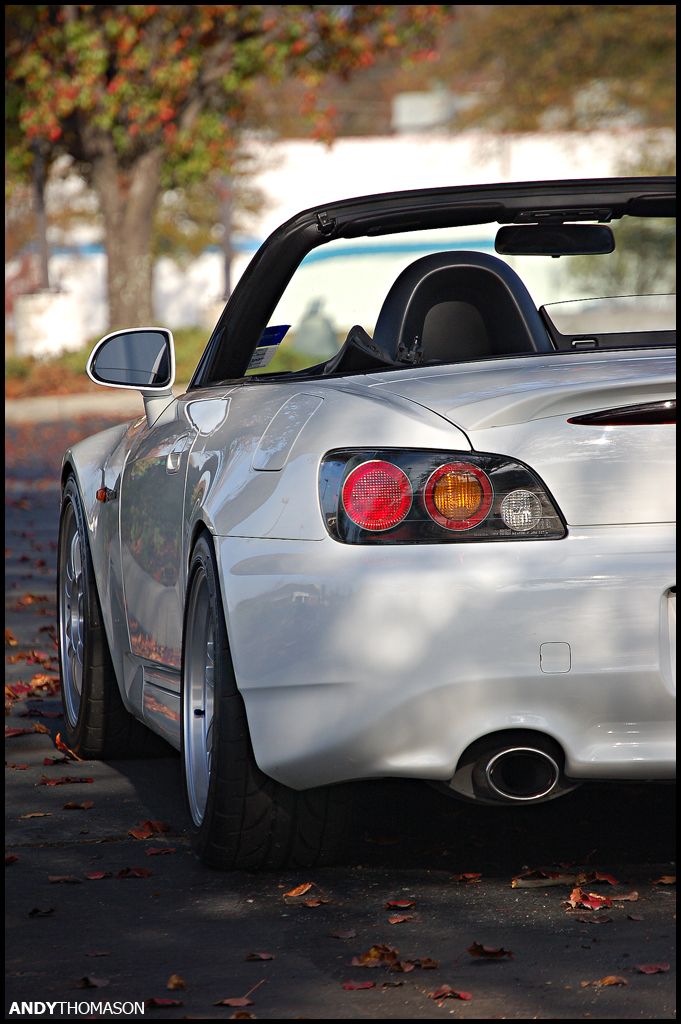 Part of me still wishes I'd have kept it as it was right there. As many of you well know, couldn't leave good enough alone... I ended up buying a pair of 17x9.5 +38 RPF1s for my rears, and put the 9 +45 in the front. I actually don't have many pictures of this setup. I learned a LOT about what works and what generally doesn't as I worked through getting that setup to "work." I ended up cheesing one of my front fenders pretty bad, so there was only one thing left to do:
Had a good friend (DrJekyll) get out the hammer and dolly, and start beating them up. The above picture is the end result after stopping by the body shop. I also had the front bumper shaved and a clear bra installed while it was in. As you can see, the fronts ended up a tad weak / too safe for my taste. It's always been my goal to push the limits of function, giving me both form and drive-ability simultaneously. Somewhere in there I installed the Coastal Metals front lip protector, I don't really remember exactly when.
Here is another picture:
Eventually I ordered another pair of the 17x9.5 +38, and went 245s in front, and kept the 255's in back:
Once again, should have just left the car alone. Every car I've ever had has been very clean/close to OEM with a few minor modifications. This was never by choice, but rather because I ended up too broke to do anything else. With this car, I wanted more. I started with a Greddy SE dual.
The next set of changes were the biggest yet, and it felt good because they kinda all happened at the same time. I knew I wanted a rear diffuser, but I didn't really like any of them with the AP2 rear except the Voltex...and I wasn't going to be able to afford all that. I ended trading a guy my exhaust for his HKS 75mm single (plus cash on his end), bought an AP1 rear bumper, a Forbidden J's style diffuser, 255's for the front wheels, and a Downforce front lip. I got it all buttoned up in time for the IA Spring Meet last year...only to be forced to park in the grass
It ended up like this:
And some of my favorite shots when it was like that:
Since then, I hit a tractor-trailer tire on the interstate and practically shattered the Downforce lip everywhere. I've decided not to get another for now, as I think I'm going to try and grab an ASM front bumper with the carbon lip. The car is
finally
not my DD, so it's able to sit in the garage and not get messed up from commuting. The car is still as it appears here, sans carbon lip.
255's in front:
So you can see the diffuser better:
I mostly wanted to make this thread to document past progress for myself as well as show the small improvements that I'll make as I go. I still want to do some more, namely FI, but who knows when that will happen. The build will continue as slowly as it's been thus far. Thanks for checking it out!
---
Last edited by Dreaming_S2k; 04-10-2017 at

06:14 AM

.
03-05-2014, 11:10 AM
Join Date: Oct 2009
Location: Charlotte Area, in NC
Posts: 3,175
---
be sure to post pictures when you get those wider wheels up front
Don't be scared of the fender work!
03-05-2014, 12:18 PM
Join Date: Dec 2012
Location: RVA
Posts: 163
Thanks: 0
Thanked 0 Times in 0 Posts
---
Do you rub at all on hard tunes being that low in the front with 255s? We have a similar height/setup but I am on 245s. Im hoping I can track/autocross on 255s without rubbing
03-05-2014, 01:08 PM
Join Date: Oct 2009
Location: Charlotte Area, in NC
Posts: 3,175
---
Posting Rules
You may not post new threads
You may not post replies
You may not post attachments
You may not edit your posts
---
HTML code is Off
---