EuroBoutique's latest s2000 build project will showcase our CF / Stereo products
04-13-2016, 09:53 AM
Sponsor
EuroBoutique's latest s2000 build project will showcase our CF / Stereo products
---
Recently our team has acquired another relatively stock pair of s2000's and we will be doing side-by-side builds. Our past cars have taught us many tricks on what to improve on the s2000.
We are going to tackle 5 major areas of the car in stages so check back frequently!
- Interior
- Exterior
- Audio
- Cosmetics
- Performance
Questions PM us or visit our website:

www.euroboutique.us

Instagram @EuroBoutique
here's a shot of the car as she sits now: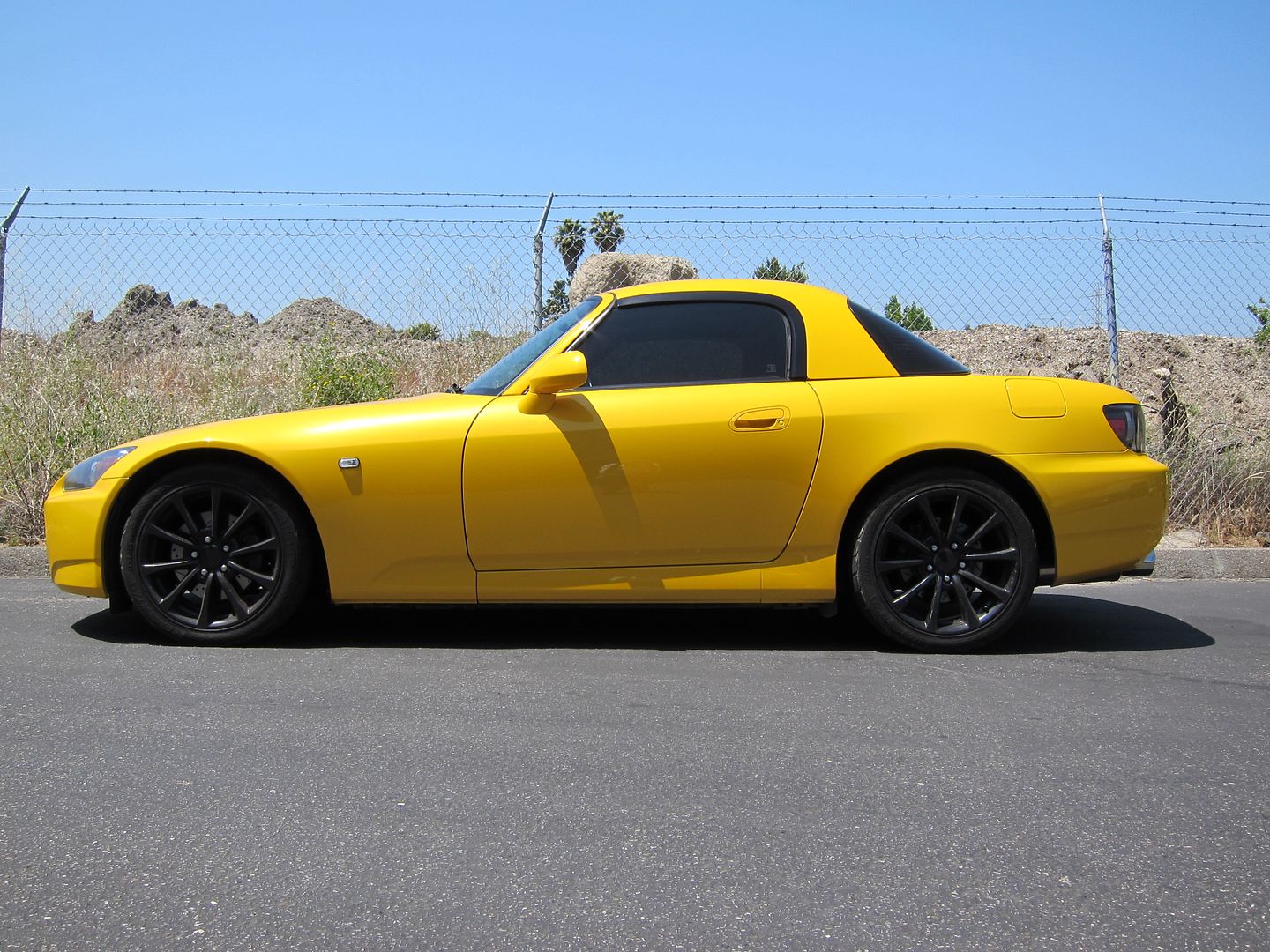 First step for us is the interior since we spend about so much of our time INSIDE the car right? What we see, touch, feel is top priority since we interact with the steering wheel, seats, shift knob, etc every time we drive. We see many show cars that lack these items and wonder why because this is where the driver spends their time. Sure wheels and a supercharger might be important but not before the interior is done first so this is where we will start.
The CF custom steering wheel to replaces the stock wheel and is a great centerpiece. We want to retain the OEM airbag and cruise control, however with most of our drivers being over 6'2" tall, the nice flat bottom / flat top wheel gives some welcome additional leg room.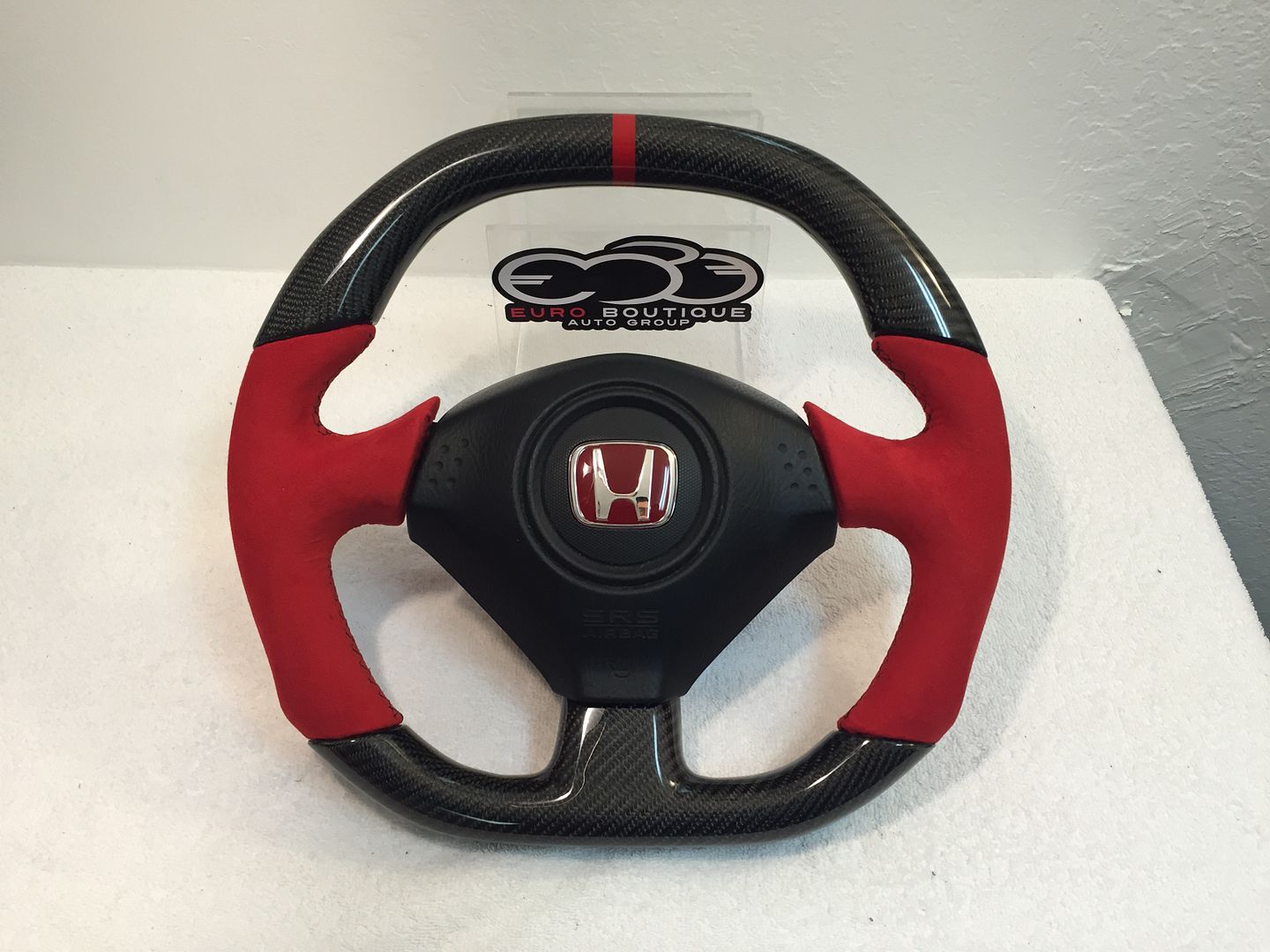 A nice shift knob and basic deck is installed for now but we have plans to replace this with a custom iPad mini tablet in the near future without cutting the dash:
We have some of our carbon fiber interior trim pieces that will accent the steering wheel nicely. Each piece is hand crafted to fit like OEM part: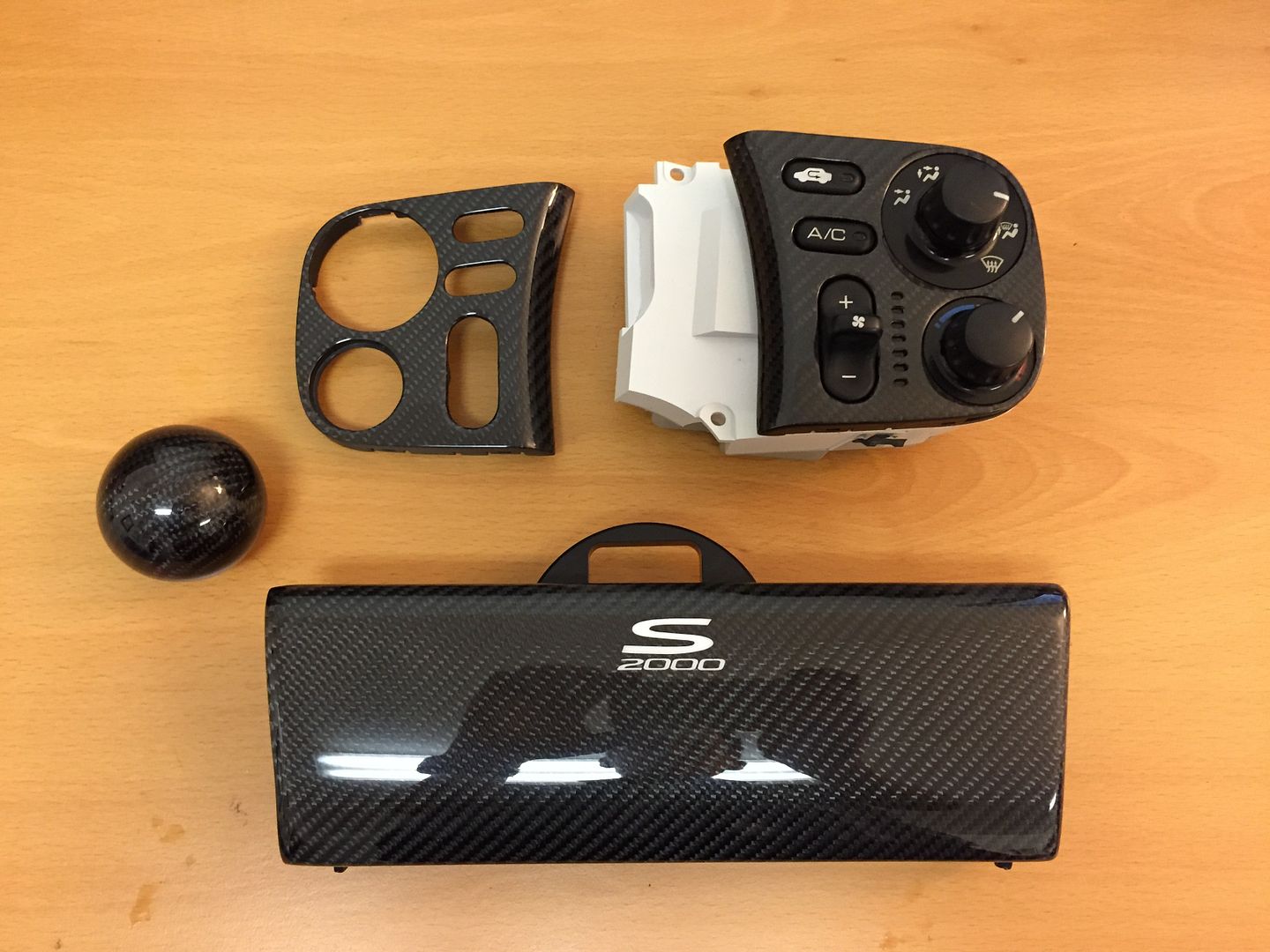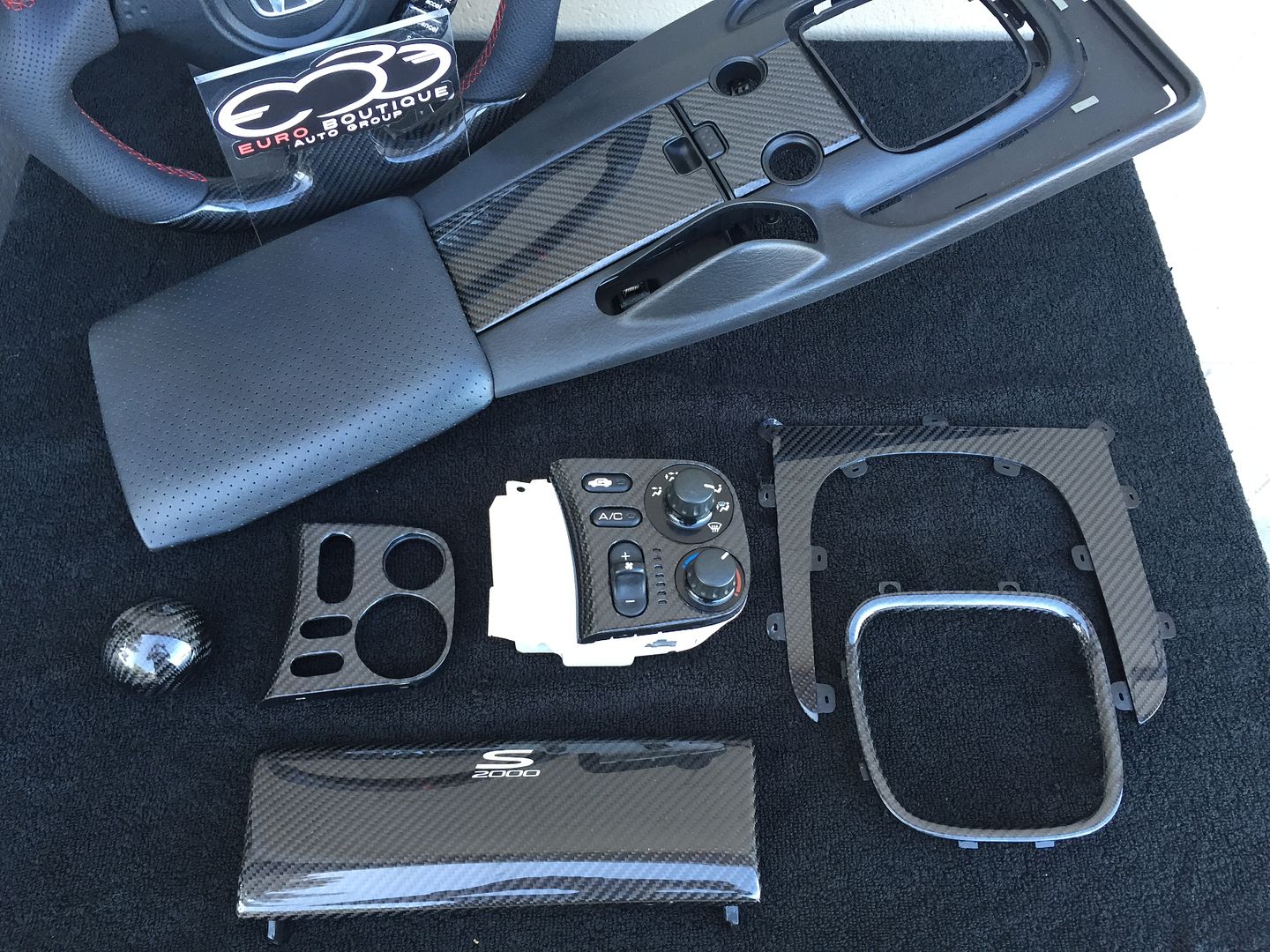 Some of you may remember these custom heated Recaro Pole Positions from our last project car, we saved them and will be used in this car as well:
The next step is to strip the interior and apply Dynamat and laying all the wiring for the groundwork of our stereo system. This is a tedious process but crucial to good sound reproduction in the car. The doors, trunk, and cabin will all get treated to triple layers of this material to have a solid surface to build from.
In the meantime we are deliberating what to do with the exterior since we are leaning towards a full ASM setup with matching dry carbon wing. The other alternative is to go full Mugen or last choice would be to do the OEM CR look since we have CR wheels and some other items sitting around here.
LED headlight upgrade is unique but now car really needs a front lip:
Any ideas, comments and suggestions welcome as we progress on this new pair of s2000. More photos to come!
thanks
www.euroboutique.us
04-13-2016, 10:02 AM
---
Did you guys make those Carbo Interior pieces? They Look amazing.

Loving everything but the LED's
04-13-2016, 11:18 AM
---
Buddy of mine bought the CF radio door.
If he closes it completely you can't open it with out a pry bar.
Fits like shit. No way it's OEM fitment like you claim.
It's an overlay and not a replacement. Otherwise. Good luck with your build.

I like the seats
04-13-2016, 11:25 AM
Community Organizer
Join Date: Nov 2011
Location: Miami Springs
Posts: 5,048
---
04-13-2016, 12:58 PM
Sponsor
---
Have him contact us and we will repair it free of charge, this the first we have heard about this.
For the radio door, we use the OEM part and overlay the carbon since there is many intricate parts on the radio door that cannot be replicated. Our part is a mean to be a direct replacement for the stock piece and should fit perfectly. Sounds like in this case the clear resin maybe too thick and we will be happy to fix it no charge.
thanks!
04-13-2016, 01:16 PM
Join Date: Mar 2012
Posts: 131
Thanks: 0
Thanked 0 Times in 0 Posts
---
Seats look great! Did i read this wrong, but when you mentioned a pair of s2000s I was expecting to see two of them
04-13-2016, 01:25 PM
Community Organizer
Join Date: Nov 2003
Location: in my garage
Posts: 19,863
04-13-2016, 01:30 PM
Sponsor
---
Posting Rules
You may not post new threads
You may not post replies
You may not post attachments
You may not edit your posts
---
HTML code is Off
---