o_O S2000 | Mk I — Stage II
10-06-2012, 09:04 PM
o_O S2000 | Mk I — Stage II
---
Yo!
This last Thursday a dream of mine (that has been 10 years in the making) finally came true, and I bought my first S2000. I have been in love with everything S2000 since 1999, lurked around the forums for a few years, joined up in 2003 under a different user name, learned as much as I possibly could as I finished high school, college, and finally started my career off right a few years after that (now). If you find a bigger Honda fanatic than me, I would be very very surprised. I have spent hours at Spoon and Type One in Japan, shook hands with Ichishima-san (the owner of Spoon), and met his wife when I was 19 years old. I have heard the roar of the mighty Honda Racing F1 V10 at the 2006 United States Grand Prix, I cheered on Ayrton Senna when he was at McLaren Honda at a very young age. I have seen every volume of Best Motoring VTEC club more times than you would believe, and of course all of the legendary Hot Version Touge Battles. I have also been driving since about 12 years old, growing up in the middle of the country (Kansas, and then San Diego, Kansas City, MO, and now San Jose) driving very light cars on windy gravel roads, with a very lax police force has awarded me quite a lot of seat time.
I also have a ridiculous amount of virtual seat time starting with the very first demo of Gran Turismo all the way up to GT6. I was lucky enough to get a good steering wheel at a young age and have become pretty mentally prepared over the years. I think people are right when they say you can't learn much from video game driving, UNLESS you have done so damn much it all just becomes second nature.
The car i purchased is a 2006 AP2 Sebring Silver with 67,7** miles that is basically 100% OEM. The only modifications I am aware of is an aftermarket head unit and subwoofer fuse that likely led to a subwoofer in the trunk which has since been removed. The fuse will be removed as well, as it serves no purpose, but other than that, minty fresh OEM goodness!
15 minutes after purchasing the car from a Lexus dealership in Daly City (who were absolutely fantastic by the way, and did a great job cleaning up and preparing the car), my AP2 started a new happy chapter in it's life on the touge. Making it's way to the Santa Cruz mountains and down my favorite route and quite possibly having more fun in 1 hour than most S2000s see their entire life.
Current Spec
(Because of repeated issues with this site I built a new one and transferred by project thread there. - Click the above photo or visit that thread here -
http://www.snisen.com/forum/viewtopic.php?p=47#p47
)
This first stage of owning the car (Mark I) will be very simple. Me learning the car for 6 months - 1 year just enjoying and learning the car until I am extremely comfortable driving it near the limit. I will be driving it to work quite often but it will mostly see touge usage and an occasional visit to the track. As you might imagine, as someone that has been researching the S2000 since 1999 I have quite a few plans for the car in the future after this first stage, including some tasty JDM goodness, and hopefully a few one-off parts built by some of the great Honda friends I have collected over the years.
I plan on using this thread to post my initial driving impressions and to keep a log of how they change as I get more and more used to the car, and try out different tires with the car in it's OEM state. Hopefully making it a great resource for people wanting information on different tires on a baseline car.
I have met many S2Ki members already, but as a long time lurker/researcher/nerd, it is great to finally say hello!
---
Last edited by andrewhake; 02-14-2017 at

09:37 PM

.
10-06-2012, 09:06 PM
---
Arriving back at it's new home, I live in a recently built apartment complex and was lucky enough to be able to pick out this perfect parking spot: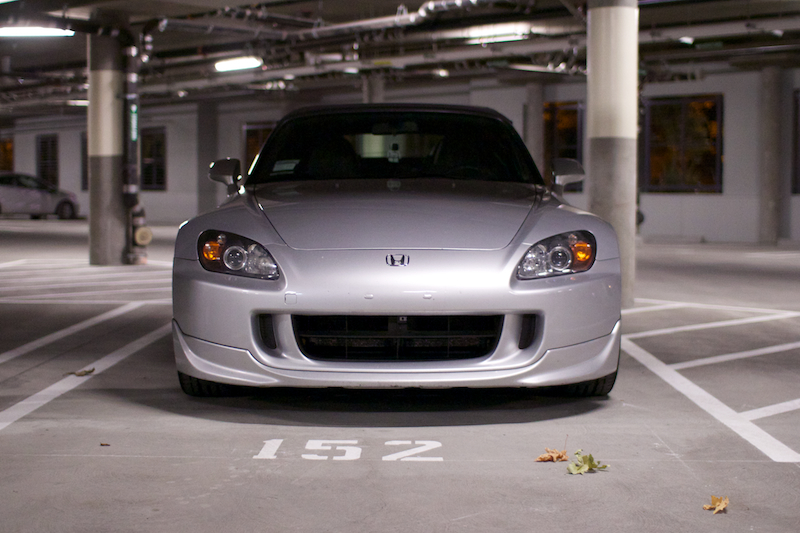 Very happy car!..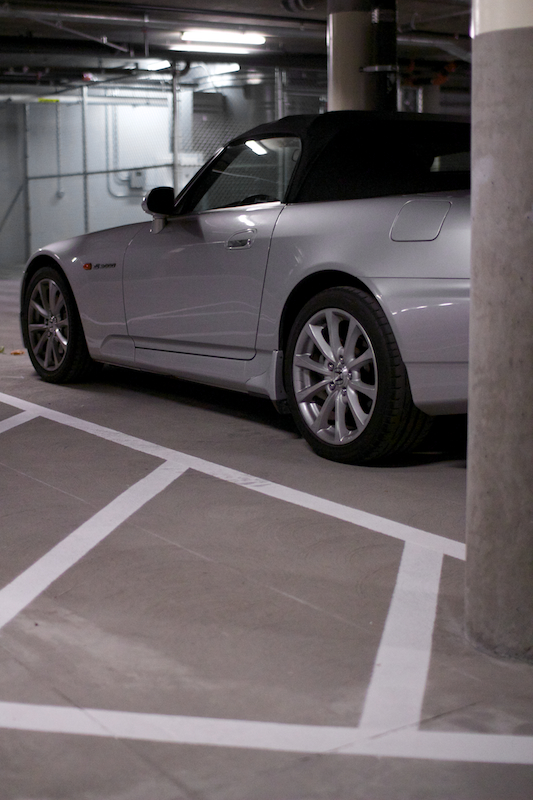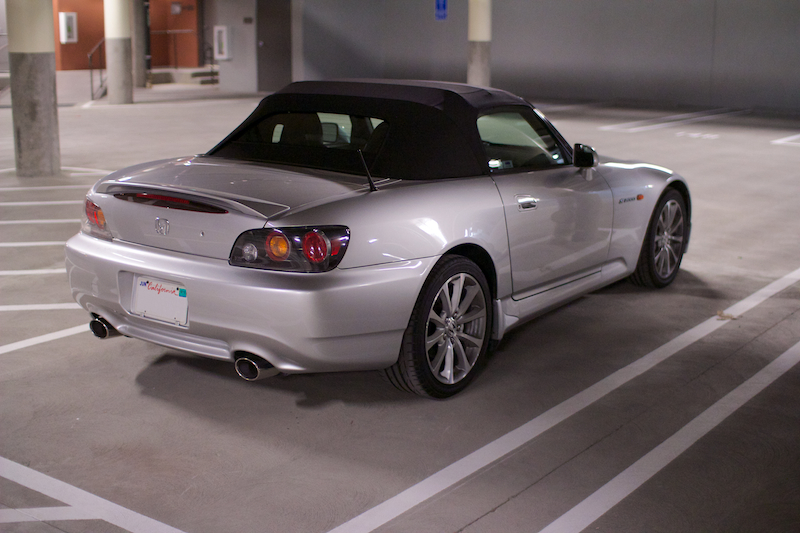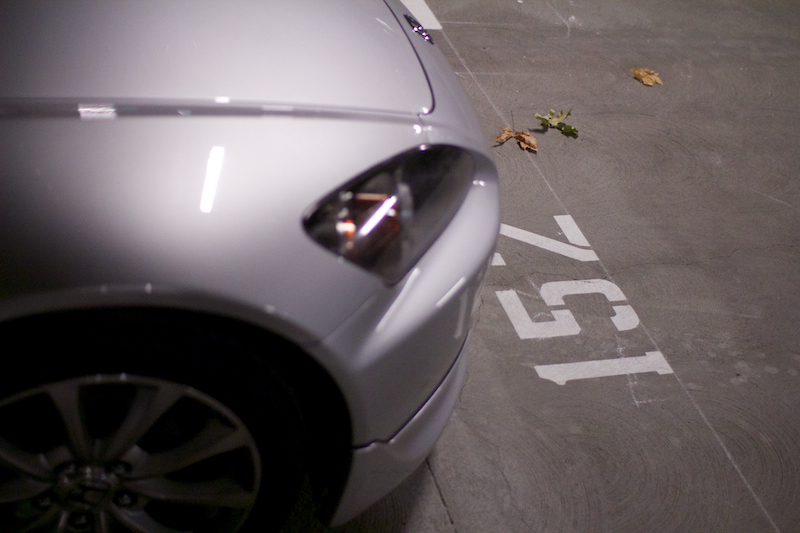 Some tasty touge leaves it munched up and spit out. Nomnomnom..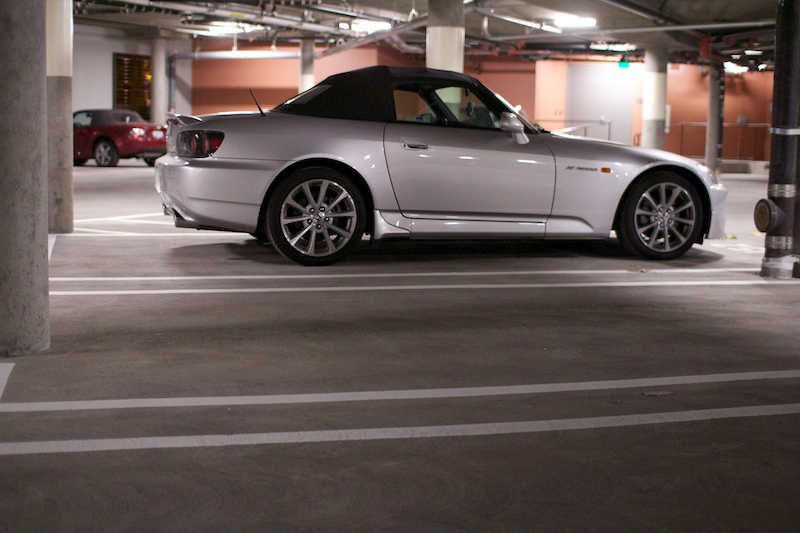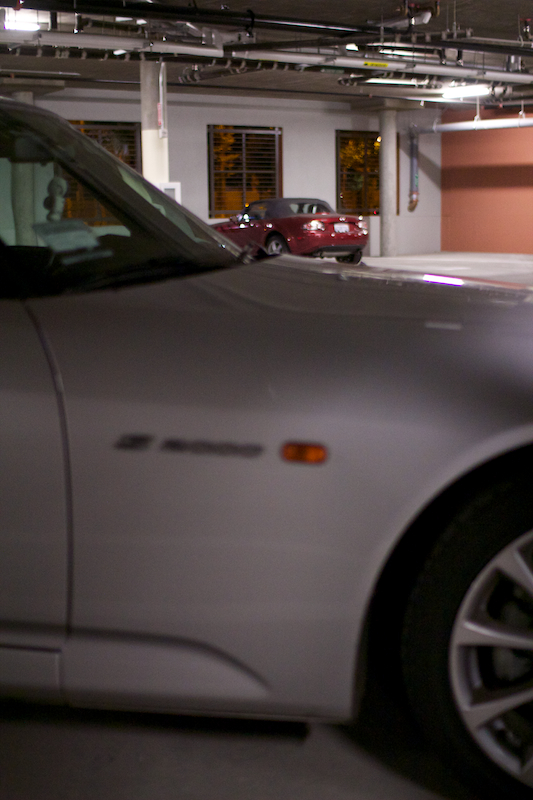 Already made friends with a new MX-5 Roadster!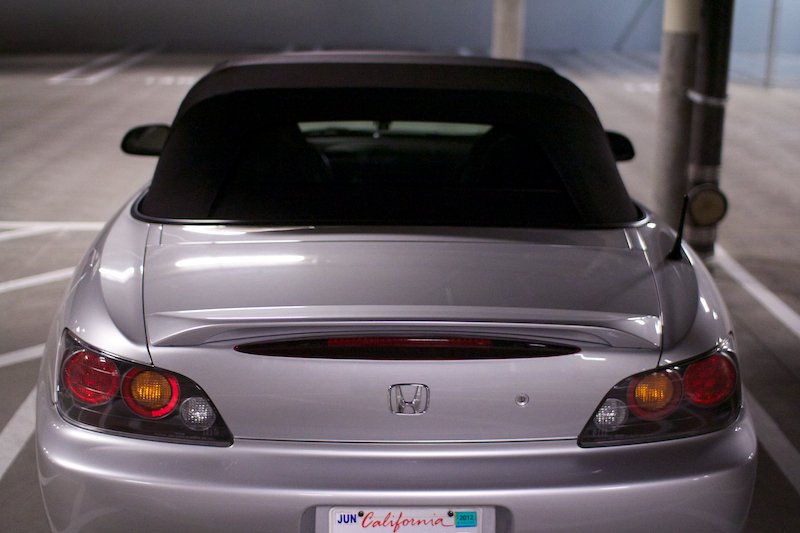 OEM duckbill spoiler I was planning on purchasing already installed.
Super clean soft top!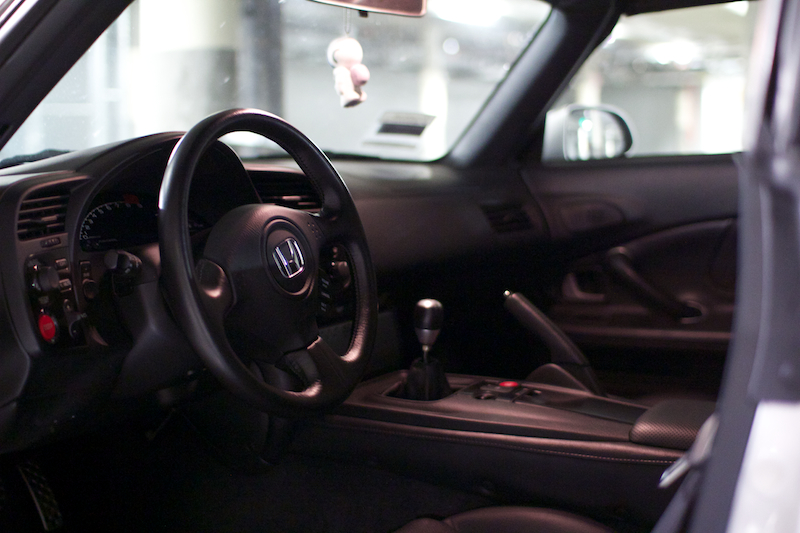 And even cleaner interior! The only thing it's missing is the original floor mats, which I plan on picking up soon.
JDM OEM Honda G-force meter. AKA ASIMO plush co-pilot.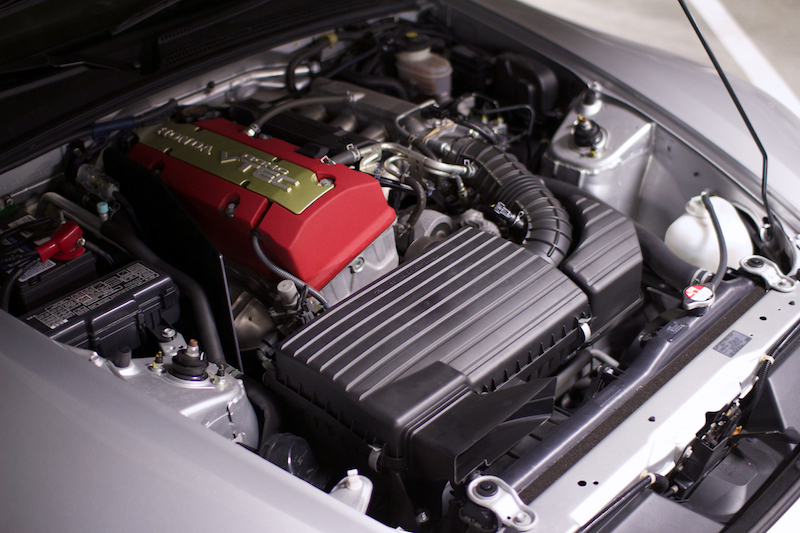 Showroom floor clean!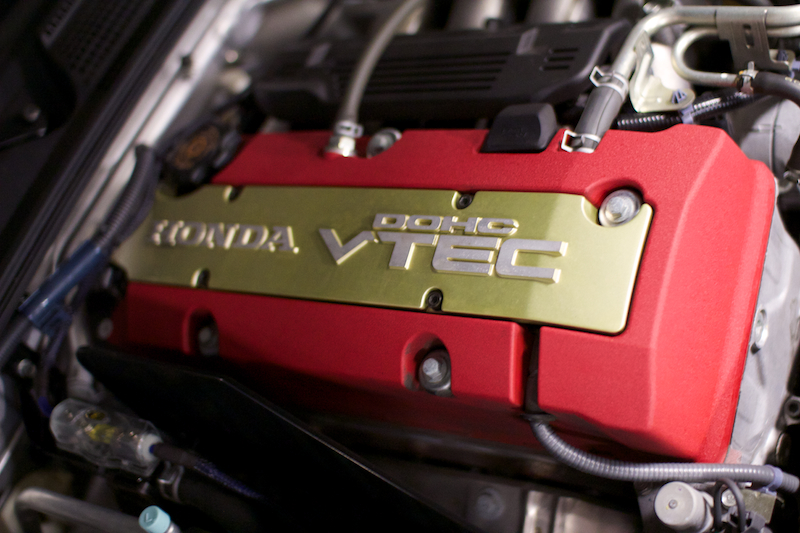 In this photo you can see the large stereo fuse grounded to the battery that is fed through the firewall hole to the back of the car. I will remove this but it looks like i may have to pull up the carpet and things to pull it out. My current head unit (Alpine) seems to be functioning normally and is controlled by the built in dash controls, but I am thinking my door speakers might have been removed along with the sub as I am getting no sound from the stereo. Which to be honest I really haven't even tested as I have been enjoying driving the car so much.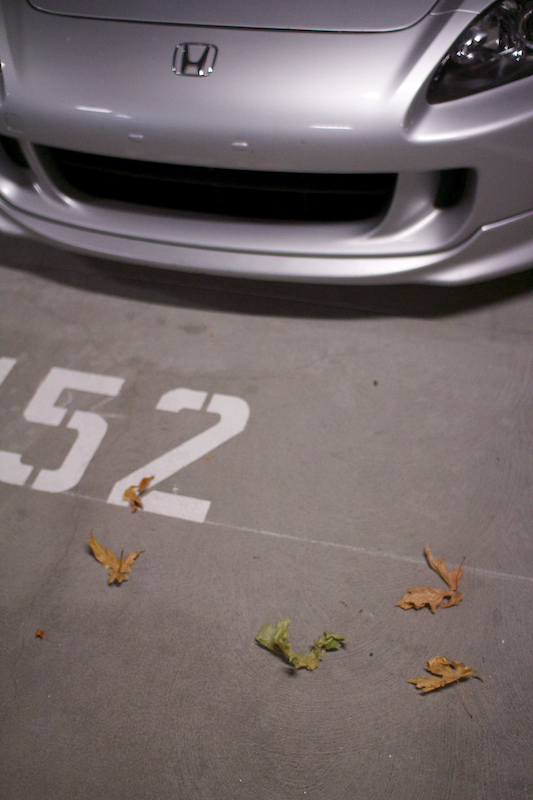 NOM NOM NOM!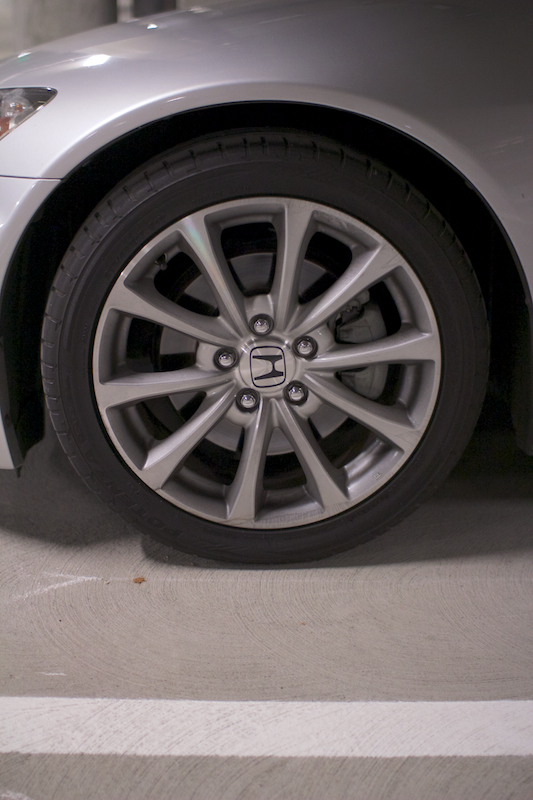 Came with Bridgestone S-04 Pole Positions in OEM sizes all around, which have so far been great tires to learn the car on. Nice and responsive, perfect amount of grip, very linear at the limit, no complaints really. For my next set I will probably be the Dunlop Star Specs, AD08, or RE-11. Planning on trying out as many tires as I can.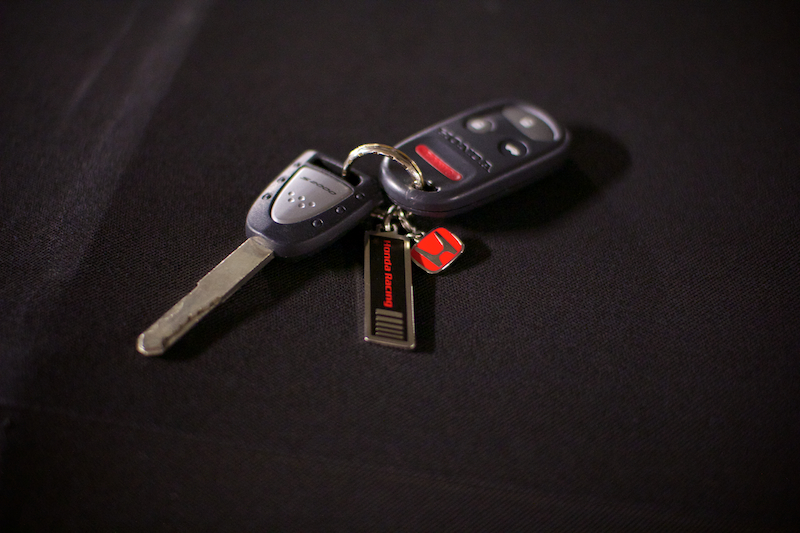 And along with the ASIMO co-pilot my only other mod so far.
Initial driving impressions:
I have done about 2 full nights of touge driving, one solo, and one with my usual group of friends. Probably about 210 miles.
I have driven S2000s before, a few AP2 in OEM form, just normal driving for just a few blocks here and there, and have also driven Casey's CR suspension equipped AP2 in anger, but not too much anger ya know, so finally being able to drive this car near it's limits is truly the most fun I have had in any car period.
I know how to drive FF cars very quickly and still enjoy FF very much, but the driving style is entirely different. I am definitely in a whole different mode in FF cars, super late braking, sometimes some quick left foot braking or lifts of the throttle to help rotate the car, and easy on the exit. So fast in slow out, as you will just understeer trying to accelerate too much out of a corner. Some well put together FF cars feel balanced similar to a good FR, and can exit corners very nicely as well as enter them quickly, and as soon as the S is paid off I will likely end up with a nice EG6 if anyone wants a demonstration of that sometime.
I have also driven many FR cars in anger, but none like the S.
With the S2000 it is very different obviously, much earlier on the brakes, turn in and ease into the throttle to quickly exit the corner after the apex. The cornering speed of the car is brilliant, even in stock form. Very little steering input needed as the car is so well balanced, like a very easy to drive and longer go-kart. I really had to put myself into Kart driving mode (which I have done plenty of) after driving so many FF cars for so long. Being able to control the rear end of the car with the throttle is a whole new world. The amount of power is perfectly balanced to the grip level of the car. I really wouldn't want any more power with the current suspension/tire setup. Definitely though, the best part for me is being able to simply apply more steering angle to the point of generating some oversteer, the harder it gets tossed the more you can generate, and there is the sweet spot to get the perfect amount of grip front to rear.
The brakes are also very well balanced, I got the car with what I believe were very new pads, I think they fully bedded in after my first night of driving. The pedal feel is unbelievably good, maybe under pretty extreme downhill conditions and warm temps I could see myself cooking the brakes but I can go so much easier on them compared to an FF car. The OEM pads seem like a good match, but I will definitely be trying out a few different after market pads designed for the street to see how they compare.
The engine is just pornographic really, so buttery smooth with the usual Honda manual transmission perfection to match. Smooth from 2k-8k. The pedals are perfectly spaced for some nice heel & toe, whether you want to do the full pivot off your toe to blip the throttle or the roll from the brake pedal to the throttle. The LSD seems extremely linear as well, with no dramatic changeover from not locking to locking.
The Potenza S-04s are really a pretty good tire. Comparing the price point to some other tires, like the Star Spec or RS3s, I think you can definitely get more grip for less (S-04s are 280 treadwear), but they definitely are a great match for the car. Very responsive with good steering feel, I do feel like it is easier to find the limit in higher speed corners than in low speed, but that is more just me needing to attack low speed corners a bit more aggressively I think. I can definitely carry more speed than I give the tires credit for at low speed.
Normal city driving I also couldn't be happier with! I am totally fine with a super hardcore/loud car but the S in this state is just a perfect mix. Top down or up, I enjoy myself driving the car anywhere for any distance, with no music at all.
Will post another impression soon!
10-06-2012, 09:31 PM
Join Date: Oct 2008
Location: San Francisco
Posts: 2,335
Thanks: 0
---
Congratulations.
I never thought I'd own an s2000. But it was one of the best decisions I've ever made and can never regret it. Welcome to the club and I hope you can attend next year's S2000 SF MEGAMEET. Hmmm...no wonder I keep seeing your screen name and thought you had an s2000 after all this time. lol
10-06-2012, 09:38 PM
Join Date: Jun 2011
Location: Rio Rancho, NM
Posts: 1,154
---
Love it dude. Looks Great and nice story to go with it!
10-06-2012, 09:45 PM
Registered User
Join Date: Feb 2009
Location: San Francisco
Posts: 1,062
Thanks: 0
Thanked 0 Times in 0 Posts
---
Very nice, congrats! How much did you get her for if you don't mind me asking?
10-06-2012, 10:29 PM
---
Thanks everyone. There really are no words to describe how happy I am! The smile on the face of the Cayman S owner I just chased through the mountains sums it up nicely though.
10-06-2012, 10:39 PM
Community Organizer
Join Date: Aug 2011
Location: South City
Posts: 2,073
---
Hehe finally you have it. I shall see this beauty soon enough! Same year as mine too, an excellent choice.
10-06-2012, 10:41 PM
Registered User
Join Date: Jun 2010
Location: Melbourne
Posts: 2,808
Thanks: 0
Thanked 0 Times in 0 Posts
---
Congratulations - sounds like it's in good hands !