o_O S2000 | Mk I — Stage II
02-17-2017, 04:25 AM
Join Date: May 2003
Location: DFW
Posts: 1,624
---
Amazing parts as always! Can't wait to see how this looks on the car.
02-17-2017, 05:07 AM
Join Date: May 2011
Posts: 971
---
Yeesh.
Not a way a bad way to spend $10,000.
02-17-2017, 12:46 PM
02-17-2017, 05:57 PM
Join Date: Oct 2009
Location: Charlotte Area, in NC
Posts: 3,157
02-18-2017, 04:59 AM
---
o_O S2000 | Mk I — Stage II - Page 17 - S NI SEN
Got the gurney flap installed onto the wing element. It is so cool how they made the recess for the gurney flap the exact right size to match the thickness of the gurney and the mounting tape. Very simple to mount, just slots right into place.
Also decided to put some Loctite 242 on the endplate mounting hardware, so here are some photos with them removed so you can see the shape of the wing element. I think it works out to be just about neutral in terms of weight on all this stuff. The width of the wing is 1450mm (included the endplates, 1430mm wing surface width), depth is 287mm in the center, 230mm at the ends. The wing stands are around 280mm tall from surface of the trunk.
The trunk weighs 6.4lbs, and the entire wing assembly weighs 6.4lbs. Would be interesting to know how much something like a Voltex Type 7 weighs in comparison. The best part about this wing and mounting setup is that there just isn't any side to side wobble, even mounted as high as it is.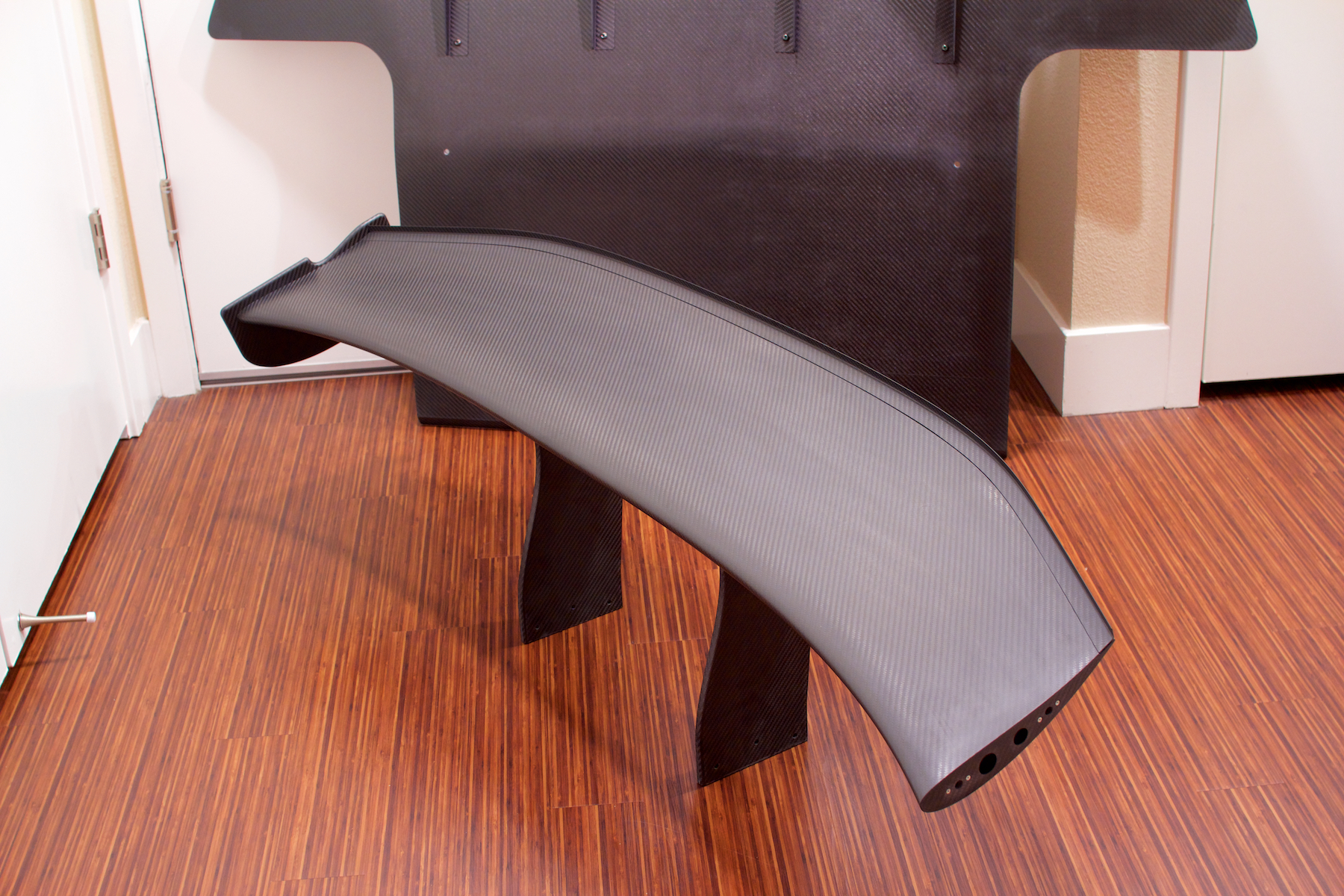 Oh and there is also something else behind that wing..
ASM ISDesign rear diffuser
Ooohweee that is a lot of carbon fiber!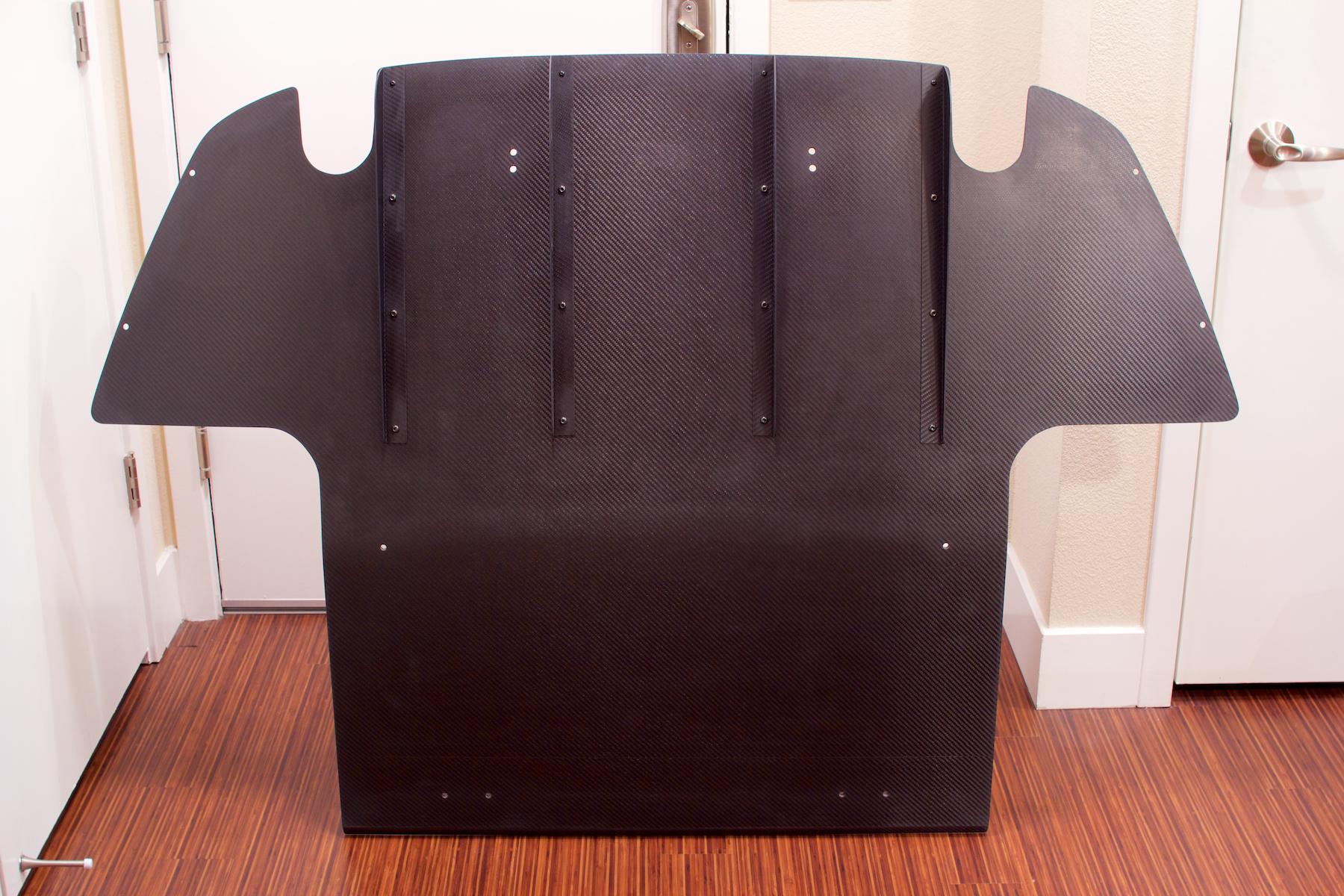 Now you may be asking yourself. Hey you have a single exit exhaust and bumper, why did you get a diffuser meant for a dual exhaust ya dingus? ASM's single exit diffuser only has two fins, and I wanted 4 because it should just be more effective. Also, the single exit diffuser from ASM is trimmed specifically for the ASM siren exhaust. This dual version is trimmed for their dual exhaust. With the exhaust I have I would like to trim it specifically to my needs. It might be a little tricky getting everything to fit, but should be doable. I think I will also reposition the two outer fins since the one on the far right will interfere with with the exhaust opening once it is trimmed. From what I have researched it is a good idea having some fins near the inside edge of the rear tires to help control turbulent air, so I will most likely be doing something like that. I'm not really worried about having an additional hole that I don't need on the left side, it won't really be seen on my single exit ASM rear bumper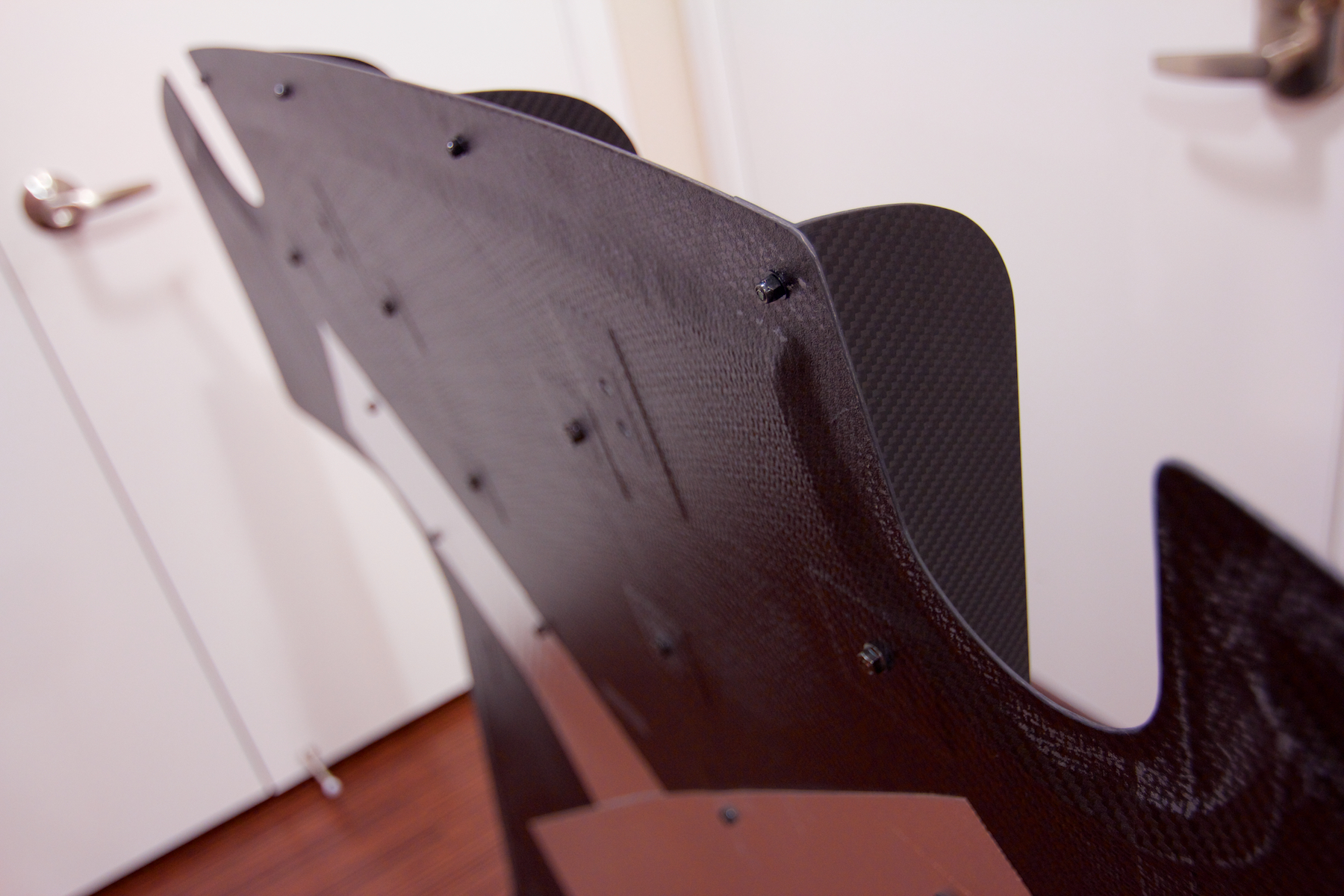 The diffuser is incredibly well made. Multi layer with supports for all the mounting points so washers aren't needed. I hate to trim it but we do what we must for what we love. You can see they include heat resistant tape for the dual ASM exhaust, I will be placing some gold heat resistant tape based on how it lines up with my single exhaust. Everything is so precise it is beautiful. Challenge Technology Center Japan uses CNC water jet cutting to trim all their parts and cut holes. On the same level of the top carbon manufacturers in the business.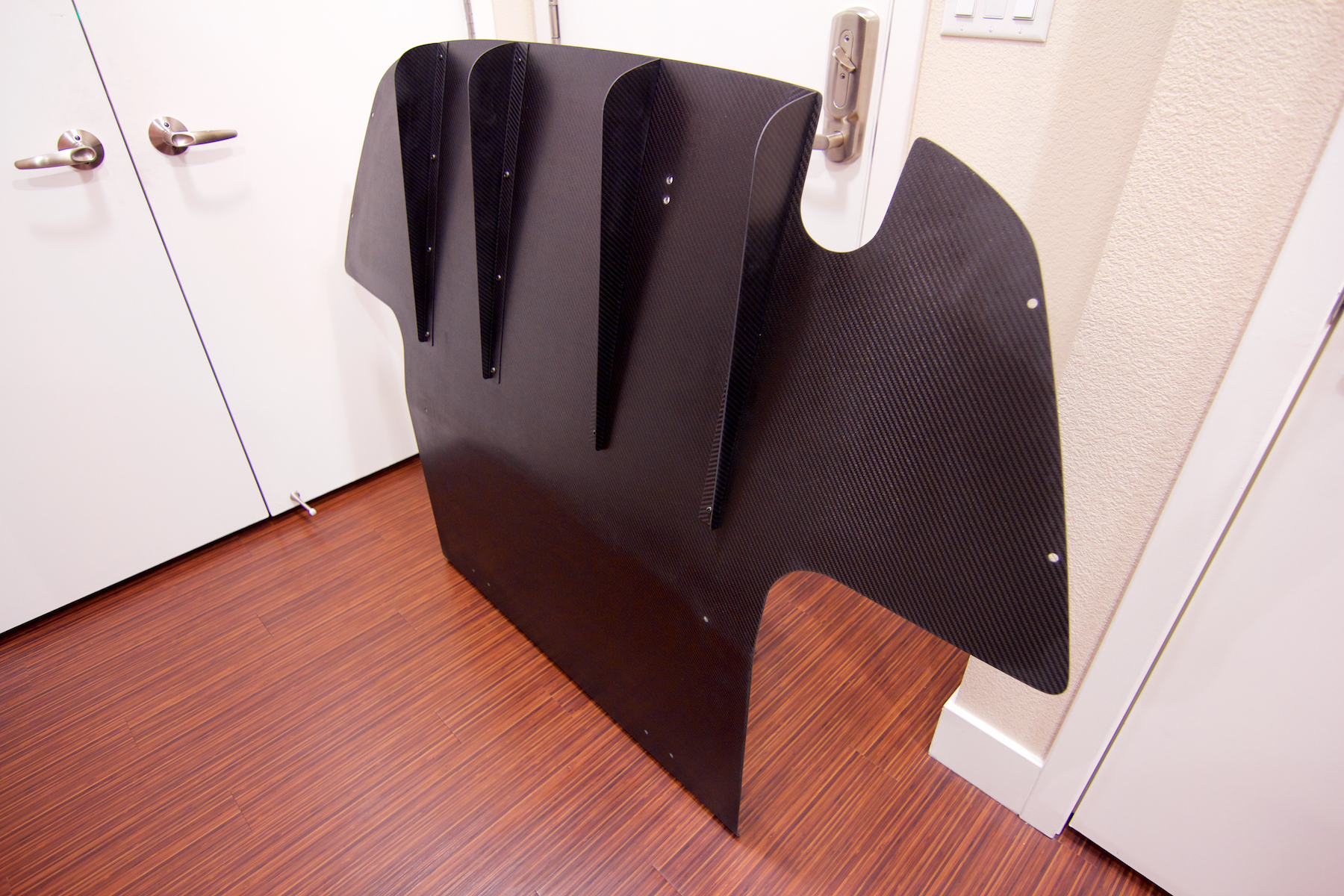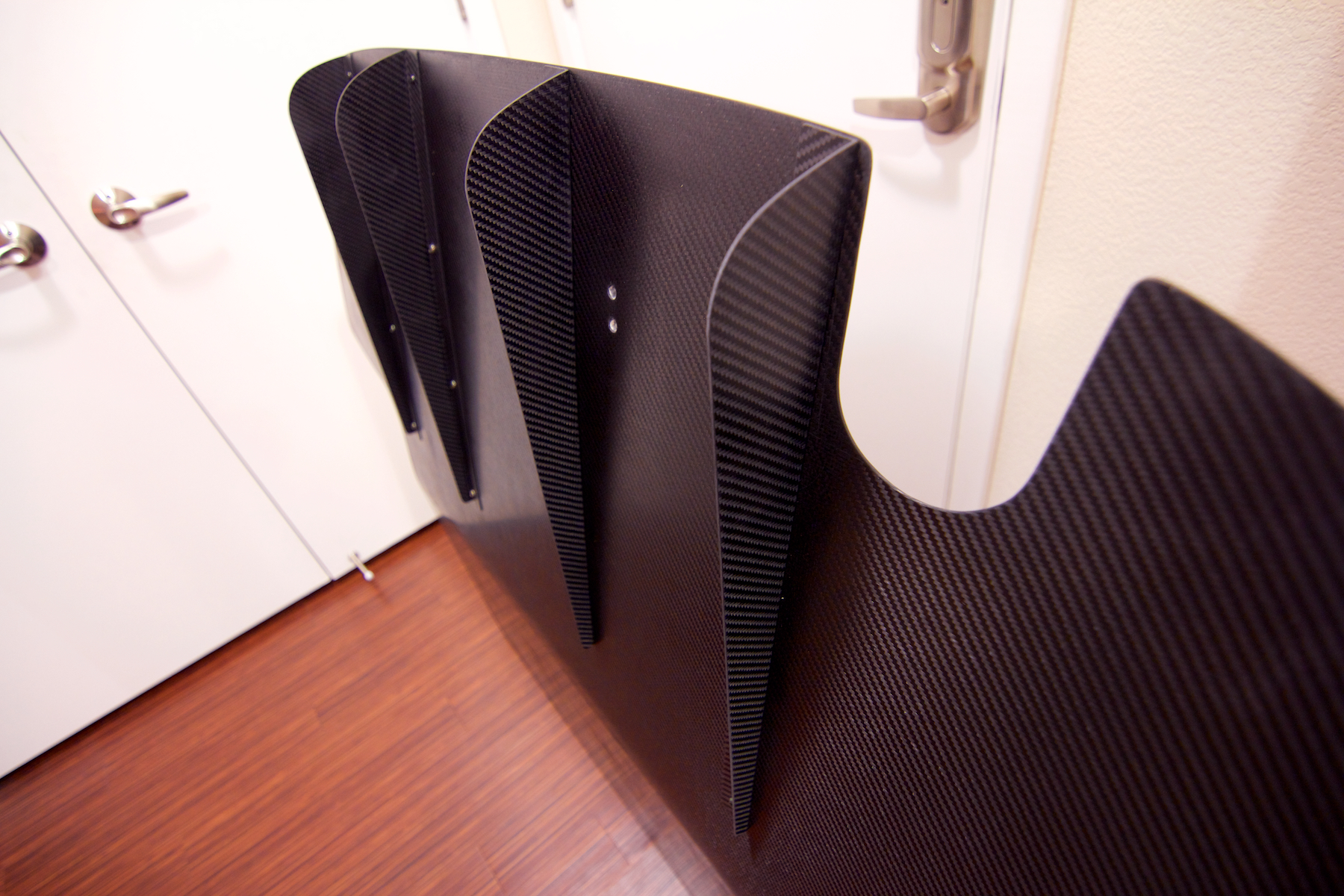 Instructions for install are pretty straightforward, just place all the bolts as listed. And drill 4 holes into the bumper where the supports mount up. Should also be pretty easy to remove while leaving all the mounting provisions in place if needed. I don't think I should have any problems running the diffuser on the street, but if I do it should be relatively easy to remove.
I wish I could put into words how excited I am to have parts like these, but don't really know what to say. I never thought I would ever be able to afford parts like these, let alone an S2000, so I don't take any of this lightly. I also don't hesitate at all to spent this type of money on stuff I love. This isn't a project to make my ideal S2000, it is a project to make my ideal car, period. There isn't really another car under $100,000 that I would want. Some people will understand that, others won't. There are plenty of better value for money options out there, but when it really comes down to it some items are just on a higher level, and I absolutely love that hyper attention to detail, cost be damned.
Thread
Thread Starter
Forum
Replies
Last Post
Member S2000 Classifieds and For Sale
Upstate New York Classifieds
UK & Ireland S2000 Community
Posting Rules
You may not post new threads
You may not post replies
You may not post attachments
You may not edit your posts
---
HTML code is Off
---