S2000 street driven TT car build
09-30-2017, 09:30 PM
S2000 street driven TT car build
---
Current pic: March 2018
I got my first S2000 brand new in 2005 and did my first track day back then. Since then, I've had 7 S2000s in white, yellow, suzuka, black, red, and 2 sebrings. I've had about 40 others cars including various Corvettes, Supra, NSX, and a bunch of cool Miatas. I always keep finding myself coming back to S2000s. I did my first track day in 2005 at Pocono but didn't have the money at the time to do it frequently. I started autocrossing in 2008 after graduating college and got into track days again. I progressed in 2008 from Miatas, to a Mustang, to eventually a C5 Z06 by 2012. I started getting busy with other life obligations, a job transfer, and a move from NJ to VA. I always kept a few cool cars to play with but didn't really have the interest or the the time to go to the track.
After things settled down a bit in spring 2015 I decided to start tracking again. I narrowed down my options to either a Miata, S2000, or C5 Z06. The last Miata I had was a 93 Turbo LE with about 250RWHP and I knew a basic Miata would leave me unsatisfied so I scratched them off the list. I didn't want to deal with boost anymore and the C5 Z06 was too expensive on consumables for me to want to continually deal with. The S2000 was the obvious choice. I'm doing this build thread to keep track of my cars build. I'll start with a little progression of how ended up with my red car.
I first found a reasonably clean Suzuka AP2 with high miles and a clean title cheap locally and jumped on it.
Before I could even buy a single part for it, a random conversion with a friend led me to finding out he didn't drive his S2000 for a long time and he might be interested in selling it. After adding up what I needed to buy to build the suzuka car and the cost of the my friends mint under 40k miles GPW AP2, I decided the better option was the GPW AP2.
This car was incredible. A clean, wrapped, GPW S2000 with 2 sets of wheels, tire trailer, suspension, big brake kit, and all the safety stuff done. The car was super nice and I really enjoyed it on the track.
While randomly browsing Craigslist one day my sebring Ap1 popped up for dirt cheap. The car had some really nice equipment on it so I checked it out and ended up buying it very cheap. I decided I would sell my AP2 because it was too nice to keep tracking as much as I planned. At the time, I got a friend into track days and he had a 600RWHP C6 Z06. The car was obviously too much for a newbie so we ended up taking some parts off the GPW AP2 and he ended up buying it.
I took some of the removed parts from the GPW car and put them on the Sebring car. The sebring AP1 was just awesome. I ended up having the car setup with AST4150 coilovers, front sway bar, Stoptech ST40 BBK, intake/header/exhaust, and all the safety equipment. I started tracking it pretty heavily and it never missed a beat.
The silver car was fast!
---
Last edited by Sickdayracing; 03-06-2018 at

09:53 AM

.
09-30-2017, 09:46 PM
---
I was getting really fast in the AP1 and started worrying about safety. After getting a quote for $5000 from Piper motorsports to cage my car, I decided it would be more economical to buy a caged car. If at this point you can't tell, I go through alot of cars. I don't buy cars I will lose money on and strive to break even at the very least, if I didn't, I would be broke by now.
I decided to send out a random email to Rob Robinette about his car. He didn't update his website in while so I asked him if he would be interested in selling his car. He named his price, I accepted, and I was on my way to TN to pick up the car.
The car had a blown engine when I bought it and I promptly dropped it off to InlinePro who got it back up and running within a few days. Unfortunately, I bought the motor used and it was previously turbocharged. Even though compression checked out, it just never ran right. After a few days I blew it climbing the esses at Watkins Glen. I took it right back to InlinePro who got me a great condition 06 engine that they converted to 04-05 spec. After that, the car ran great.
I don't remember why anymore but I also got the idea to race spec Miata at the time and ended up buying this NA.
09-30-2017, 09:58 PM
---
The Miata came and went. I learned alot in the few months I had the yellow car. The most important thing I learned was how much I seriously hated trailering. The car had a big splitter on it and my trailer wasn't ideal. It was a huge chore every time I went to the track. Trailering felt like a job in itself and it took alot of excitement out of tracking for me.
I decided I wanted a car I could drive to and from the track again. I got the idea in my head that a K24 Miata is the perfect track car. Light, cheap, powerful, and cheap on consumables. I saw a number of K24 build threads but this NB really stood out to me. I sent a PM asking the owner if he would consider selling it, he named a price, I accepted, and I was on my to Augusta, GA to pick up probably the nicest K24/K20 Miata in the country.
I am a car junkie and junkies need to feed their addiction so a few days later I ended up buying a 987 Cayman S. Great car!
I thought the Miata was perfect. It already had the swap, a/c, suspension, and brakes already done. The only thing I needed to do was install the roll bar, seat, and harness. I got that done quickly and took it out to the track. This car was very quick and made 254rwhp.
This car was a great lesson in chassis dynamics. While a light 2300 pound car with a 254rwhp engine sounds great on paper, it kinda sucked on the track! While the car was fun, it just didn't feel good. It just felt swirly and everything on that Miata designed to hold less then half the HP it was making shook, bent, and creaked with the added power. It was not fun. I decided this wasn't the car for me. I ended up selling it locally within a few days of selling it to a local Miata guy who was looking to build one.
I previously sold my beloved silver AP1 to a friend in NY who was now looking to sell it. I loved that car so much and the timing was right so I bought it back. I got it back with a OEM hardtop on it so I couldn't be happier.
09-30-2017, 10:05 PM
---
I really loved that AP1. I thought I was going to keep it forever. It performed flawlessly at the track every time I took it out. Being a junkie, I never stop looking. Even though I wasn't looking for a replacement, I was always looking.
One day browsing the forum this red AP2 popped up that really caught my eye. The car had a salvage title due to flooding but the seller explained that it was never actually in a flood. He explained it doesn't really rain in Arizona and when it does, water puddles pretty deep in parking lots and random streets. The car had an AEM V2 intake on it that sucked in water and hydro locked the motor. The motor was replaced by insurance and a flood title was issued. The seller sounded honest and described the car really well. I was hesitant on the title but the price warranted further investigation.
I bought a round trip ticket from DC to AZ to inspect the car intending to close the deal if it checked out in person. The seller was great and described the car extremely accurately. I throughly inspected the car and there were no signs of water anywhere. In fact, having lived in AZ its whole life, the car was immaculately clean throughout. The car was listed for an excellent price and had some goodies already. It had a Brembo BBK, Ohlins DFV, 17x10 CE28ns, and safety equipment. I closed the deal and had the car shipped back to VA.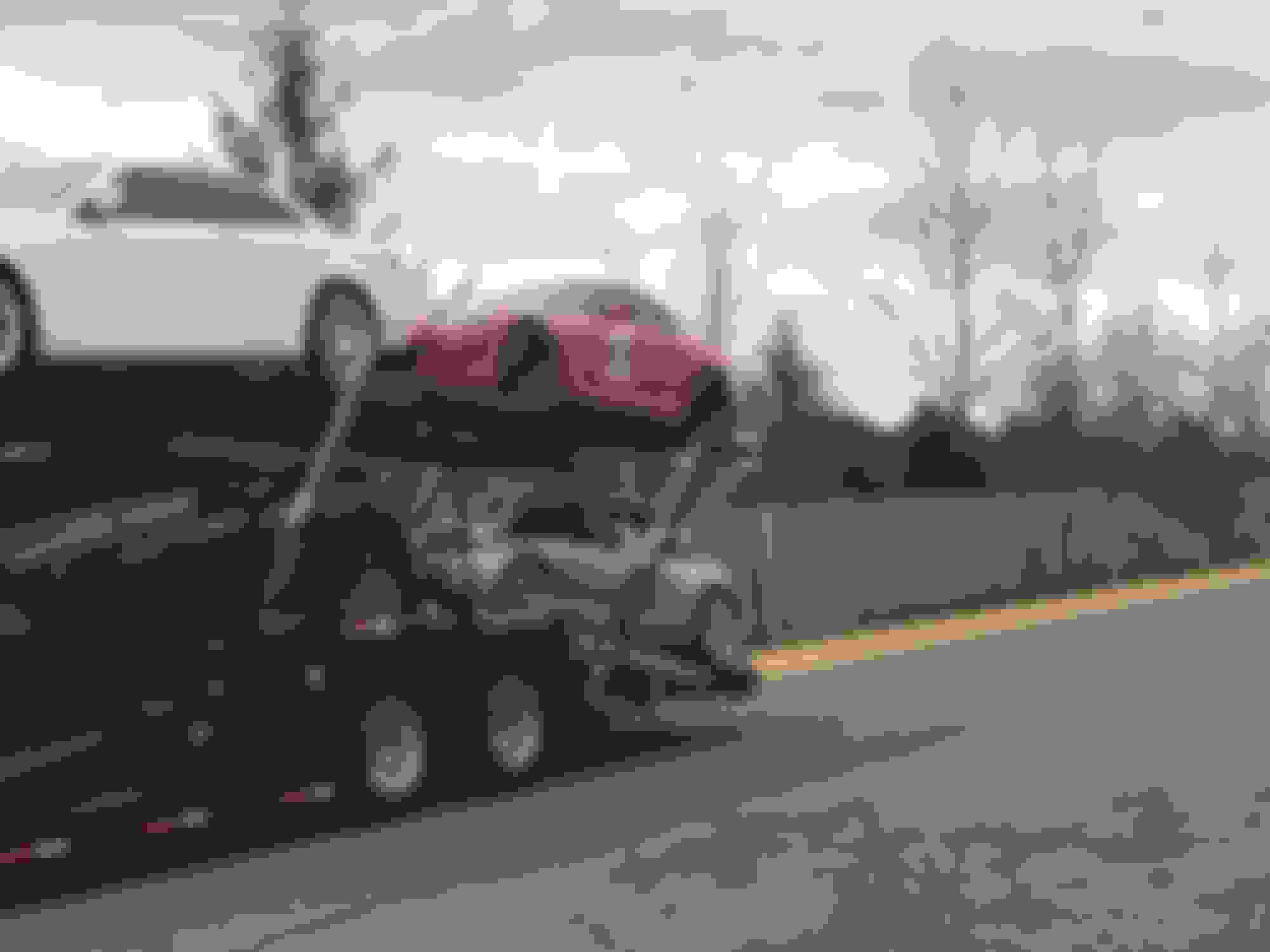 09-30-2017, 10:17 PM
---
As soon as the car came off the trailer I took out the Sparco Pro 2000 seat the car came with. The car had a custom welded half cage setup. I threw my Sparco Pro ADV Halo seat in for a quick test with and it just worked. Success!

This is where the actual build of the car will start.
09-30-2017, 10:40 PM
---
I kept a few parts from my AP1 and listed the car for sale. Here is some transplant surgery between the two being performed.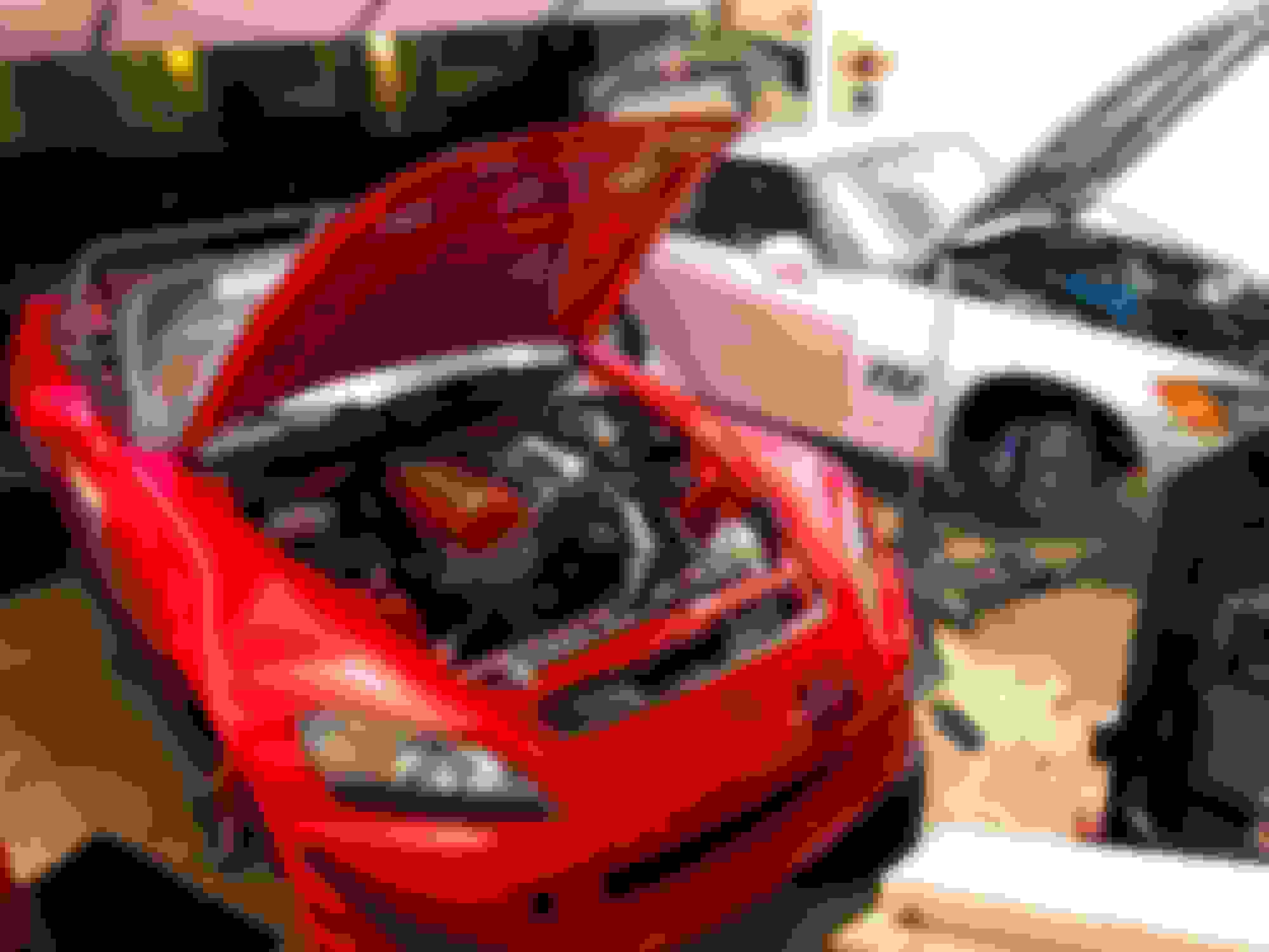 The car came with a Brembo GT big brake kit. While it looked nice, I had nothing but excellent experiences with Stoptech ST40 kits in my previous cars. Also, replacement discs and parts for the Brembo are alot more expensive then Stoptech. I stuck with what I know works well and sold the Brembo kit and bought a brand new ST40 kit from PTuning. At $1650, you can't beat these brakes! I had Urge 2 piece rear rotors from my AP1 I decided to keep because they worked so well and were so pricey to just give away with the car. I find the combination of XP12 pads all around, ST40 front kit and Urge 2 piece rear rotors to be the perfect track combination. The car stops incredibly well and teamed with some brake ducts and Castrol SRF, I have never experienced even the slightest bit of brake fade. I am getting about 9-10 days out of pads. I have yet to crack a rotor. To date, I have about 81 sessions on my Urge 2 piece rears!
The car came with Takata harnesses and a Sparco Pro 2000 seat. I moved the Pro 2000 to the passenger side and installed a Pro ADV with PCI mounts on the drivers side. The PCI mounts are a really nice piece of hardware that I highly recommend. I was able to mount the large Pro ADV seat in the car with no modifications at all. If you haven't noticed by now, I like all my work and all my cars to be a clean. I took some time and cut some carpet out to put in the area behind the seats. For less then $60 worth of materials, its a great way to give your car a finished look.
I ended up reading about a bunch of Takata harnesses out there. My car had CE28s, Brembos, Ohlins, and other expensive parts on it from the previous owner so I doubted he would go cheap on the harness. Nonetheless, I triple checked using some youtube videos and other sources to identify if the harnesses where possibly knock offs. Luckily, they weren't fakes.
The car didn't have air conditioning, cruise control, or radio when I purchased it. I drive my car to and from the track so it was important for me to have that stuff even though it was a track only car. I bought all the parts from a member. I never did AC work in the past but somehow it all went together and the system worked great. The car now has a nice head unit, ice cold AC, and cruise control now!
I originally ordered Wasp brake ducts because they seemed cheap and effective. The only problem is that the company is shit. After paying, I received no emails. I ended up having to file a PayPal dispute to get my money back. PayPal granted me the win because they received zero communication from Wasp during the dispute resolution process. I of course never received the product. Freddy at Ptuning came to the rescue again and got me these sweet but very expensive APR brake ducts. The fitment on these is excellent and they work great.
Freddy also scored me a Mishimoto Oil Cooler and radiator which I promptly installed. I sealed the radiator with insulation foam and sealed it with insulation tape to help with airflow to the radiator. I also installed a catch can. Here is a quick before and after of the engine bay.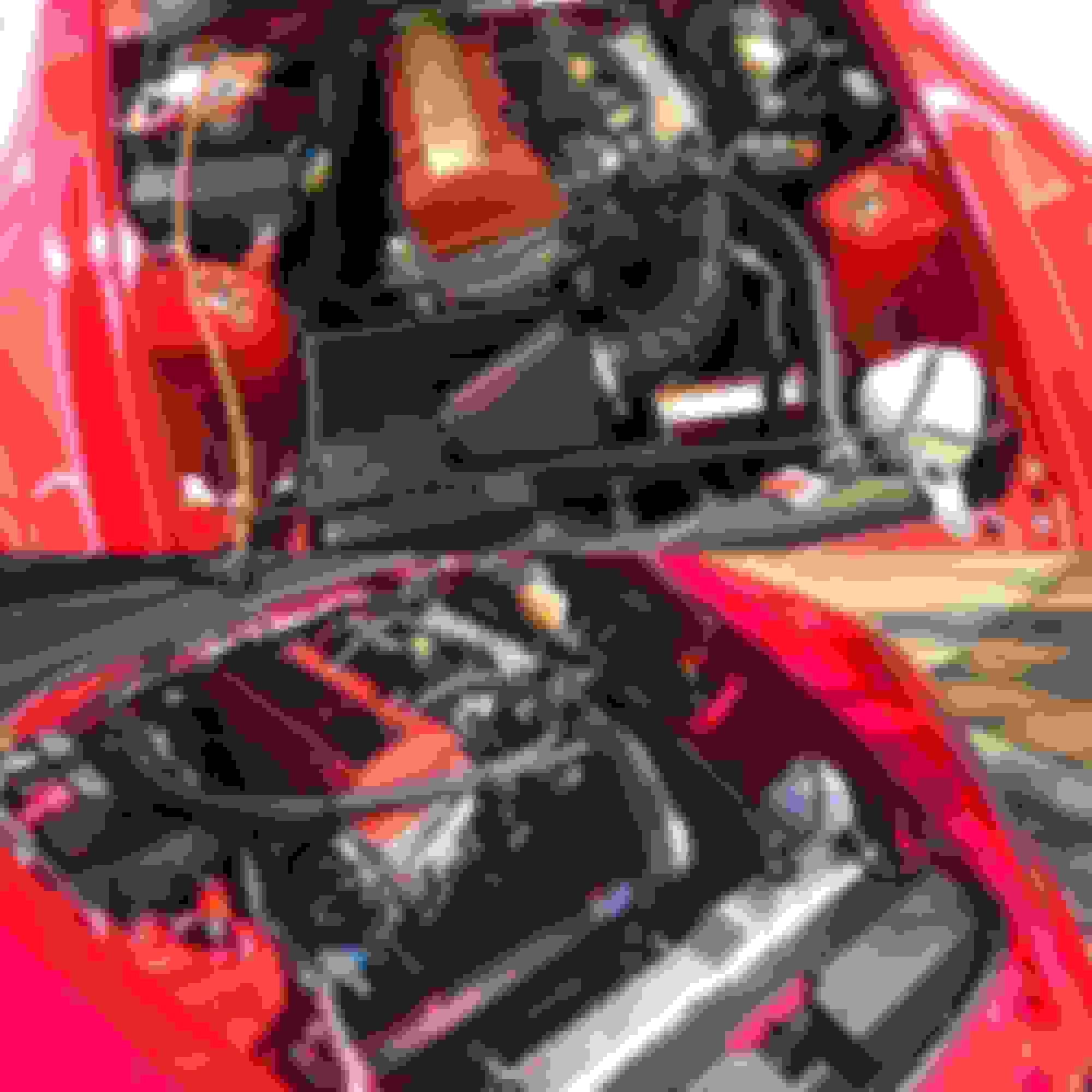 I am not a guy who typically would buy knock off components but I did buy this Voltex Type 1 replica wing off eBay for $700 after reading good things about it on the forum. The GTC200 was the same price but I didn't love the look. It is a good wing and I've used it in the past but I really wanted to give this knock off wing a try. I was very impressed with the quality of it when it arrived. It looks great and works just as well as my GTC200 did so no complaints here.
I removed all the stickers and did a full paint correction on the car. I think it came out pretty nice in the end.
I also dumped the Ohlins DFV setup for my tried and trued AST4150.
The following 2 users liked this post by Sickdayracing:
09-30-2017, 10:56 PM
---
I purchased this little Sparco tool bag from TJ at OG Racing. This thing is pretty cool and I have all my standard size S2000 tools to bring to the track. I keep this is my larger rolling gear bag that always has my hans, helmet, shoes, gloves, and other track stuff in it. I'll post some pics of the bag later.
Some of my gear was getting old and tired so it was time to update!
10-01-2017, 09:00 AM
---
While I run Watkins Glen, VIR, and NJMP, Summit Point is my home track.
I beat my personal best of 1:24.2 in my AP1 the first time out in my AP2.
The car just felt right! Here is a video of my personal best of 1:23.86, this is the fastest non hoosier street car time I know of at Summit.