BMT Spring 2015 Saturday March 28, 2015 Harrison, AR
02-11-2015, 08:27 PM
Registered User
Join Date: Aug 2005
Location: Shreveport, La
Posts: 3,630
Likes: 0
BMT Spring 2015 Saturday March 28, 2015 Harrison, AR
---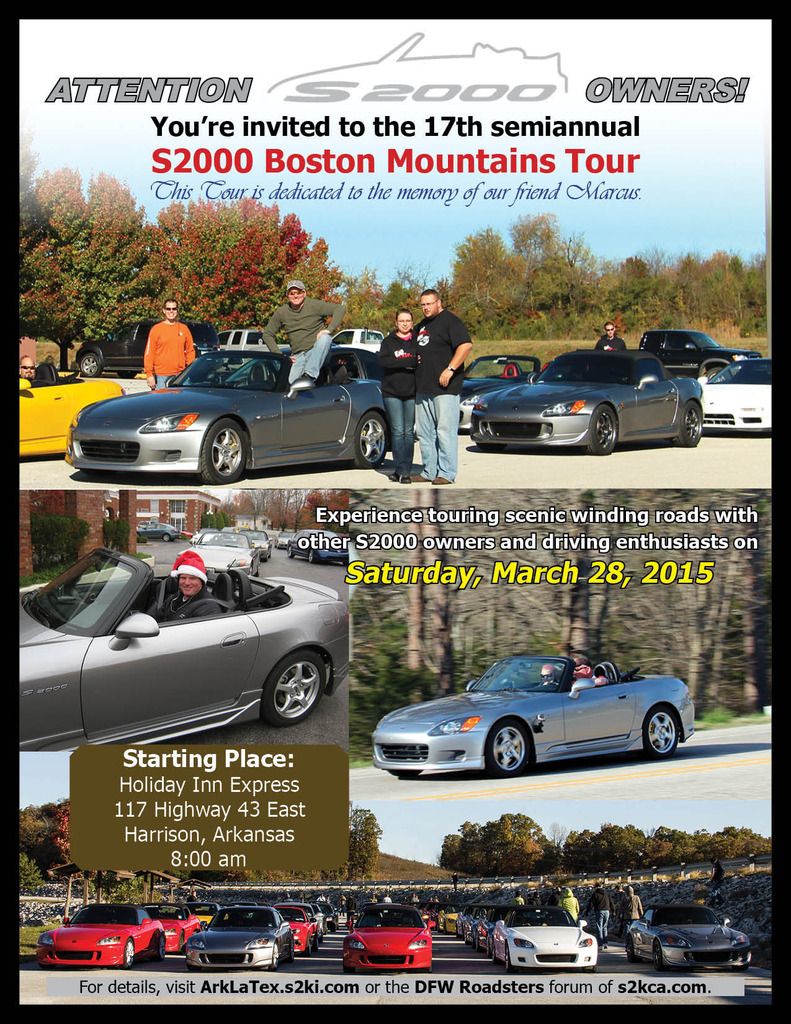 [/URL]
[b]Dear Friends, You are invited to attend the 17th Semi-annual S2000 Arkansas Boston Mountains Spring Tour 2015. The Spring 2015 Tour will cover some of the best winding and scenic roads that the Arkansas Boston Mountains range have to offer. These roads can offer something challenging to even the most experienced drivers.
All drivers are given a tour packet, that will have your group number, route with turn-by-turn directions, lunch and dinner maps (if applicable). The Arkansas Boston Mountains Tour is one of the best environments for you to fully enjoy what your sports car was made to do, TURN! The BMT is a great social event as well, you have the opportunity to meet great people from across multiple states. We look forward to seeing you there!
The 2015 Spring tour is dedicated in memory of our friend and long time BMT attendee, Marcus "Martini Marcus" Bastianen. Marcus was a staple in the BMT family and his memory will live on for future BMT's, and watch over us as we ride. He is survived by his wife Vicki and two beautiful little girls, Kelsey and Kylie, Kylie has been his co-pilot and a great 2 way radio operator when Marcus was in sweep car position.
Marcus and Kylie on a previous BMT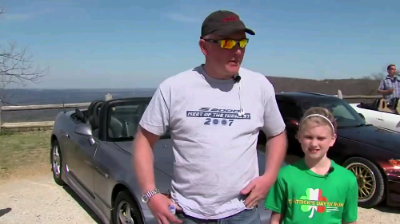 Memories of Marcus Thread
Please Post Your Name/State/and if you will have a +1
Sincerely,
Your BMT Staff
When
:Saturday March 28, 2015
Time :
Registration Opens at 7:30 a.m.
Mandatory Drivers Meeting: 8:10 a.m.
Tour Start Time 8:30 a.m.
Where : Holiday Inn Express
117 Highway 43 East
Harrison, AR 72601
Hotel Information:
Holiday Inn Express
117 Highway 43 East
Harrison, AR 72601
For Reservations Call 870-741-3636 , Reference that you are with "Boston Mountains Tour" to be eligible for the Group Rate
WE WILL BE ENDING BACK IN HARRISON, Make your reservations for two (2) Nights.
We have a block of 10 rooms set aside, and have a group rate of $85.99 + tax / Night for a 2 Queen Bed Room or $105.99 + tax for a suite.
Continental Breakfast is included in the price of the room.
Tour is limited to 50 cars
Julie (JulieU) will be our photo ninja
Reminders will be given periodically as we get closer to the event to inspect your: Car, Tires, Fluids, Brakes . Also be sure to arrive to the starting point with a full tank of gas.
[color="#006400"]
Here are a couple of Videos from BMT's of the Past The first being the event Featured on The List
:
BMT featured on The List TV Show
Martini Marcus's BMT compilation
Push Mountain Road By Dragon Didg
CONTINUE TO CHECK THIS THREAD FOR PERIODIC UPDATES
Please post your Name (Real Name), What state your attending from, if you will have a passenger (+1) and if you are confirming your attendance. Confirmed names will be bolded in the lists below.
List of Attendees by State
:
ARKANSAS
Jmoore2k +1 (Jerome)
Mpetus (Matt) Tour Guide
dchavez956 +1 (Daniel)
Riderguy57 +1 (Scott & Maureen)
Se7inhand +1 (Michael)
rjmancia (Robert)
Uncle Ben (Ben)
rolling_stop +1
OKLAHOMA
JulieU
(Julie-San)
CallOrlando (Orlando) Tour Guide
engear2005 +1 (Quinton) Sweep Car
Road Racer (Chris)
Don Miguel +1 (Mike & Monica) Sweep Car
Spiro55 +1(Rob & Chris)
J Schmidt +1 (Jason & Mrs Schmidt)
Shinobi77 +1 (Joshua)
TulsaS2k
solarb16 (Paul)
eDiesel
TEXAS
hondawifey +1 (Lori & Kevin)
GreenS2k +1 (John)
VA2K (Brian)
Trentor (Trent)
DToler +1 (Donnie)
Silstone05 (Matt)
MISSOURI
Oheim +1 (Dave) Tour Guide
ntesnseone "Spartan" (Skyler)
jeepilot (Blake)
Dragsol +1 (Tony)
Doug +1 NSX
Kcfan1970 +1 (Jeff)
Devin +1
Xander +1 RX-8
Dragon
Kent2 +1 (Kent)
dougartstudio +1 (Doug)
Tribbs +1 (Emily)
LOUISIANA
Ch0pper +1 (Andy) Tour Guide
ALABAMA
02-11-2015, 09:55 PM
Join Date: Nov 2012
Posts: 87
Likes: 0
Liked 0 Times in 0 Posts
---
02-12-2015, 04:00 AM
---
Quinton Hembree +1 Oklahoma Confirmed
02-12-2015, 06:27 AM
Registered User
Join Date: Jan 2015
Posts: 7
Likes: 0
Liked 0 Times in 0 Posts
---
02-12-2015, 09:12 AM
---
Andy,
Here is a hotel suggestion, just for the pool
.....
http://www.ihg.com/holidayinnexpress...tail/amenities
Jeff