S2000 With Aftermarket Exhaust: California And Other States?
01-10-2019, 11:02 AM
---
Originally Posted by
SaintS2000
One thing I know for sure is... people have voted for it and this one won. Not blaming anyone, but it is what it is.

I wonder, though, if this majority realize that their significant other, a family member or someome that they are closed with may have done modifications on their vehicles and now this law! They probably didn't put a lot of deep thinking on this one and iust clicked the box on the ballot.

California has so many laws. But this one hits and will affect a lot!
Oh I'm blaming someone. I'm blaming the street take-overs. A section of the freeway near my house is littered with skid marks from donuts.
I will say this to the dumbasses that voted this to pass. This doesn't change anything to the people responsible. Adding an exhaust fine to everybody isn't going to stop the 1% of people in that community from being stupid. What they're doing on the take-overs was illegal before this law, adding this isn't going to stop them. All this does is affect the thousands of us who are completely innocent and just as disgusted at their acts as you are.
Also, can I just point out, a large majority of those cars doing the take-overs were domestics. I'd really like it if the cops can stop that stereotype that every japanese car is out there murdering babies.
01-11-2019, 12:20 AM
Join Date: Jan 2004
Location: socal
Posts: 495
Thanks: 0
Thanked 0 Times in 0 Posts
01-13-2019, 09:08 PM
---
As a person that drives a highly modded high hp turbo s2000. This highly worry's me. If I get sent to the state ref one more time I'll be very tempted to call it quits on the s2000 and parent everything out and sell the car and move on to a full bolt on e85 grit or 997 turbo on the stock fatback exhaust. I have been read on face book that they have been cracking down a lot this year and issuing exhaust and state ref tickets like crazy.

For people like me that love working on and modding cars and can't stand driving a sub 500hp car. Looks like we have to move on to cars that come factory with a turbo and with the ability to tune on the stock computer. You just can get away with so much more with those type of cars.

the only advise I can give to people like my self that drive cars that come stock with very low hp and are built and turboed to well over 500whp is that obviously we have to run no cats and full 3inch exhaust systems but we do not need to have a crazy loud exhaust. Run multiple straight through resonators and run the largest straight through non cambered muffler you can fit. I personally run a custom made full 3 inch turbo back exhaust but I do run 2 very large vibrant resonators and a very large straight through muffler so the car is actually not that loud. But it will still never pass the 95 decesible test, almost no aftermarket exhaust will.
01-14-2019, 07:29 AM
---
so the car is actually not that loud. But it will still never pass the 95 decesible test
Not that loud? "Not that loud" comments are how I ended up with an entirely unsatisfactory, annoyingly loud exhaust three years ago. Expensive lesson selling a couple-week old exhaust. 95dBA is hearing-protection-required loud.
For grins get someone (not the cops) to determine what it is. There are ways to muffle it more. Remember the decibel scale is logarithmic and every 10 dBA is twice as loud.
-- Chuck
01-14-2019, 07:34 AM
---
Other states?
Typical color coding shows California as Green which I assume means Good because there is a
published standard
(the 95dBA topic here) so there is no doubt in compliance. States in Red, like my Virginia don't have such a standard other than an exhaust can't be louder than that fitted at the factory.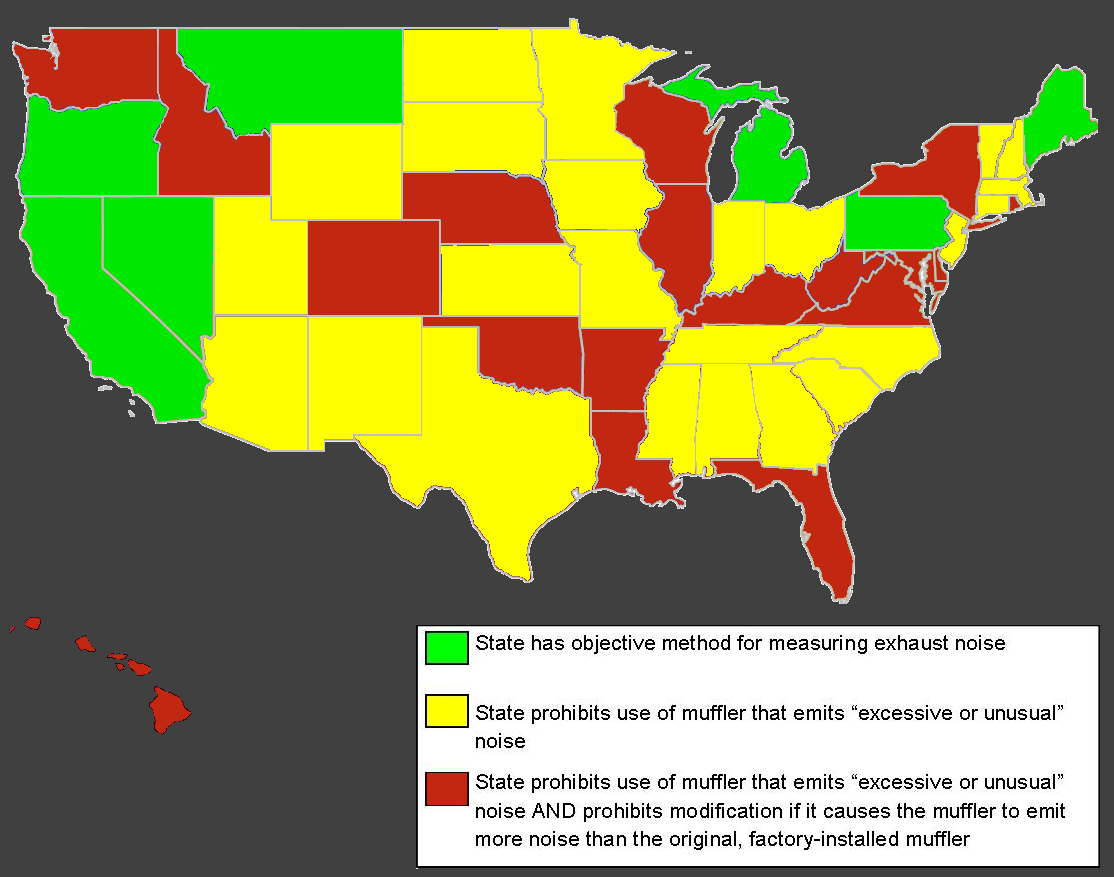 -- Chuck
Thread
Thread Starter
Forum
Replies
Last Post
S2000 Modifications and Parts
Mid-Atlantic S2000 Owners
Mid-Atlantic S2000 Owners