2020 Ford Mustang Shelby Cobra GT500
01-14-2019, 09:36 AM
Join Date: May 2003
Location: DFW
Posts: 1,783
2020 Ford Mustang Shelby Cobra GT500
---
700HP (at least), 7 speed DCT, 0-60 in the 3's and 1/4 mile under 11 seconds.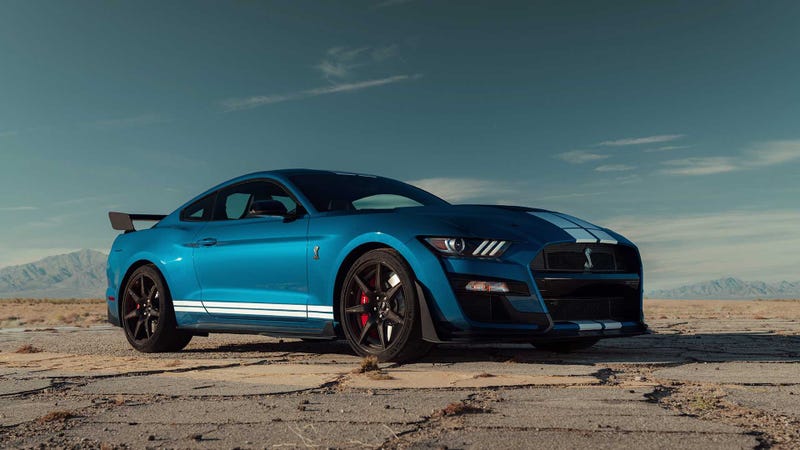 https://jalopnik.com/the-2020-ford-m...s-a-1831729434
The GT500's 5.2-liter supercharged V8 is paired with an all-new seven-speed dual-clutch transmission from Tremec and has no manual option, at least not at launch. The chassis is fitted with a carbon fiber driveshaft, MagneRide dampers and high performance Michelin tires Ford claims were specifically engineered for the car, with Pilot Sport 4S tires optional. There's also huge Brembo 16.5-inch rotors with six-piston calipers, so the thing can stop hard, too.
I know that Billy Johnson (who posts on here) was also involved in the development, so it should be plenty capable in the twisties as well. Very interested to see what the MSRP on this beast will be.
01-14-2019, 10:27 AM
---
They've smartly made the expensive stuff (carbon) options to keep the MSRP lower.
I'm really glad it's no the voodoo motor SC'd and happy it's not a manual. Won't eat into GT350R values.
Looks like a hellcat that can corner. Really excited to see Ford staying after this.
01-14-2019, 11:02 AM
Join Date: Dec 2001
Location: Boston
Posts: 4,593
---
Sure looks awesome. Ford has been on a roll!
01-14-2019, 11:45 AM
---
I think the DCT is a smart choice, in this case, as it allows for consistent drag racing times while being quick enough for track work as well. This car should be a beast! I think the ZL1 1LE will be quicker around a track, due to the lower weight and newer chassis, plus the crazy aero, but this thing should dominate in a straight line.
16-1/2" rotors??
01-14-2019, 12:17 PM
---
Hopefully Bumblebee will be around to protect mankind...
01-14-2019, 12:32 PM
---
01-14-2019, 12:55 PM
---
I'm surprised that the fact it's probably the first mustang ever with a dct is not more headline news worthy than the 700hp. How many American cars have dct? I'm drawing a blank at the moment.
01-14-2019, 01:31 PM
---
Ford has the (troublesome) PowerShift DCT in the Focus and Fiesta (up to 2016). I don't think any others had/have one.