Newest chapter in my Porsche adventure
03-29-2015, 11:37 PM
Join Date: Jun 2002
Location: Triangle Area
Posts: 1,957
Likes: 0
Newest chapter in my Porsche adventure
---
Although I picked up the car almost seven months ago, I've only just now got around to sharing with Car Talk.
My main criteria for the purchase were the following:
Decent performance and handling even by 2015 standards
Ability to carry out daily driver duty
Potential to keep me interested enough for a long-term relationship
Low depreciation over the next five years
Good reliability
Reasonable maintenance cost
After much Internet research and many test drives of many cars, I chose the Porsche 996 Turbo as my target next car. I further narrowed it down to cars with manual transmission and coupe body style. My search ended when I pulled the trigger on this car:
It's a 2003 with a few options worth calling out. It has the X50 Power Kit (turbos, intercoolers and exhaust from the GT2, beefier transmission), the Aerokit, "Small Carbon" interior package, and Polar Silver paint. The more common silver on late model Porsches is Arctic Silver. Polar Silver has a hint of a blue.
The ownership experience has been truly wonderful these past few months. I get to drive an amazing car to work every weekday and then enjoy it on some wonderful SoCal roads on weekends. Performance is pretty immense. Motor Trend got the 996 Turbo X50 through the quarter mile in 11.9s at 120mph. My car has a GIAC tune that unlocks an additional 70hp. I felt the handling was good by standards of GT cars, but not up to the responsiveness and balance of my previous 2006 Cayman S. In stock form, the handling of the 996 Turbo is very confidence inspiring, but a bit too understeer biased for my liking. The ride is comfortable. I've done the LA to Las Vegas drive a few times, and stepped out of the car feeling pretty good each time.
Two areas that haven't impressed me much are the shifter and the sound. The shifter has a long throw, feels a bit imprecise and can't be rushed. The turbos muffle things enough that engine music doesn't approach the quality of the naturally aspirated flat-six 911s.
Recently, I decided to do a set of suspension upgrades to improve handling balance and responsiveness. I replaced the old Continental tires with new Yokohama AD08R rubber. I installed Ohlins coilovers, an adjustable rear sway bar, monoball shock mounts, drop links, and rear thrust arm bushings. This made such a huge difference. I've killed the turn in understeer and greatly increased handling agility without sacrificing ride comfort. I'm also able to run decent alignment settings. The stock setup doesn't allow more than 0.7 degrees of negative camber at the front!
This is what the car looks like on the Ohlins:
03-30-2015, 03:11 AM
---
A friend of mine had the same car new and the dealer installed a short shift kit. Actually they installed on most Turbo's they sold. I think it was B&M. The acceleration is just incredible in that car. So immediate for a turbo. Very nice and enjoy!
03-30-2015, 06:17 AM
---
Awesome car. I know many consider the 996 the ugly duckling 911, but I think the turbo looks great. With the X50, you can't go wrong.

I actually have an old magazine ad for your car (same color no less) hanging on the wall in my office at work. The caption reads "absolutely wrong for so, so many people".
03-30-2015, 06:26 AM
---
Here's a 2005 Turbo S that my cousin and I exported to Switzerland a few years ago. Ended up losing a few bucks, but this car loaded to gills. Had 3K miles on with NAV and just about everything you could imagine. We would've done better if it was a regular Turbo for less money. I think at the time we paid 60K for it and like 4K in homoligation and Swiss taxes. We had to replace the fuel pump at 3K miles!!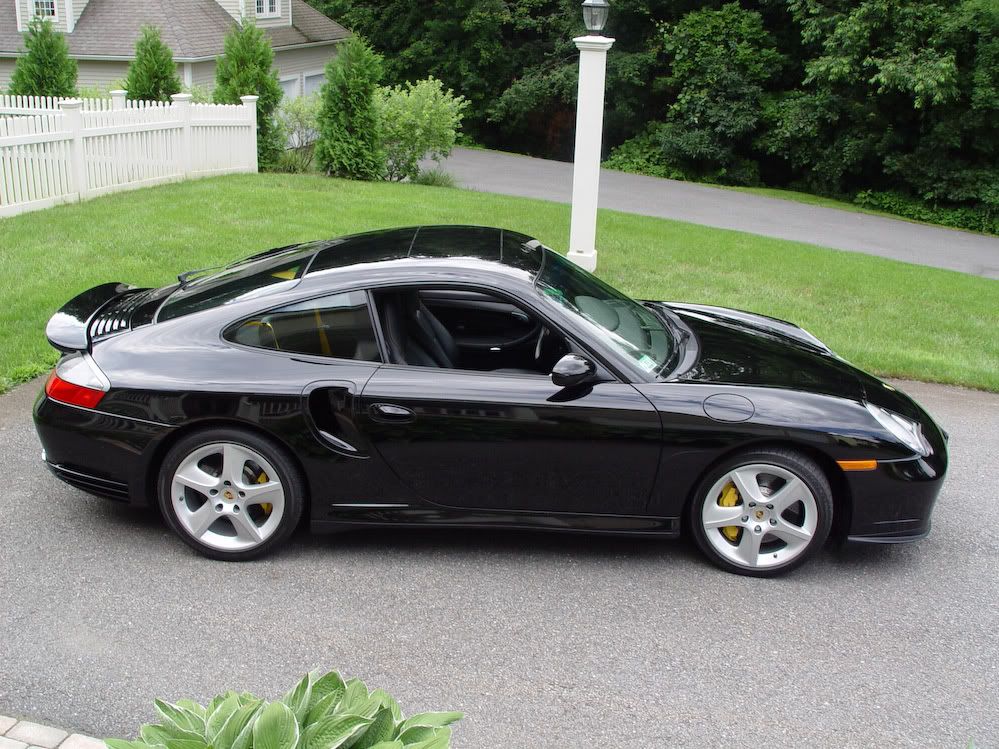 03-30-2015, 09:53 AM
Registered User
Join Date: Sep 2010
Location: Atlanta, GA
Posts: 3,726
Likes: 0
Received 0 Likes on 0 Posts
---
The 996 Turbo is really a bargain for the type of performance you get from it. I feel like in the not so distant future, values on these cars is going to start going way up. I don't think you'll have to worry so much about depreciation.
03-30-2015, 10:01 AM
---