2000 NFR For Sale
07-08-2010, 10:26 AM
Registered User
Join Date: Jan 2009
Posts: 24
Likes: 0
Received 0 Likes on 0 Posts
2000 NFR For Sale
---
Sadly the time has come to sell the S. Funds just aren't around to build the car like I had hoped and I'm forced to sell it. I posted the car on Craigslist yesterday but I am just getting a bunch of low ballers so I figured I would post here to help it find a happy home. So here is the rundown. TELL YOUR FRIENDS!
Price: $8,800 o.b.o
Year:2000
Exterior: New Formula Red 6/10 Condition
Interior: Black 9/10 Condition
Mileage: 134xxx
Title: Clean and In Hand
Location: Mooresville, NC
Phone #: 704-880-8405
E-mail:
[email protected]
or PM me.
This is a great car as you all know. I have had ZERO problems out of this car over the past two years. Most of the mileage came from a drive between Jacksonville, NC to Mooresville, NC every weekend, I purchased the car with 80k miles. The top is in great shape, it came off a 2005 S so obviously it has the rear glass window, no leaks or holes.
Last summer I was driving through a parking lot on base and someone backed out of their spot right into me. He hit me right on the drivers side rear quarter panel beside the wheel. As a result he dented and scratched the quarter panel and also scratched the wheel. The body shows the 10 year age. Most of the paint is good and glossy but it does have its chips and dings from the years on the road. Basically one good paint job and this car is a 10/10.
It has brand new tires all around. Oil Changes done every 3000 miles every time with valvoline high mileage oil. Right now it also has a Greddy TI-C single exit exhaust installed. Would like to get $400 extra for it or I can re-install the stock exhaust. I would just like to thank all the S2ki members for the wisdom, knowledge, and support found on this site. One day I hope to own another S and be apart of it again.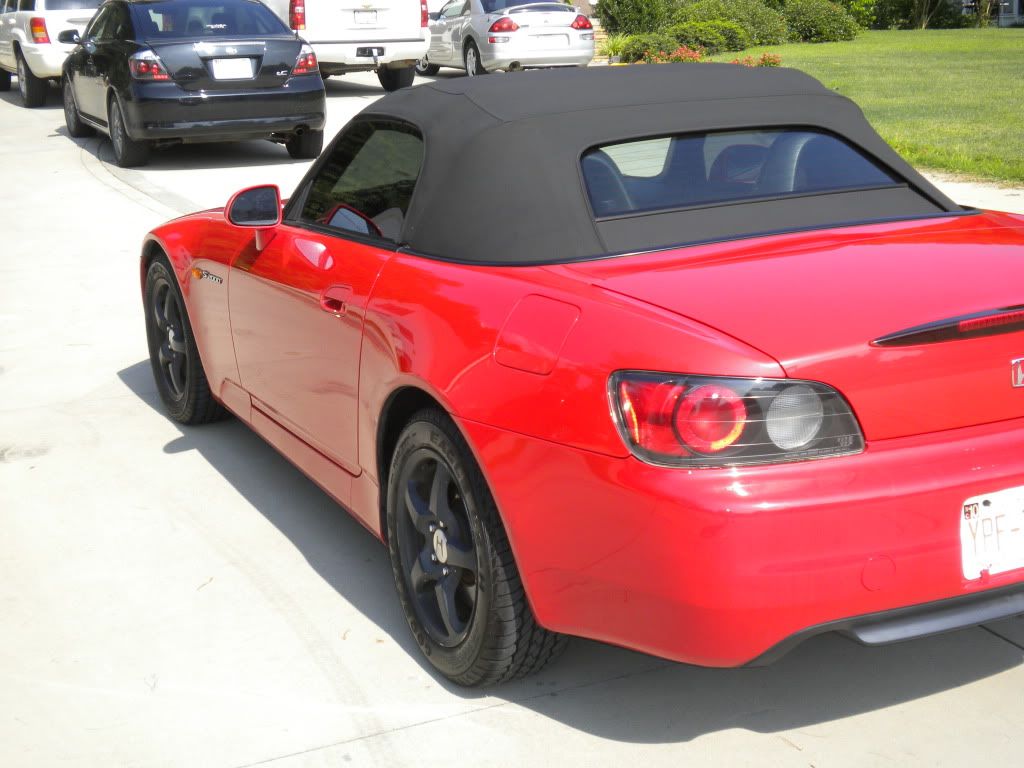 07-08-2010, 10:32 AM
---
Looks like a nice ride. You should have no trouble selling it. If I had another garage, I might be interested but my wife knows how to shoot all my handguns and well......I'll have to pass.

Best of luck.
07-08-2010, 02:00 PM
---
Yeah, no kidding. That's a great price.
The Tarheel Sports Car Club forum is bugged right now - once its fixed, I'll link to your ad over there. Surely someone would want this as an inexpensive way to get into a B-Stock S2000. Even at your asking price of 8.8K, I figure the buyer could build a nationally competitive BS car out of this for well under $12K total, including a set of Hoosiers.
If I had the 8.8K to spare, I'd be on my way. It'd be cool to have both an AP1 and an AP2.
07-08-2010, 03:36 PM
---
Are you the guy who rode around the block with me to hear my Buddy Club exhaust about a year ago? We left from the Ale House in Wake Forest.
Anyway, the link is up:
http://www.thscc.com/phpBB/viewtopic.php?t=10756
I don't know if non-members can see it, but I think that they can.
07-08-2010, 06:07 PM
---
Originally Posted by NCap1-11,Jul 8 2010, 08:21 PM
Sorry to say that was not me that rode with you. Thanks again
OK. Doesn't really matter, since it's still a great deal, I just figured maybe you were the guy. It was someone else who had found a very well priced, NFR AP1, and the timeframe and mileage were both about right.
I drove a BS AP1 at the DC Pro Solo last month after "The Incident" with my AP2. I liked it a lot, even though its setup needs some changes.
Thread
Thread Starter
Forum
Replies
Last Post