FS: AP1 front bumper mods
07-02-2010, 04:30 AM
Registered User
FS: AP1 front bumper mods
---
I thought i have these parts sold to but the buyer backed out. I will have pic up later on tonight.

1. Berlina Black Amuse replica (poly) lip. It has a normal wear (sone rock chips)for a lip that has been on a car for 3 years. There are some scrapes on the bottem but the lip is not cracked anywhere.

$150 + shipping & paypal fee



2. My EK foglight setup includes:
-Depo brand yellow EK foglights with the housing modified to accommodate H3 Hid bulbs.
-6000K and 8000K H3 HID bulbs
-ballest with mounting hardware
-A custom made wiring harness that allows the HID kit to be plug and with the foglight wiring harness, which is included as well.
-Modified foglight brakets to hold the foglights in the bumper
-PWJDM dry carbon foglight covers.

The foglights have normal wear (a few small rock divots in the glass, no cracks). I have right at $300 in this setup.

$150 + shipping & paypal fee
07-05-2010, 06:12 PM
Registered User
---
I have be busy doing bodywork and have not removed them from the bumper yet. Here are some pics tho.
This pic was taken right before I removed the bumper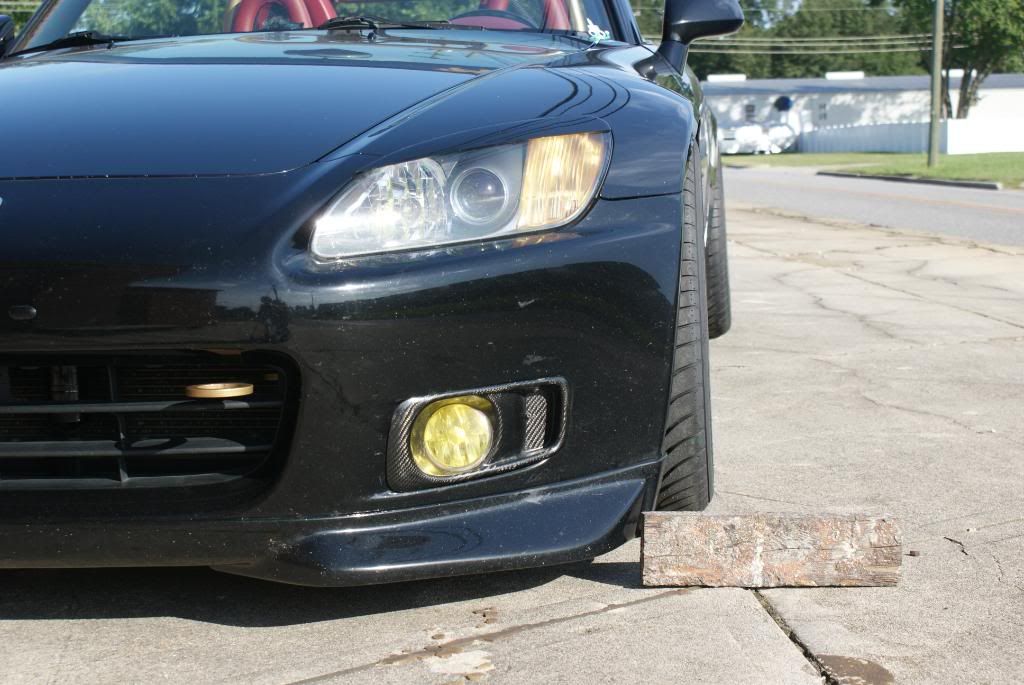 Close up from the install of the HID's and dry carbon covers a year ago.
The ballets mounting location
Color with 6000k bulbs
07-06-2010, 01:40 AM
Registered User
07-06-2010, 10:28 AM
Registered User
---
I took the signal wire into the cabin of the car and ran it to the mute button since I don't use those controls with my after market radio. That way I could cut them on and off as I please as long as the car was running.
I will be more than happy to tell you what to wire them to for the result you are looking for. Tapping into the positive wire on the parking light would work great for an always on wile the parking lights are on effect.
07-07-2010, 06:41 AM
Join Date: Aug 2003
Location: Durham NC
Posts: 1,599
Likes: 0
Received 0 Likes on 0 Posts
---
Ohhhhh I like the mute button idea, until I leave them on and drain my battery! I don't use the mute button either with my controls. Let me think about it, but I really like them.
Thread
Thread Starter
Forum
Replies
Last Post
Member S2000 Classifieds and For Sale
Southern Ontario For Sale
Vancouver BC S2000 Owners
Pacific Northwest S2000 Owners
Member S2000 Classifieds and For Sale