Georgia S2000 Sightings
02-05-2015, 02:58 AM
Join Date: Oct 2013
Location: Austin, Tx
Posts: 220
Thanked 0 Times in 0 Posts
---
Been seeing a nice yellow S2k in Clarkesville, GA recently. Parks at a house just down the street from me, so I see it on my way into town fairly frequently. AP2, I think (though I never get a good look at it). Anyone else from the NEGA area on here?
03-09-2015, 01:39 PM
Registered User
Join Date: Mar 2014
Posts: 29
Thanks: 0
Thanked 0 Times in 0 Posts
---
There was a Silverstone s2k with black wheels parked in the At&T garage in midtown today. Your car made me resent my terrible rental even more then I already did. Flying home now and going for a drive in my Silverstone AP1 as soon as I get home.
07-24-2017, 03:46 PM
---
Just got my LBP '06 AP2 a few weeks ago. I thought the Jeep wave club my wife is in was cool, but S2000s owners wave much better : )

Last week, NFR on Post Oak Tritt. Got a big wave.

RYP on north 75 today, was going slow trying to eat my apple (don't hate me, I didn't get it on anything), and he slowed down to give me a big wave and smile, then gave me a taste of his after market exhaust.

So cool.
03-10-2019, 07:33 PM
---
03/08/19
Saint Simons Island (Neptune Park area)
- Silverstone AP1 with '06/'07 wheels
- Rio '04/'05 with wing
- Berlina AP2 near the Demere Rd roundabout
03/09/19
Lanier Island
- Rio '04/'05 with wing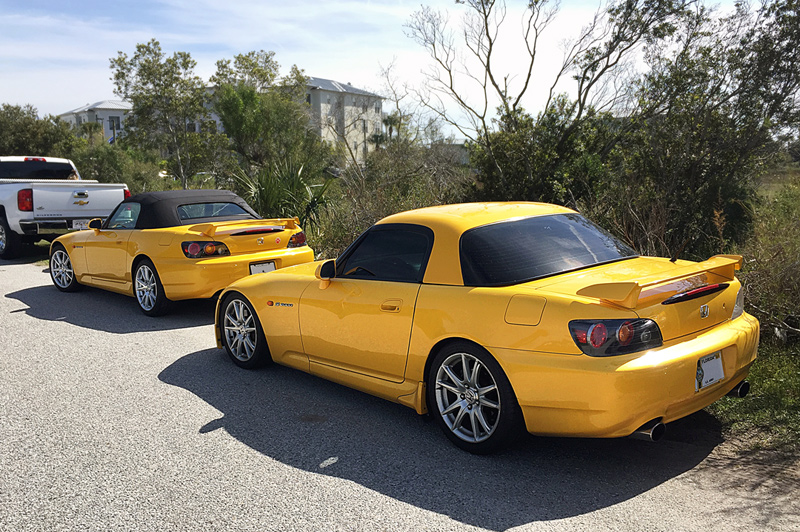 03/10/19
Savannah
- Silverstone AP1 northbound just south of Savannah Harley-Davidson
Saint Simons Island
- Spa AP1 w/ hardtop out by the pier
Thread
Thread Starter
Forum
Replies
Last Post
California - Southern California S2000 Owners