CWEST Mirrors
06-22-2011, 12:16 PM
Moderator
Join Date: Jan 2008
Location: Cockeysville,MD \>
Posts: 276,991
CWEST Mirrors
---
Name: Chip
Loc: Sparks Md. 21152
Contact: This thread or PM.
.
Car is gone, This stuff needs to leave also.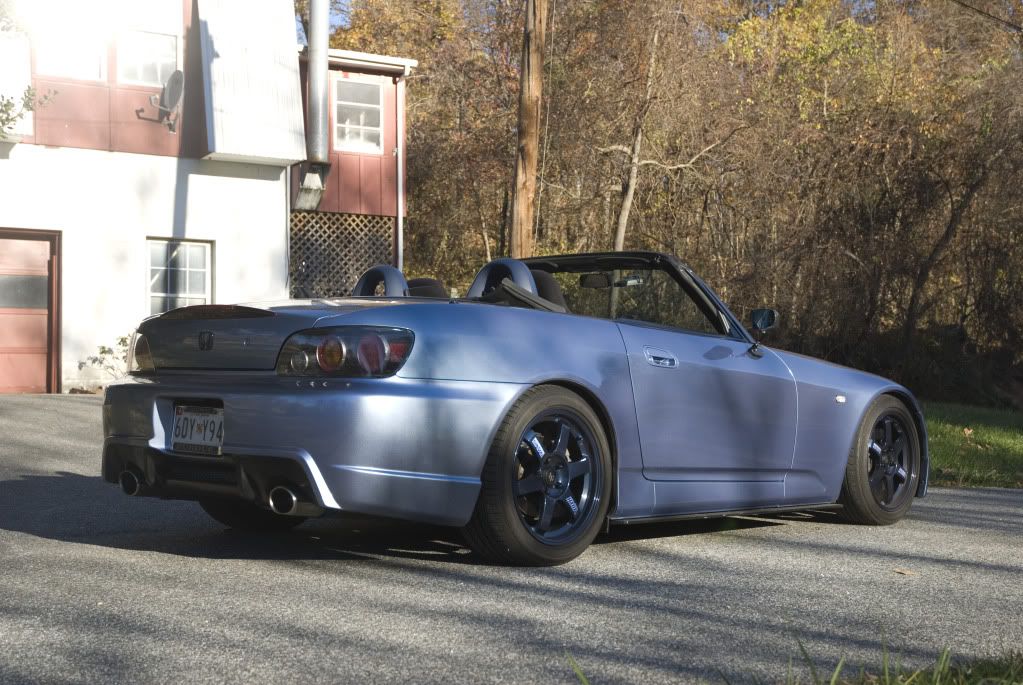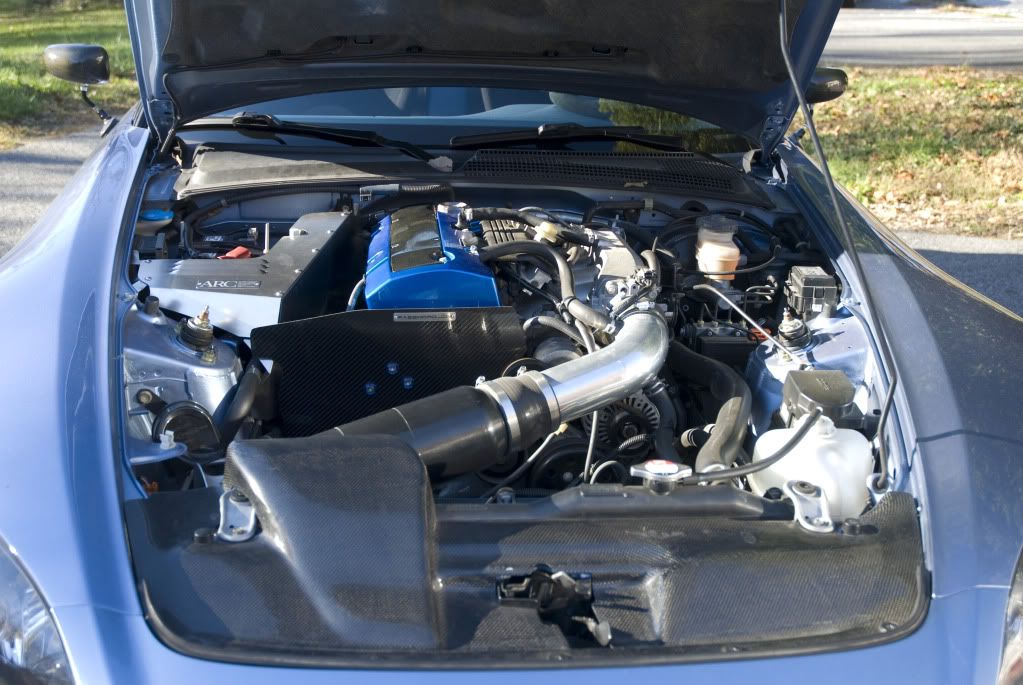 For Sale:
C-West Carbon Fiber Mirrors with S2000 bases. The drivers mirror had to be replaced with a non convex mirror. The clear is slightly yellowing on top but is barely noticeable. These are no longer made and normally come with Universal bases. $500 **Price drop $450 including paypal and shipping**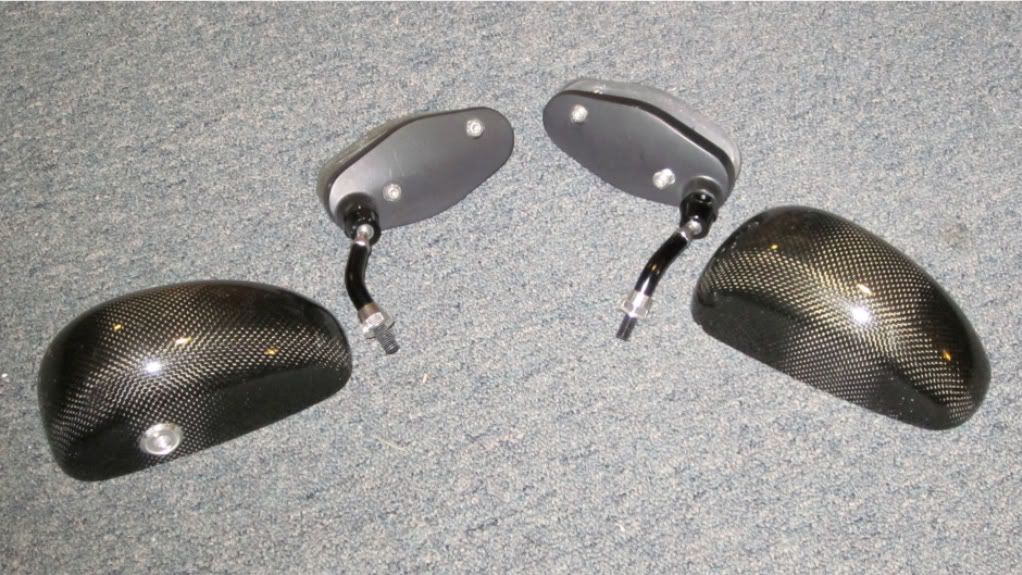 For Trade: **SOLD**
Ap1 Valve Cover. Powder Coated blue. CF spark Plug cover and billet oil cap.
It will work on an ap1 or 2004-2005 ap2 no problem. Only has about 20k on the seals and powder coating. Not separating yet. Trades Only.
$200 + ap2 trade
$225 + ap1 trade
For Trade: **SOLD**
The last thing up for trade is a ings+1 rear bumper. I will only trade this for a ap2 rear bumper painted suzuka blue. $400 with trade. It has a small spider web on one of the corners of the raised edge on the back. It is hardly noticeable.
PLM Header, About a year old. Maybe 3000 miles. Also has the fix so it doesnt leak. $300 **SOLD**
RDF X-Brace same as MUZ. $100 **SOLD**
LED set Front and rear turn signals in amber. Reverse lights. These are almost as bright as Stock bulbs if not as bright. No problems seeing them in the day. If you buy these before i sell my car we can swap flasher relays for free so you dont get the hyper blink. $100 **SOLD**
CF Side diffusers. The tops are in very good condition. No blemishes to note. $225 **Sold**
Kodakan Seat locks. Nothing wrong with them. $50 **SOLD**
Koni Yellows with ground Controls. 450lb Fronts 500lb Rears. 15k miles. One of the mounting holes is stripped but comes with a nut and doesnt effect anything. Top hats and everything included. Full drop in, no need for spring compressors or swapping top hats. $750 **SOLD**
Ive also got a second set of springs i pulled off of these that are 220 and 340. $200 **SOLD**
Modifry Alpine infrared DCI. Full Plug and Play. Just plug it in between the alpine harness and the oem one and you are all set. It is even prewired for an amp. $75 **SOLD**
Spoon Reclinable Seats. 9/10 condition. Passenger seat has a small spot on the bottom that I couldnt even get to show up in the picture. The driver seat has a small amount of wear from the seatbelt. These seats will not slide all the way back as the reclining knobs hit the sides. The seat stops about 2 inches from all the way back. Everyone that has sat in them says they are more comfortable then stock. Includes rails. **Sold**
AUT Style plate. Dunno who makes it. Fits great doesnt rub, didnt have to cut anything. No bubble or cracks. If you have a K&N intake this lines up great with it. $150 **SOLD**
PRM intake. Dunno mileage under 10k is in good condition. Includes K&N heatshield (as seen here
https://www.s2ki.com/s2000/topic/837...t__p__20484514
) Sounds amazing. If you have/buy the aut plate it feed air directly into the intake box. $300. **Sold**
Ricks Blue leather Shift Boot 9/10 condition, Matches blue interior perfectly. Much stiffer then stock. $30 **SOLD**
OEM Indoor Car cover. Only one is for sale. It was a back up that was barely ever used. No holes or anything. Includes storage bag
$150
**$125 + paypal and shipping** **Sold**
Works Bell Short Hub. When installed you can retain your clockwheel. $125 **includes paypal and shipping** **Sold**
AP2 door panels. 9.5/10 Only thing missing are the connectors to connect the tweeter to an AP2. Wires are still there though.
$250
**Lowered** $200 Sold
Berk Test Pipe with CEL Fix. ~7k mileage. Comes with Hardware and gasket. $80 **Sold**
MUZ 6 speed engraved counter sunk knob. Avg wear and tear. Still looks great. Has a set screw to keep it aligned. Very similar to the ricks knob (
http://ricks2k.com/products/shiftknob.php
). $55 ** Sold**
ARC Ti Heat shield. This thing is basically perfect. This is no longer being made as ARC is out of business. $350 **Sold**
Password JDM Full CF heat Shield. This thing is perfect. 6 months old. Probably under 1000 miles. It covers the normal front of the engine and all the way to the left side of the car. $150 **SOLD**
2 Hankook Ventus HRII Tires. OEM AP2 Front sizes. They look brand new.
$100
**SOLD**
Ricks Wilton Wool Floor Mats. They match the blue interior great. Barely Used. I had oem mat on top of these because i am nuts like that. $250. **Sold**
Electric cutout. Ive had this for about 3 years and 10k miles. It sounds pretty close to oem when closed but it isnt perfect but isnt noticeable unless you are listening for it. The welding looks like crap but it goes under your car. It is mounted to a berk test pipe. Includes switch, wiring, hardware, and gasket. $250 **Sold**
Lebra Hood Bra. Used once. Might as well be new. Tape optional. $25 shipped and paypaled. **Sold**
Ricks Radio door gauge set. What I have is the boost sensor, fuel pressure, and a/f ratio. Youll have to obtain the water temp sensor (
Available Here
) .
As this is $1200 new and missing a sensor. Im asking only $700. There are very few of these in existence and very rarely come up for sale. More info and other pics are at the link below. **Sold ***
http://ricks2k.com/products/gaugeset.php
personal Neo Grinta Suede Steering Wheel
Horn button has a small scratch. Does not include quick release hub $110 ** Sold**
Mag Blue TE-37's, volk centercaps, mag blue valve stems, black gorilla lugnuts, and 2 sets of hub centric rings.
Sold
06-22-2011, 02:00 PM
Registered User
Join Date: Sep 2006
Location: San Antonio, TX
Posts: 878
Thanks: 0
Thanked 0 Times in 0 Posts
---
What size is the test pipe?
06-22-2011, 02:50 PM
---
Interested in the hub you have a pm
06-22-2011, 03:54 PM
Registered User
Join Date: Jun 2011
Posts: 13
Thanks: 0
Thanked 0 Times in 0 Posts
---
hello I am interested in your panels and know how you can send and payement them to me I'm from montreal quebec gives me new thank you and sorry for my English.
06-22-2011, 08:24 PM
---
06-23-2011, 07:08 AM
Moderator
Join Date: Jan 2008
Location: Cockeysville,MD \>
Posts: 276,991
06-23-2011, 07:09 AM
Moderator
Join Date: Jan 2008
Location: Cockeysville,MD \>
Posts: 276,991
06-23-2011, 07:11 AM
Moderator
Join Date: Jan 2008
Location: Cockeysville,MD \>
Posts: 276,991
06-23-2011, 07:45 AM
---
arc heatshield shipped to 76548. any flaws with it?
Thread
Thread Starter
Forum
Replies
Last Post
UK & Ireland For Sale and Wanted
Southern Ontario For Sale
Posting Rules
You may not post new threads
You may not post replies
You may not post attachments
You may not edit your posts
---
HTML code is Off
---