Jake's rebuild thread
12-12-2010, 07:03 AM
Jake's rebuild thread
---
Picked this up on 11/24/2010 from Addictuned S2K. Runs and drives perfect, just needs the frame straightened some body work and paint. It also has the 04+ top with the rear glass conversion. Has 114kmi on the clock. Before i purchased this car i sent the pictures over to a body/collision shop that does a lot of frame straightening and i have heard good first hand reviews. They quoted me 200 to get it perfect, so after hearing that i jumped on this baby and picked it up. I will have it back from the shop (Harts collision in East Greenbush) the middle of this week.
My goals with this car are simple. Make it nice and quick, it's a great base to start from. This will be a summer car for a couple days a week only. First plan is to get it back to stock oem condition, second phase is turbo. Probably going to cage it as well. I've always wanted to do soo much to my cars but my problem has always been that i daily drive them. This is simply a project car for me so it's nice to know i can do whatever i want to it, and i don't have to get it back together for the next day. I can take my time on this, and i will.
Finished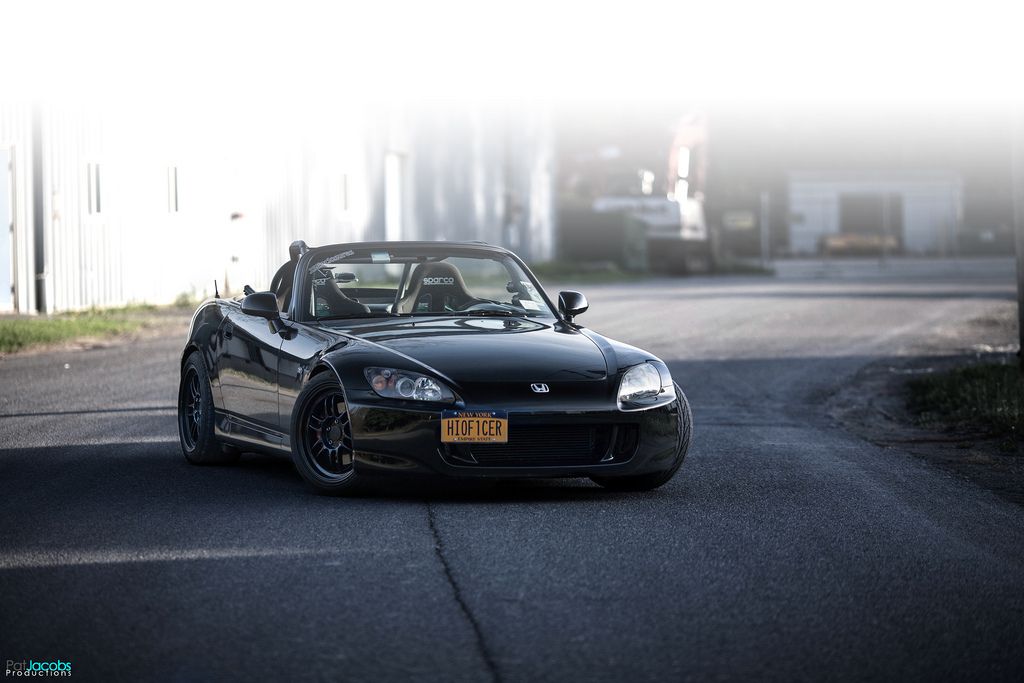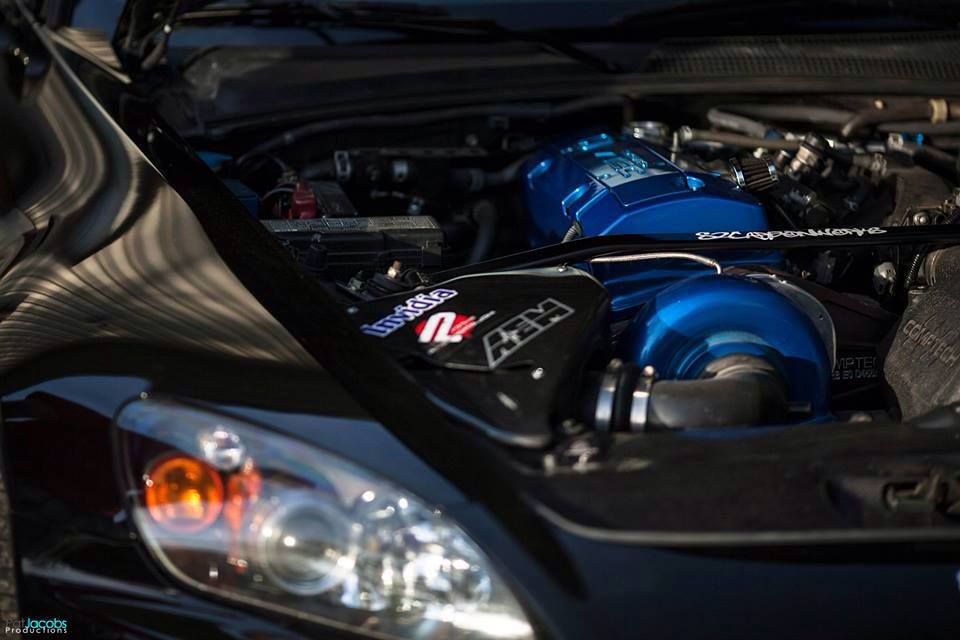 MODS
---Exterior---
Fresh berlina black paint
AP2 Headlights
CR fender turn signals
AP2 Front bumper
AP2 OEM Lip
Low Pro Aero Lip Protector
AP2 rear bumper
S2Carbonworks carbon fiber exhaust trim
Side emblems shaved
Rho-plate mount for front plate
HIOF1CER vanity plates
Perrin 4" shorty antenna
Newer soft top with glass rear window and hardtop latches
tinted windows
Powder coated OEM calipers candy red
convex mirrors
Enkei RPF1s staggered. +38 9.5" rear with 275s, +45 8" front with 225s
Shine overfenders
Tamon spoiler
Fortune auto coilovers, 10k springs with 11k valving
forbidden usa 2x2 carbon side skirts
---Interior---
Full roll cage custom built by Variant Fab
Hard dog custom roll bad padding and leather wrap
Mugen roll cage trim for a clean look
NRG hub, quick release and wheel
AP2 radio door
AP2 center console
AP2 06+ door panels
Sparco Evo seats
Buddyclub low rails
Takata short harnesses
Alpine radio with iPod hookup run through the ac vent above the radio door
modifry accessory bracket and iPhone mount
Valentine 1 security mount built by Variant Fab
Valentine 1 & V1 stealth display
Radio control interface shaved and cover in Carbon fiber wrap
(2) Autometer 1 3/4" roll cage 2 1/16" gauge pod mount
AEM wideband air fuel gauge
AEM digital boost gauge
finer liners carbon fiber transmission tunnel wrap
Ricks countersunk shift knob
Extended length floor mats
JL C5 speakers, JL 300/4 amp
---Under The Hood / Performance / Etc---
Password JDM carbon cooling plate
Password JDM and Skunk 2 Fender washers powder coated illusion purple
Password JDM valve cover washers powder coated illusion purple
Password JDM Vtec cover powder coated illusion purple
Password JDM radiator stays powder coated illusion purple
Password JDM battery tray and PC680 battery powder coated illusion purple
06+ Valve cover powder coated gloss black with illusion purple spark plug cover
Intake manifold powder coated wrinkle black
Novi 1200 blower powder coated illusion purple
Aftercooler powder coated semi-gloss black
EPS cover and throttle brackets powder coated illusion purple
Hella Supertone horns
Invidia 70mm test pipe with bung welded in for AEM wideband
Comptech sport dual exhaust
T1R rear anti-bumpsteer kit
Exedium front anti-bumpsteer kit
S2carbonworks coolant overflow tank
AC with doolots ac relocation lines
Erie s2k Driveshaft spacers
Exedium diff collars
ACT Prolite flywheel
ACT HD pressure plate, OEM disk, OEM bearings
Air pump delete and block off plate
vss wire clipped for top down while rolling mod
Alloycraft crossmember cover
Science of Speed supercharger with novi 1200 putting down 401whp
inline pro fuel rail with fuel pressure gauge
Science of speed Large water to air heat exchanger
Full Blown 340lph fuel pump
Alloycraft heater hose relocation bracket
Hondata intake manifold gasket
ID1000cc injectors
Hondata 4 bar map sensor
Hondata Kpro EMS
Comming soon:
AP2 taillight conversion
How it all began....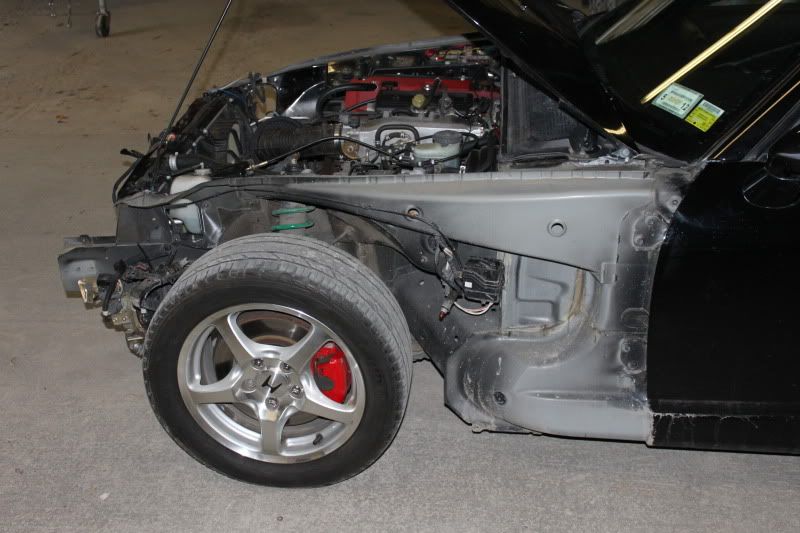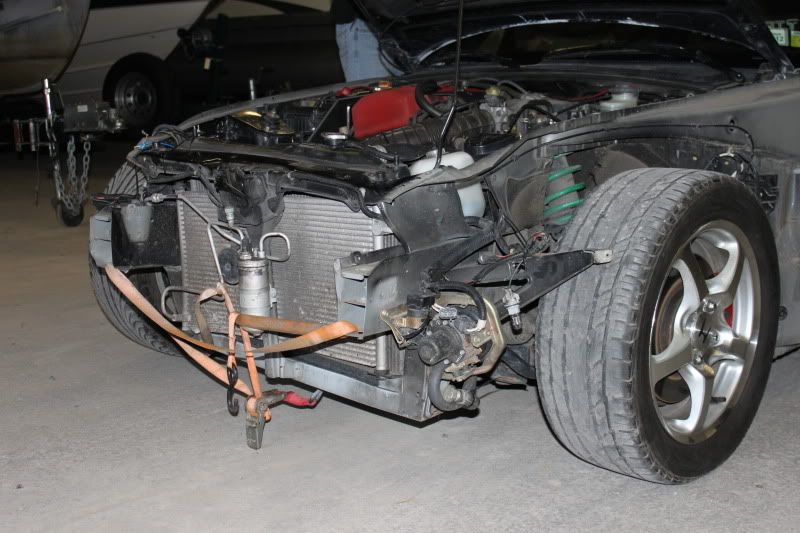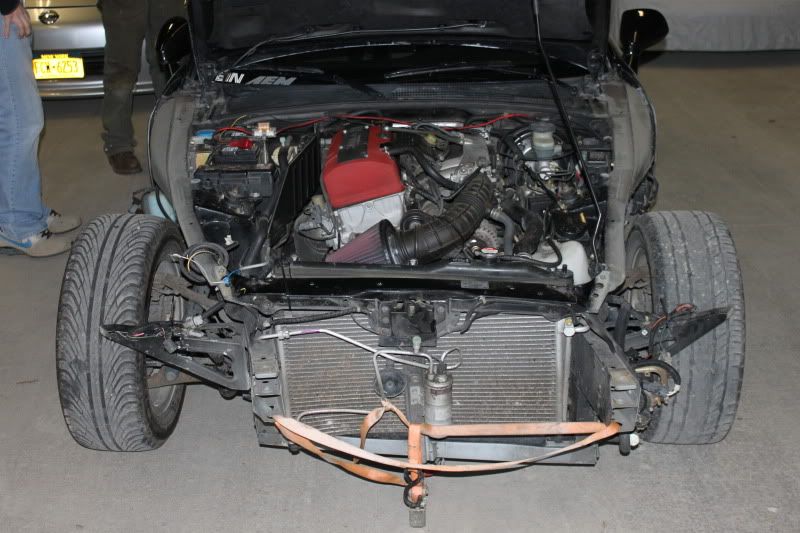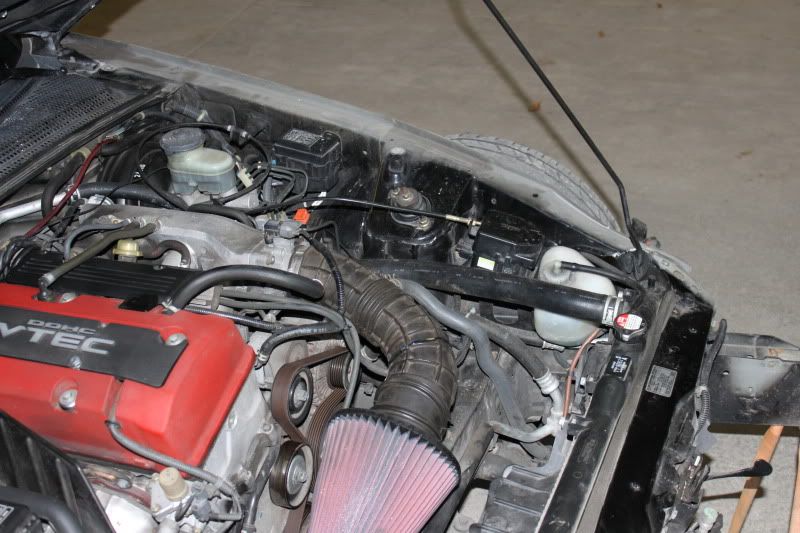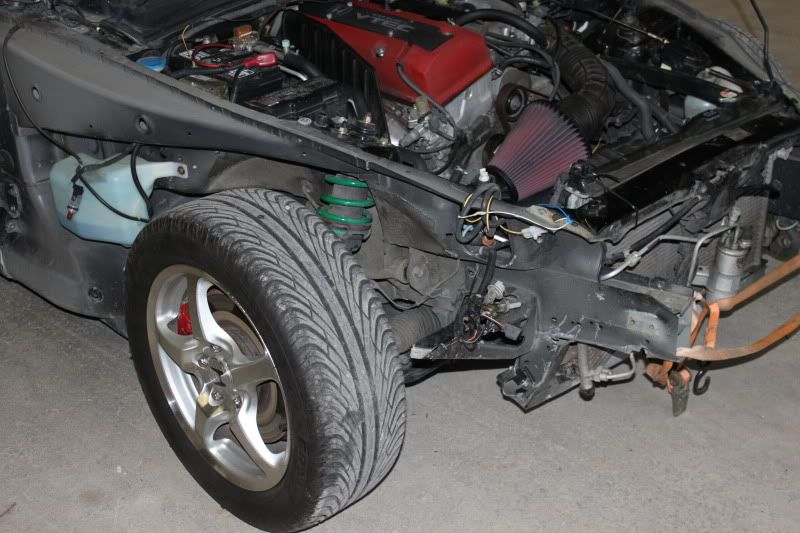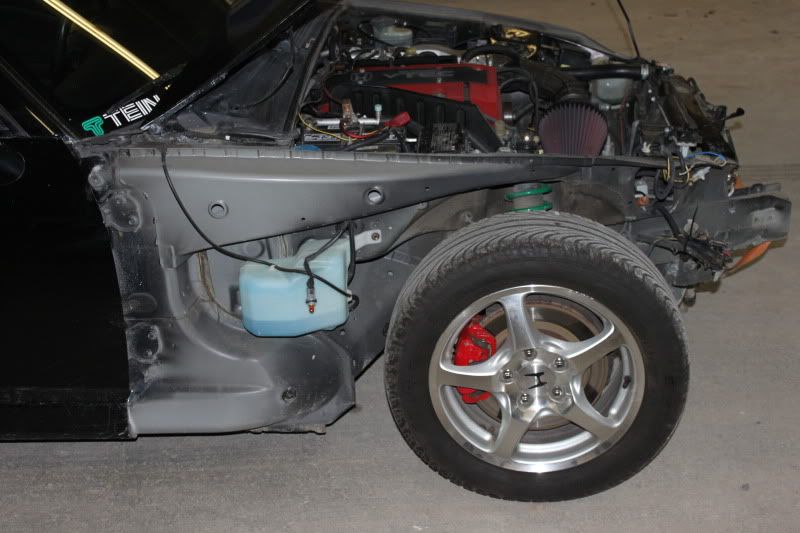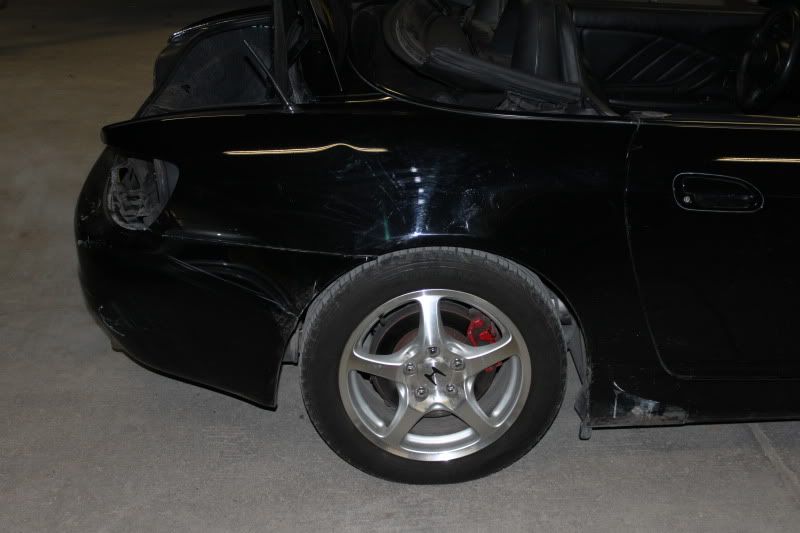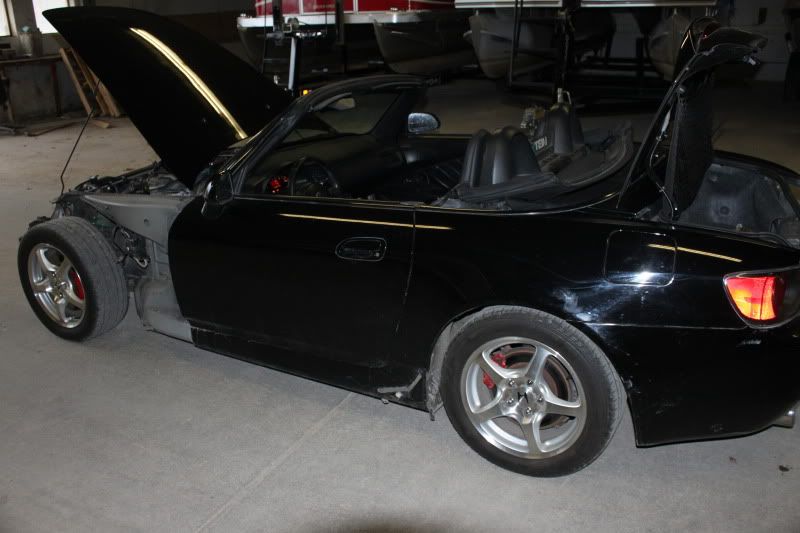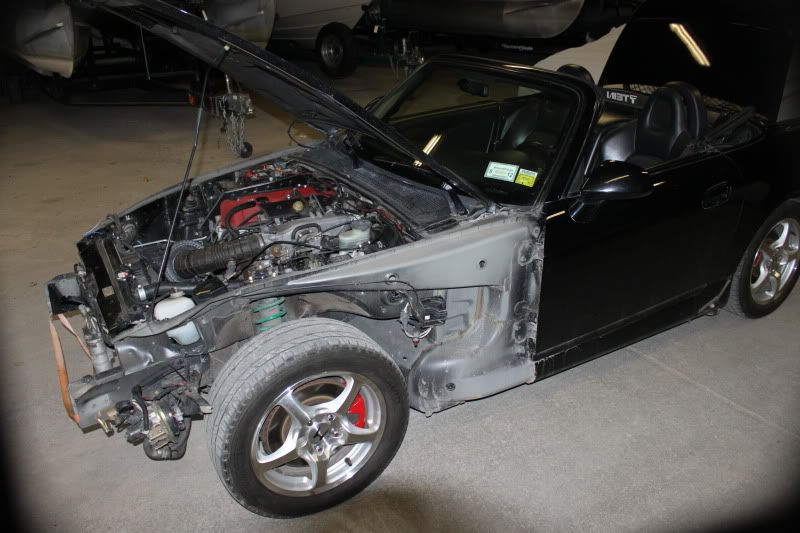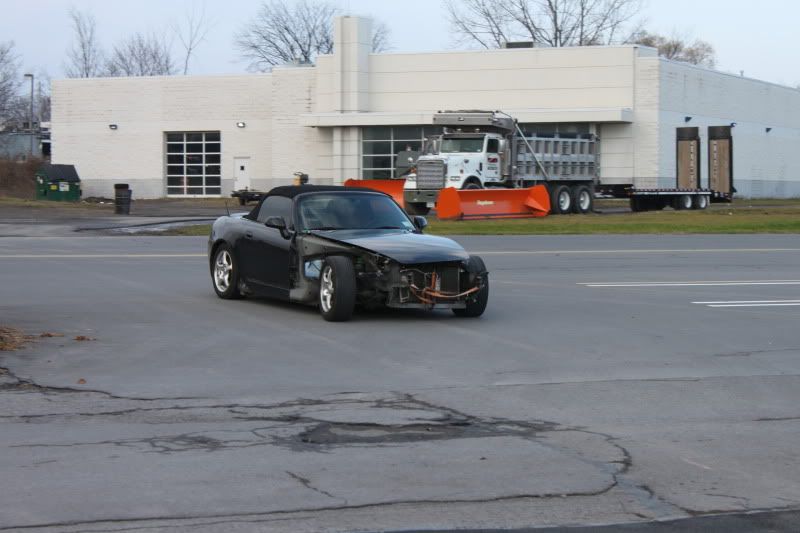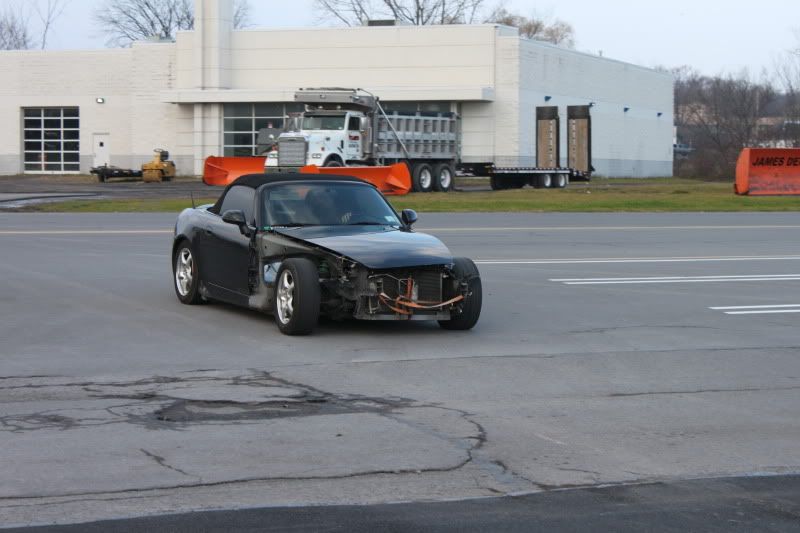 ---
Last edited by jsenclosure; 11-21-2016 at

05:40 AM

.
12-12-2010, 07:03 AM
---
11/27/2010
I drove out to Western Mass and picked up an oem trunk lid and two oem hoods. Figured i'm make one of the hoods vented as i've seen in a diy on here.
Then on the way home i went to poughkippsie to pick up taillights. Picked up taillights and also ended up picking up a carbon fiber hood at a great price they guy also happened to have laying around.
*I have one or possibly two oem silver hoods for sale in perfect condition if anyone is interested
11/28/2010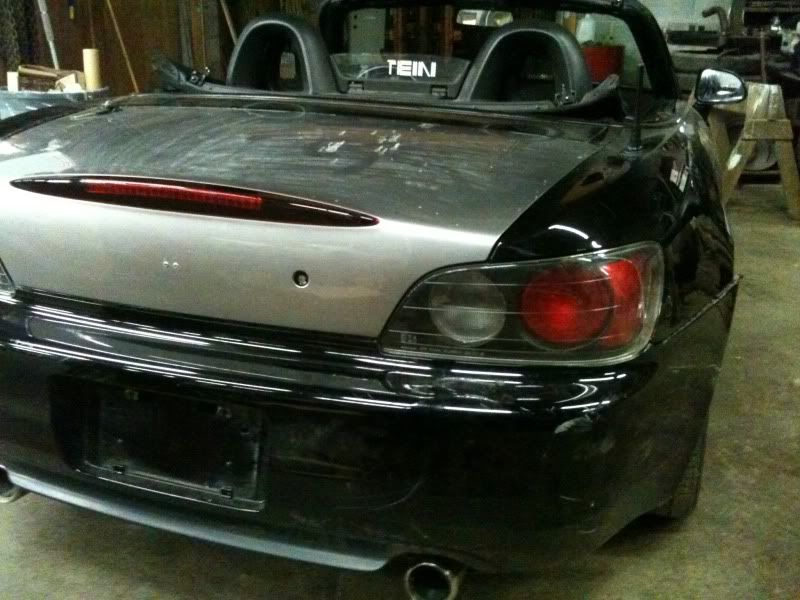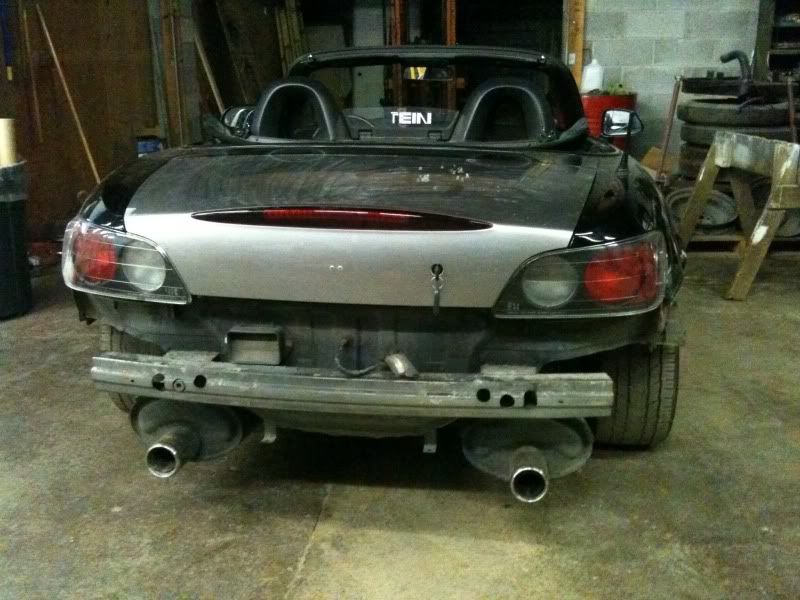 Got the new trunk on tonight, straighter out the rear end, and got the rear right taillight in. Also pulled the rear bumper off
12/3/2010
Dropped the car off at Harts Collision in East Greenbush to have the frame straightened. I should have it back midweek of 12/13
12/13/2010
Well, with the s2k in the shop for the frame straightening I have been eager to get it back and continue working on it. I have the dented trunk lid still lying around so I figured I'd make a trunk lid under cover. I already had all the mat, tape and the fiberglass which was dated 1/2011 so i wanted to use it up before it expired. I think I'm just gonna mount some crossovers here and a jsenclosures.com logo lit up under smoked glass.
Taped it off and made the fiberglass mold tonight.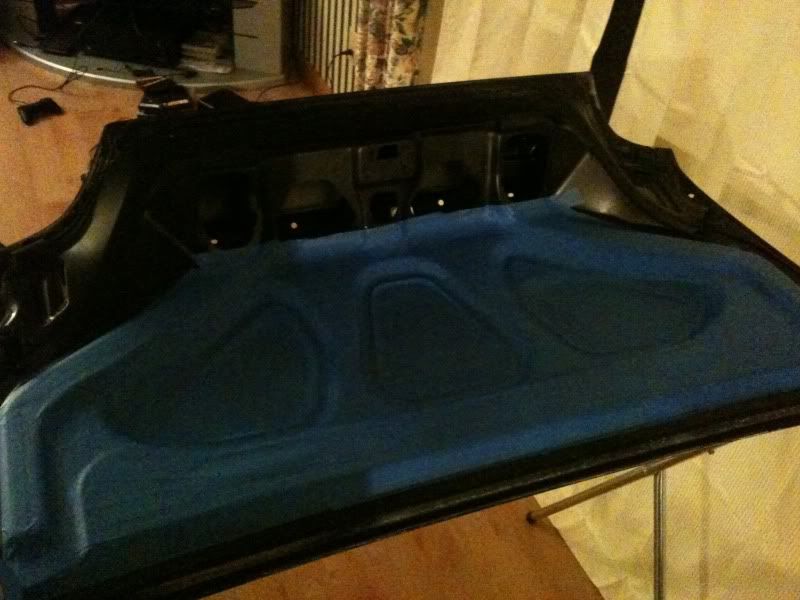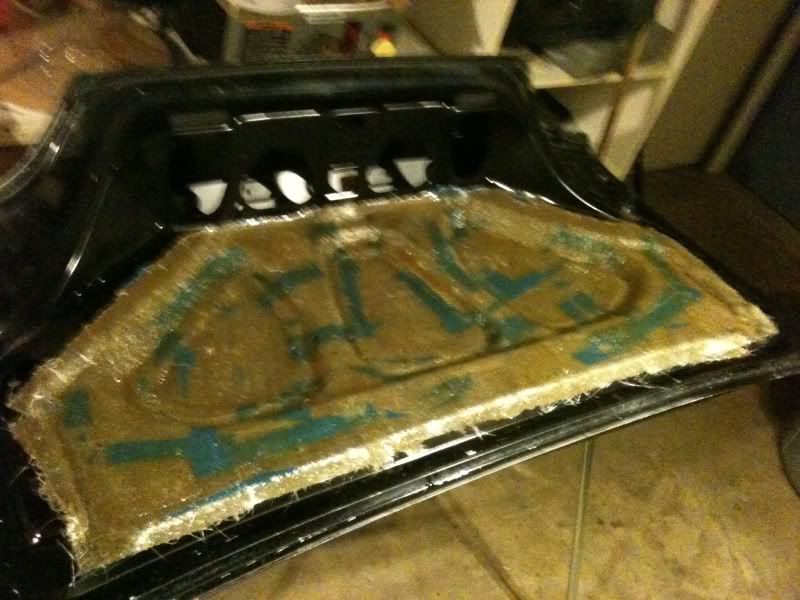 12/17/2010
Got the car back from frame straightening. Looks perfect and the alignment is great with the wheel again. Still need to take it in for a 4 wheel alignment after new tires though.
Frame is Straight! Woot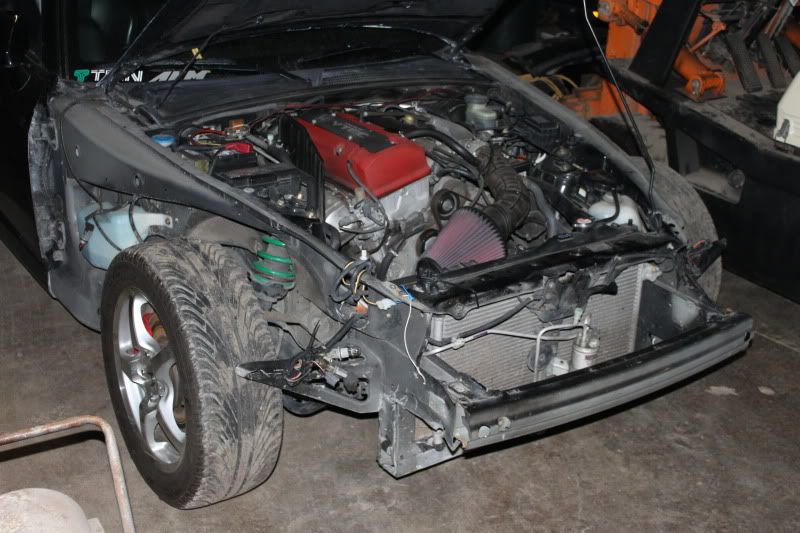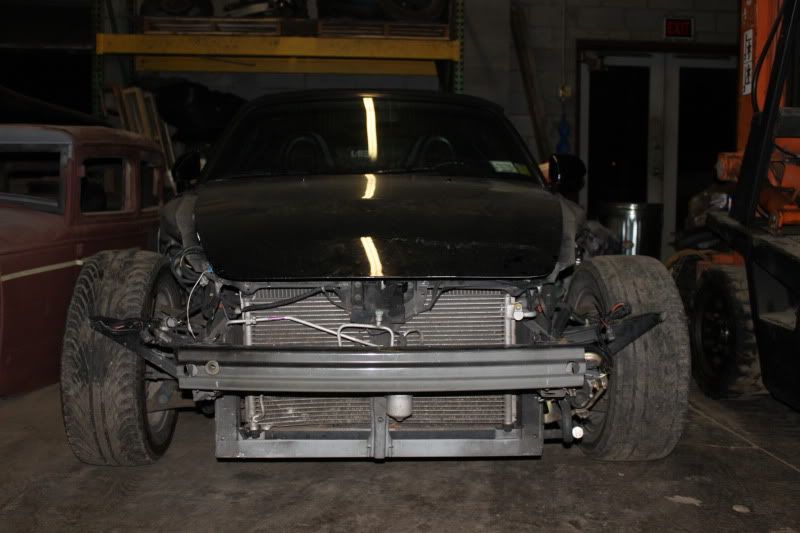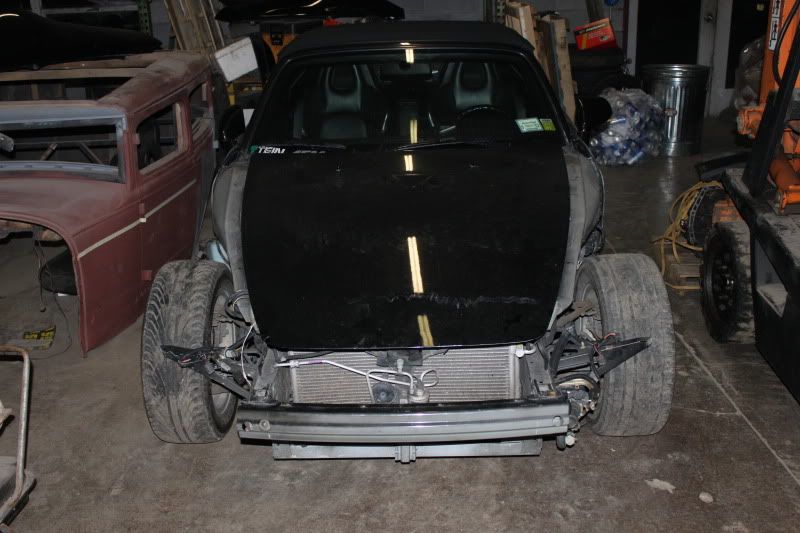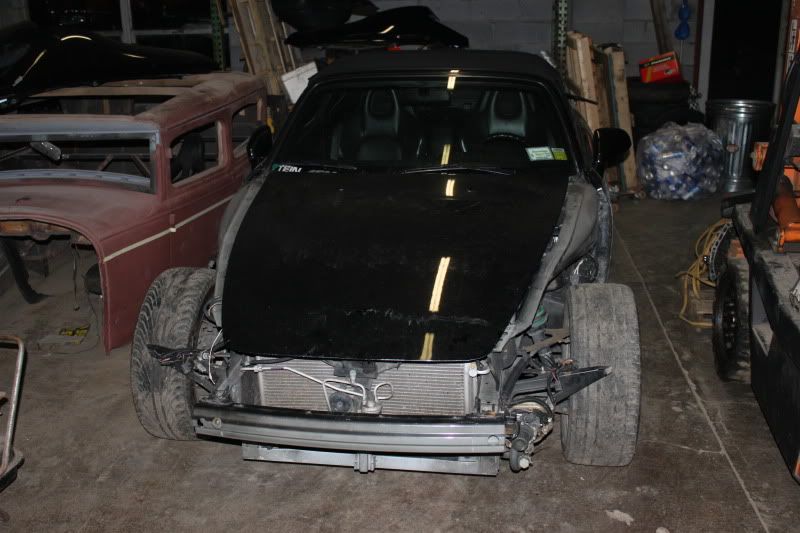 12/22/2010
Last night i went over and did some work on the car. It has had a CEL on since i bought it so i plugged in my ultra gauge to read the code. The code was P0410 "secondary air inj malf". I knew my air pump wasn't disconnect since the accident so i took a look at it and noticed it had a broken cover on the output side. The part where the hose connects to the male nipple was ripped clean off. Doing a quick search reveals that these air pump are pretty pricey, even used. I am hoping i can pick up a broken pump for cheap and just use the cover. I posted a thread in the wanted section. If i cannot find one in the next couple days (or maybe today even, lol) i am going to order a air pump delete kit form gt motoring, drop a little weight on the car and be done with it. I cannot find the delete kit for sale anywhere but the forums and i'm looking at a post from mid 2009, so i am hoping they are still available.
I'll be back over working on it today and removing the fender support brackets in prep for welding on the new ones when they come in. I also stripped the trunk yesterday.
12/23/2010
Today was a very productive day. I got off work at noon because of xmas so i went over and worked on the car a bit. First i removed the fender support brackets because they were bent and i have new ones in the mail. Next, i stripped the interior, removed the seats, removed all the audio wiring, removed the amp, and removed the factory roll hoops, and all the plastic behind the seats. I also cleaned up a couple things like removing the factory cd changer cord, and i wired the speakers off of deck power (since you couldn't even tell there was an amp before). It is now pretty close to ready for a roll cage which i will start working on in a week or two.
side note: I have a kicker zx350.4 amp for sale as well as a factory cd changer cord. I will be buying a membership so i can sell on the forums here in the next day or two.
Next on the list is removing the airbag system and A/C. These will also be for sale very soon.Then i will start finishing the body work this week, adding the new bumper covers, and constructing the cage with my buddy Ozzy in a week or two. My buddy Ozzy i refer to is a welder and machinist. I currently have my car at his shop for winter storage which is very nice as i am surrounded by every tool i could ever need. It's very nice to have a lathe, mill, welder, car lift, tube bender etc etc when you need it.
Here are the pics: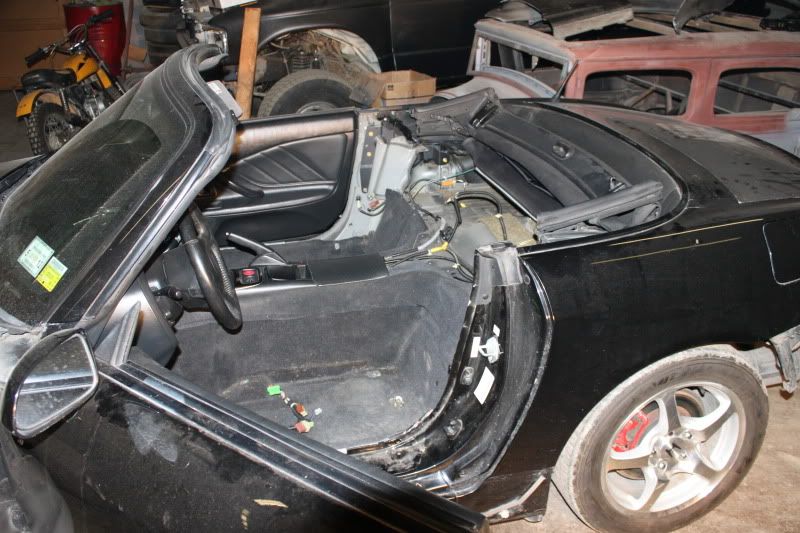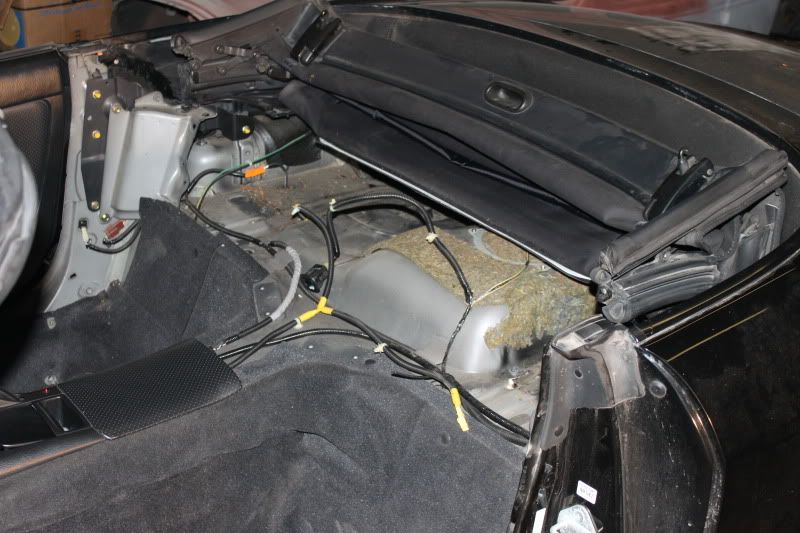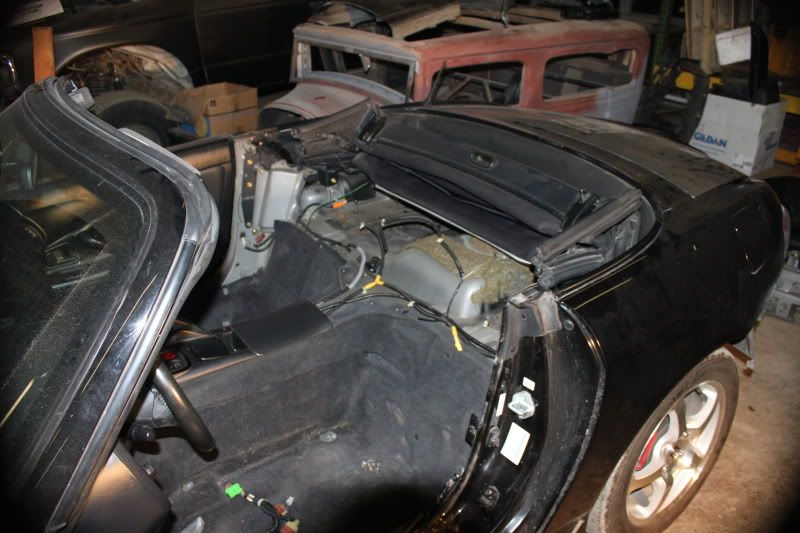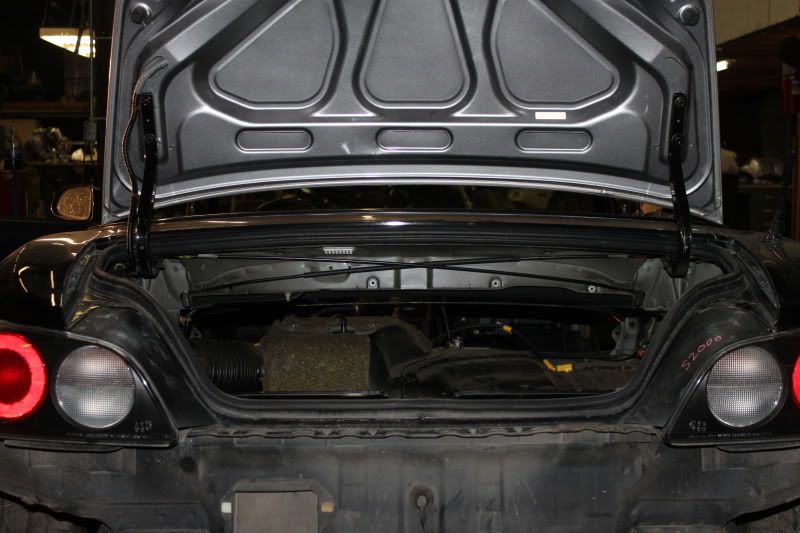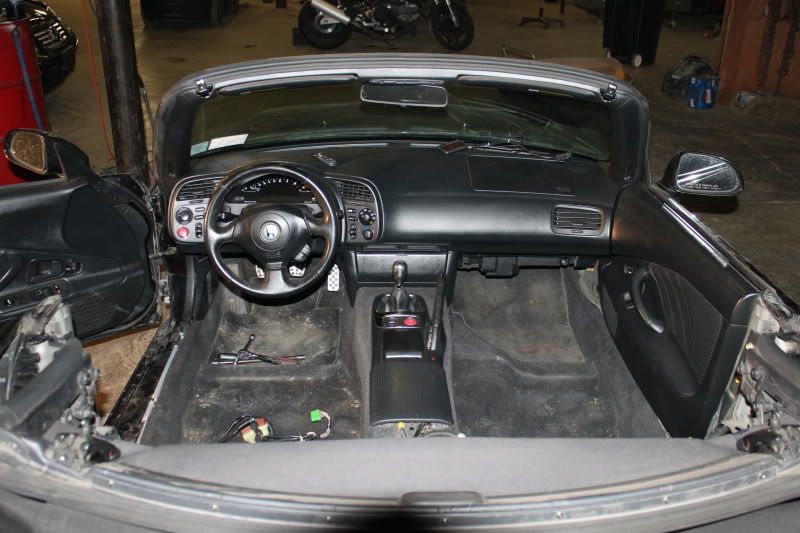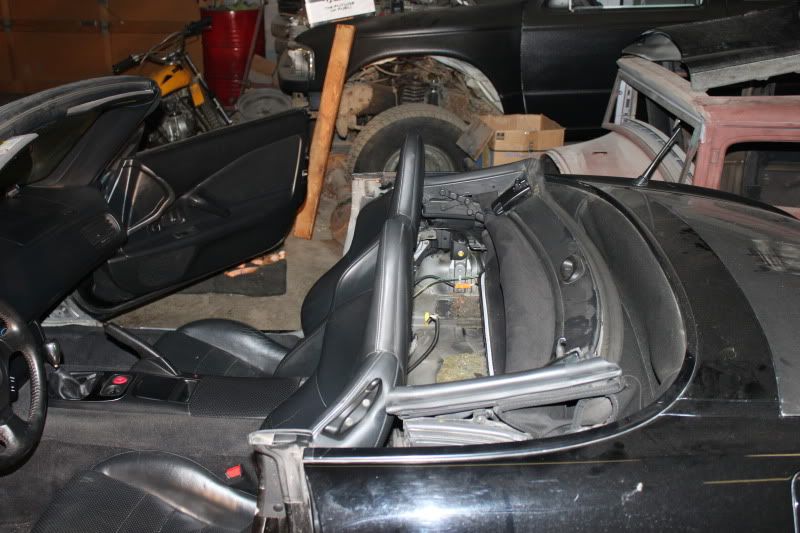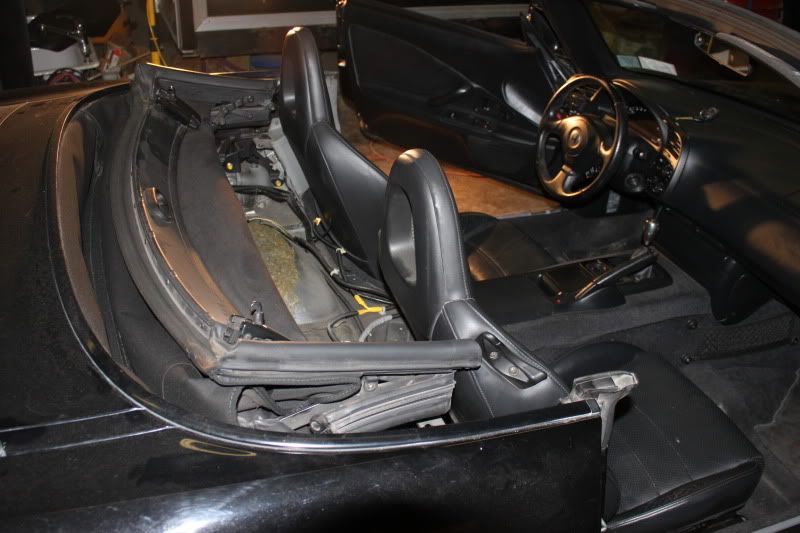 12/27/2010
Ordered the new front bumper and front bumper upper corner metal brackets I needed from Saratoga Honda. Super cheap, good guys to deal with. Parts will be in tomorrow. I also stopped by the shop and replaced the twisted hood with another oem hood. I have the fender support braces coming in tomorrow and the fenders being fixed. I also ordered a nrg quick release and a nrg steering wheel. Just need to get a thin hub and I'll be all set. Trying to figure out what to do/where to mount the cruise control. I also bought an ingen intake yesterday.
Here is a pic with the new hood
12/28/200
painted the fender supports and put them on, set the headlights in and put the new bumper on today. Fenders are getting worked on tomorrow.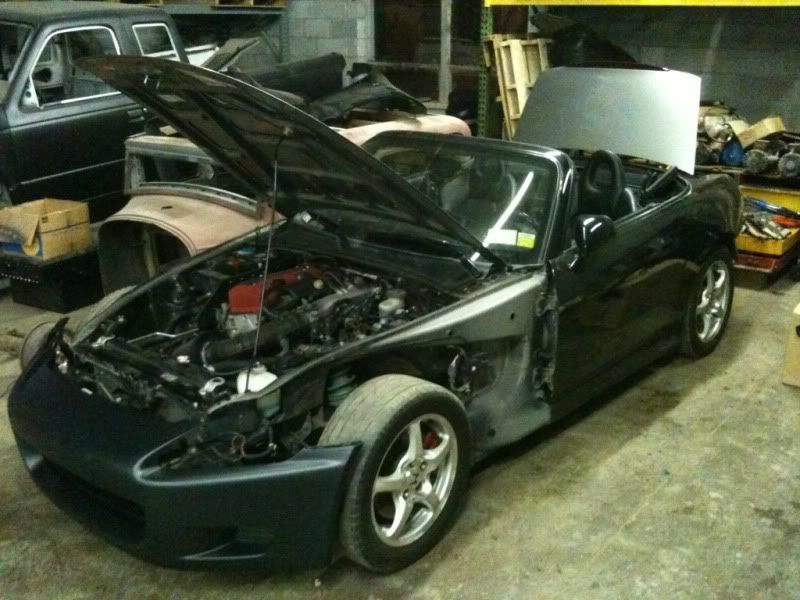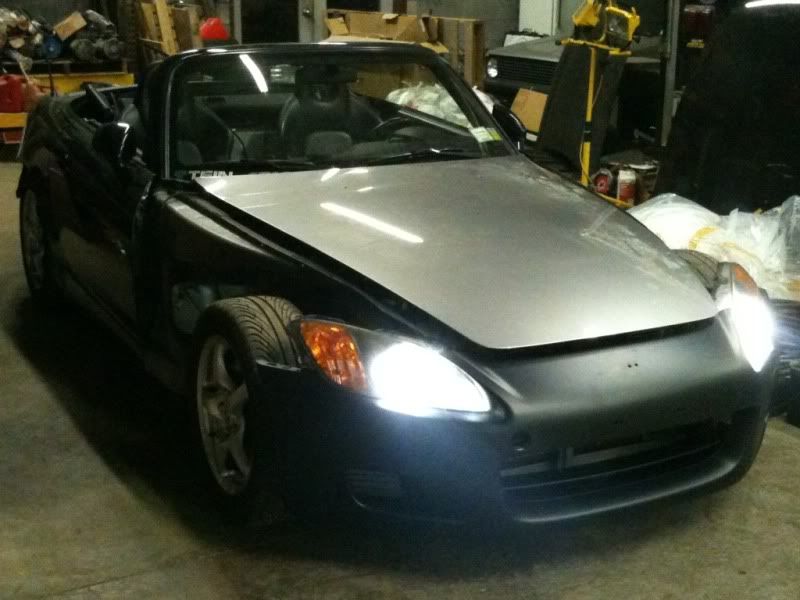 12-12-2010, 07:03 AM
---
12/29/2010
Went over to the shop last night to see the fenders and they looks pretty good. I am still waiting for an upperf rame rail support, the part that goes under the front bumper(on the top side) so it was hard to get everything to fit up exactally. Drivers side fender has a small crease in it and i was told it would be very hard to work out. So...i am waiting on that part and i will see where everything lines up when it comes in, should be here within the next couple days. The fenders have had the dents worked out of them and look amazing though, but i might need to scrap them and move on to new fenders. Hoping i can find a set someone took off when the replaced them with wider fenders, worst case senario Saratoga honda has them for i think 240 a side, so it's not too bad.
While i was there last night i threw the car up on the lift to get a good look underneath and everything looks great. I didn't expect to see any problems but i was still happy to see there was nothing i needed to worry about.
Also ordered the front anti-bumpsteer kit, i think i also have a used t1r rear kit i'll be getting from a guy on here. I also bought an air pump for 60 bucks but after the guy shipped it he told me it broke when he was taking the hoses off of it so idk. I only need the cover on one side of it so i hope he's talking about the other side being broken. Either way, he refunded half and told me he'd refund the rest if i cannot use it. Fingers crossed
Here ia a shot of the car on the lift: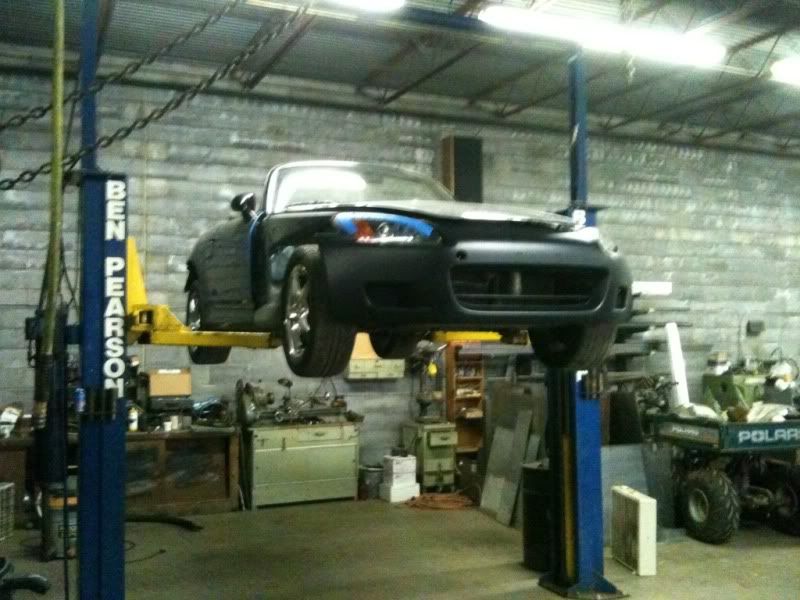 12/30/2010
Pulled out both airbags today, srs module and wiring. Tomorrow morning i will be trying to find a belt in stock and then over to the shop to pull the a/c out. I think that's pretty much it for today. People said the passenger airbag was a pain to pull out but i found it incredebly easy. I took off the cover and popped it back on the dash so there wasn't a huge gaping hole. So tomorrow is the a/c, and i have the new steering wheel coming early next week so i'll put that on, then i need to order a mugen roll cage trim piece cover and i'll start constructing the roll cage to match up with those holes for a clean look. I also have a bunch of other parts coming in that will go on next week as well.
1/1/2011
Got the front upper bumper/hood support in today. Also got the air pump in and just my luck the piece i needed was not damaged. I will put there parts on monday along with the wheel and also pull the a/c.