September 2012 For Sale WTB Thread
09-01-2012, 03:54 AM
September 2012 For Sale WTB Thread
---
To post in the "For Sale/Want to Buy" thread in the Ohio community you must be:
A member of s2ki. (unless you're selling your S2000)
Got multiple items to sell? Put them all in one post.
There must be a clear price displayed in your post. There will be no auction or ebay style of selling.
If your post is causing chaos in the community, it will be deleted and your selling privileges will be revoked.
Do not sell any item that is not yours. You are only allowed to sell items that you own and possess outright. If you have been found to violate this rule, your selling privileges will be revoked.
We will kill this thread at the end of each month and start a new one, or if the thread is short, we will rename it. If we forget, sorry ahead of time, but deal with it
Helpful hints for selling:
Make your post as clear as possible
Put a price, even if it's negotatable
Have pictures - even if it is an item that everybody knows
Don't tell people to "email" you - it sounds like you're too lazy to check your own post and not interested
Don't sell items for other people - it looks shady
State where you live!! Many of you do not have your location set and when you say LOCAL, where the hell is that?
If you have any questions, please PM pgarratt or Mocky or TheLast13
Last months thread:
https://www.s2ki.com/s2000/topic/971...le-wtb-thread/
09-02-2012, 11:31 AM
Registered User
Join Date: Jun 2010
Posts: 89
Likes: 0
Received 0 Likes on 0 Posts
---
You must be a member to sell parts.
Thanks,-pgarratt
09-02-2012, 06:43 PM
Registered User
Join Date: Jul 2009
Location: Jackson, Ohio
Posts: 71
Likes: 0
Received 0 Likes on 0 Posts
---
[media]http://www.youtube.com/watch?v=IBDscjjAPfE&feature=share&list=UU8lExKaEIj Oz5GTcpYBi-UQ[/media]
PICK UP ONLY unless otherwise stated, Jackson Ohio 45640

2008, CR S2000 parts that need to leave my garage. I have many random interior pieces since I installed the roll-cage.

CR Door covers Pair only- $250
Crack in passenger side.

CR OEM Tonneau cover- $400 Black
Small scratch.

CR Rims on Hankook Slicks (2 heat cycles)- $400
Enkie RPF1 on BFD R1 Soft- $600 _ SOLD

Chase Race Hitch System- $120

Sport Cat- $50, $65 shipped

Cat Back Exhaust- $200

Hondata flash Pro- $500, $510 Shipped _ SOLD
09-08-2012, 01:18 PM
Registered User
Join Date: Sep 2010
Location: Northeast Indiana
Posts: 287
Likes: 0
Received 0 Likes on 0 Posts
---
S2000 Hardtop Hoist System for sale:
New Prices
Located in NE Indiana 46555
#1. 1 Hardtop hoist system. Will work with any S2000 OEM Hardtop. Includes padded lift bar designed to fit hardtop, custom straps with padded hooks to attach to top for lifting stability, cables, pulley and 600 lb hand winch. This makes the removal and install of hardtop a 5 minute job with ONE person.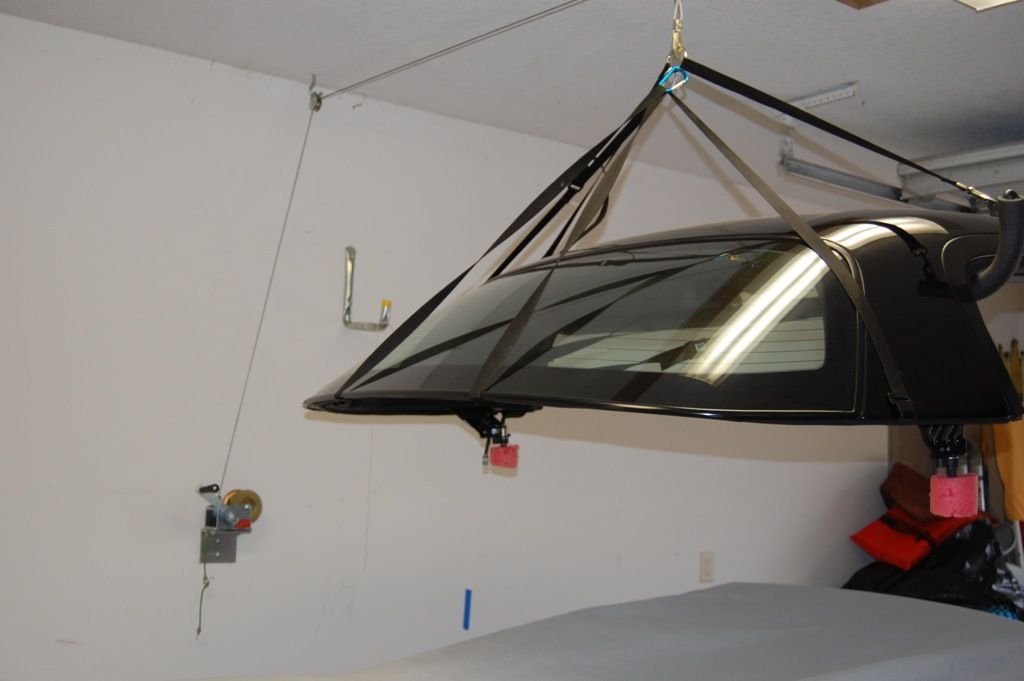 Price $275
New Price for hoist system. If pickup at Warsaw IN 46555 or Fort Wayne IN. $150
email:
[email protected]
09-11-2012, 08:36 PM
---
For Sale: MY04 OEM Exhaust - $100 obo
[attachment=27269:IMG_1137.JPG]
WTB: Softtop latches
Located in Westerville, OH, near the Polaris mall area.
Thanks
09-19-2012, 03:45 PM
Registered User
Join Date: Feb 2008
Location: Nashville, TN
Posts: 369
Likes: 0
Received 0 Likes on 0 Posts
---
09-26-2012, 06:06 AM
---
I had some of these parts up for sale awhile ago.. but here is the same info from my FS thread from the national classifieds.
Prices are more negotiable for locals, especially for the ap1 wheels.
I have some misc parts I need to get rid of to pace the way for new wheels & tires, a tune, and other go faster things.
Steve
Contact: PM
Location: Canton, OH
Payment: paypal only unless cash in person
Shipping: depends on item - fed-ex, greyhound, USPS. (Where prices are "shipped" it means to lower 48 US States)
Stop Tech Street Performance Brake Pads - SOLD
I bought these new in Spring '11 and used them for roughly 20 autocross events with 4k miles of street driving (mostly highway driving to and from events) Will work for Ap1 & Ap2!
I would estimate them at roughly 80% pad life.
They're a very good pad, Linear grip, good initial bite and smooth after that. No noise and nearly no dust.
I switch to HP+ and now endure noise and tons of dust, but the initial bite is better.
Full set AP1 Wheels no center caps:
4 Wheels without center caps: $300 shipped
Structually, wheels are solid, round, and in perfect working order.
Cosmetically, these wheels are good from 15 feet. Get in close and you'll see curbage, some clear coat peel, etc.
Assuming these were on the car for the whole time I bought it, they would be at 128k miles.
Stock AP1 Header - $50 plus shipping
Includes heat sheilds. No issues, threads on the o2 port are good.
AP1 OEM Engine Mount brackets - $25 shipped each. $40 for both sides.
Both sides in good shape.
AP1 Suspension - $150 plus shipping
Some issues here: The shocks don't show signs of being blown, but in my opinion, they were soft.
Fronts have a no name red spring on them. I don't know what they are.
Rear springs are OEM
Pass rear shock bolt had to be cut out, so that will need removed before it is installed.
AP1 OEM Trans mount - $25 shipped
Removed because I got the innovating kit. 130k on this. Includes hardward.
Thread
Thread Starter
Forum
Replies
Last Post