The Epic list - The more rare DIY mods
10-29-2017, 12:57 PM
Registered User
The Epic list - The more rare DIY mods
---
I've had my car for almost a year now. It went from a completely bone stock 05 making 197hp to turbocharged making 508 @ 16lbs. This car is meant to look stock or damn close to it.
I've done a lot of other mods along the way that few others have done and there isn't a whole lot of information on some of them.
I'm not going to list the turbo related stuff. I'm not into making DIY posts, but I'll add some pictures here and if any of you have been wanting to do any of these, ask the questions and I'll help shed some light on it.
If any of you guys have some other desirable, but not well known mods, please leave a comment and maybe we can keep this thread rolling.
The list:
-Start button Relocation
-Gauge next to audio controls- Controls still fully functional
- Rear speaker install
-Sound deadening and thermal barriers
-DRLs
- Brembo Retrofit under OEM wheels
- 7mm upper control arm offset bushings
- Engine bay wire tuck/ fuse box relocation
-Battery relocation to trunk
-ABS relocation
Currently working on the Jewel eye retrofit...it's a beast of a project.
Starter button relocation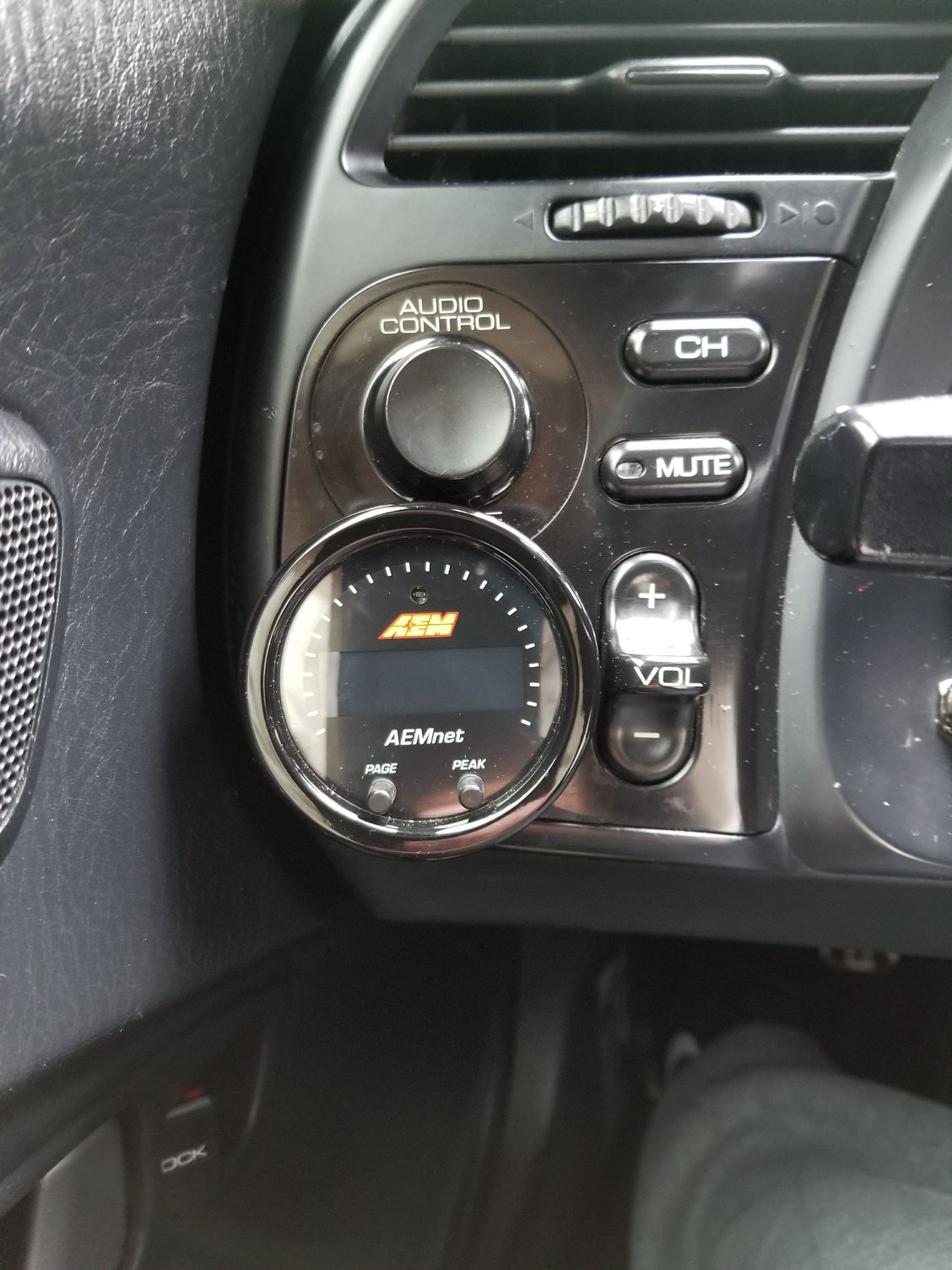 Gauge with functional audio controls
Rear Speaker install
Rear speaker install
Sound deadening and thermal barriers. A thermal barrier on the underside of the transmission tunnel makes a HUGE difference in heat radiating into the cabin and making your drink warm
Morimoto DRLx5 - These are some of the highest quality DRLs I have ever messed with and their light output does not disappoint
Low Beams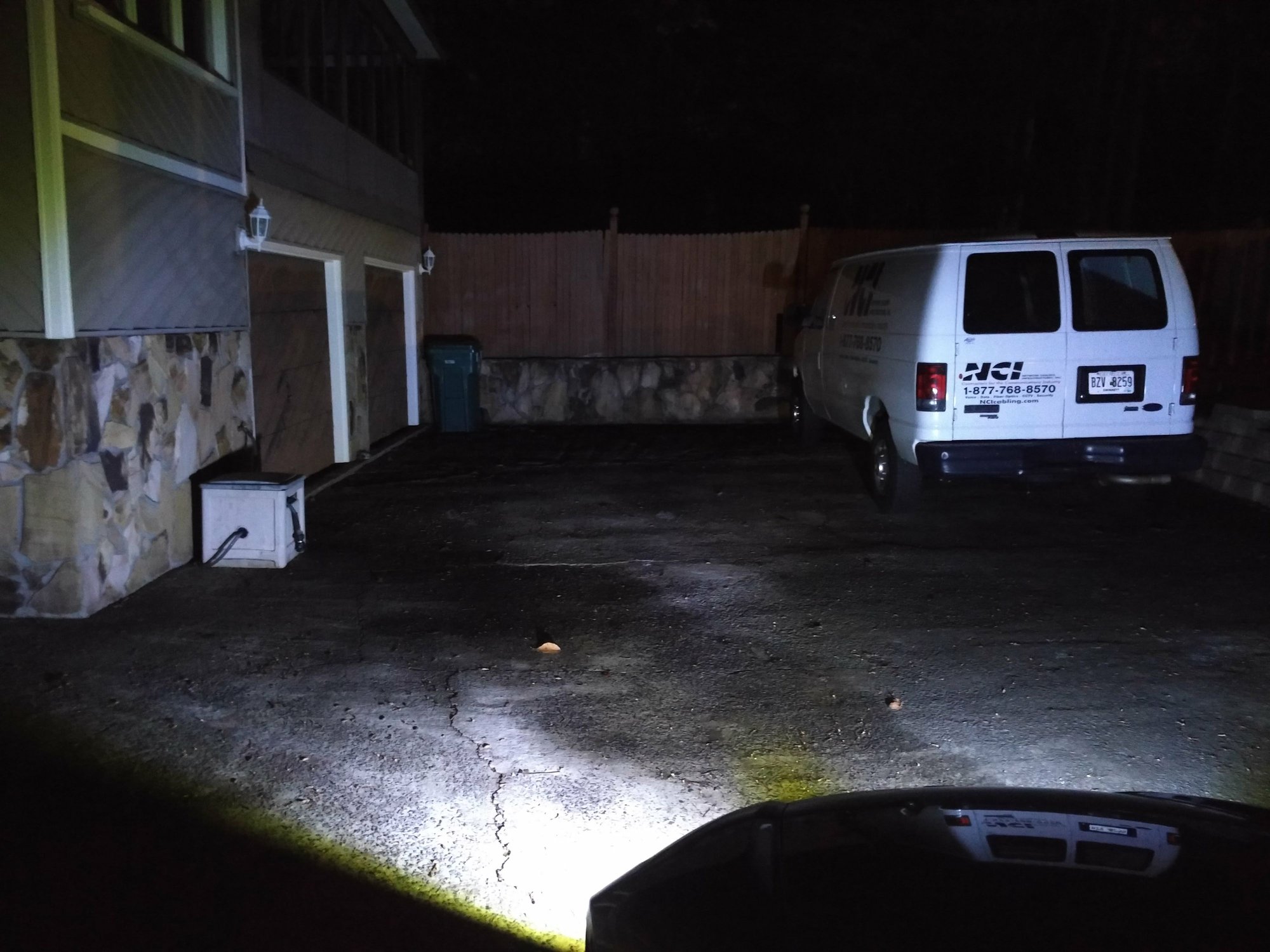 DRLs
Brembo retrofit
Brembo's under OEM wheels - This takes a decent amount of effort to pull off
I don't have a before picture but this is of the 7mm offset bushings after being installed in the upper control arms. This is part of what has to be done when running wider tires along with spacing the wheels for the brembos It effectively pulls the upper control arm in 7mm giving you that extra clearance to the fender
Fusebox relocated to passenger fender
ABS relocated to driver side fender via Raywire relocation kit
10-30-2017, 05:36 AM
---
These are my interior modifications. There are at least another 25 modifications related to body, drive train and suspension that are not listed.
Full conversion from Black to Tan interior fittings
Door JBL mid-woofer speakers (L/R)
Door JBL tweeters (L/R)
Door JBL CrossoversConverted black interior to tan interior (L/R)
A-pillar boost gauge
Multi-Gauge (oil & water temp, oil & fuel press., air fuel ratio) integrated into audio control cluster
5.5mm 12VDC power outlet for heated clothing (jacket/hoodie)
Custom full-length Coco floor mats (Calico)
Bluetooth microphone mounted to top of steering wheel garnish
Rear JBL tweeter/mid-woofer with crossover (L/R)
Door activated foot-well LED lighting (L/R)
Tan leather clad dash clamshell garnish (L/R)
Seat headrest insert cushions (L/R)
Seat headrest rear garnish painted tan (L/R)
Rebuilt/fortified Seat Bottom Bolsters (L/R)
Seat belt lock
Custom map/document pouch mounted below rear speakers
Customized steering wheel boss with Cruise Control mounts
Momo Steering wheel
Customized Honda horn button
iPhone/GPS/Back Up Camera mount ball fitted to gauge bezel
Power and rear iPod cable from aftermarket head unit wired through dash center outlet
Interior light converted to LED
Radar detector power wiring behind front roof rail garnish panel
Radar detector mounted directly to roof rail garnish panel
Radio door modified to allow use of USB Thumb Drive
Aftermarket Bluetooth Head Unit
Custom removable Cup Holder
Countersunk shift knob
Custom leather shift boot
Center console converted to AP2V2 from V1
Center console defroster button converted to garage door opener function
Center console storage area lined with rubber padding
Custom arm rest
Modifry console organizer added with rubber padding
Dual ignition-switched USB outlets
12 VDC Constant Power Outlet (powers adapted battery charger for impact wrench at track and AC power inverter)
Modifry Dash Control Audio Interface
Modifry Shift Beeper Unit
ADD: Trunk Interior
50 LED trunk lighting strip
WiFi Transmitter for Rear Backup Camera
Side webbing for convenience storage (L/R)
Wiring and power for trailer hitch
10-30-2017, 07:09 AM
---
This is the un-numberd list of my other modifications. I'm sure that I've missed one or two.

DRIVETRAIN
Black powder-coat fuel rail
Black Fuel Rail pressure gauge
Black powder-coated custom aluminum injector cover
Black powder-coated coilpack cover
Custom black powder-coat dual oil catch can with AN fittings (Saiko Michi)
Black powder-coat valve cover vent
Black Temp-A-Cure oil cooler
Black oil cooler diverter plate
Custom engine block temperature sensor
Black oil sensor sandwich plate
Black powder-coat oil pan w/AN supercharger return bung, internal oil baffle and Fumoto oil drain valve
Science Of Speed Stage 2 Supercharger
Science Of Speed 3-BAR map sensor
MY06 Sensor and Valve Cover Upgrade (Sensor wheels, sensor, and valve cover conversion for Hondata K-Pro install (by King Motorsports))
Hondata K-Pro Ecu (by King Motorsports w/initial tune by Tim Martin)
Science Of Speed 3" impeller pulley (16.5 psi)/belt
(w/3" Pulley change ECU Dyno Tune by Mikey Singhaseni)
CT Engineering Custom Cold Air Intake
Modified Toyota Supra Twin Turbo PCV valve
PLM exhaust manifold w/extra oxygen sensor bung
Berk test pipe with extra O2 bung
UK exhaust modification (25mm by King Motorsports)
Black powder coated Honda Crosstour exhaust tips
PuddyMod Stage 2 differential (reinforced case, shot peen, cryo treated, 3.9 tall ratio crown and spline gear(Ben Herne is PuddyMod)

SUSPENSION
Swift front sway bar (+87%)
RM Racing Strut Tower Bar
H&R Lowering Springs (just sold existing Ohlins DFV adjustable coil-overs)
Gold/rust powder coated AP2V2 wheels (Bridgestone R-11 Tires)

BRAKES
Tarox 6 front Big-Brake conversion kit
Tarox Stainless steel brake lines front and Goodridge rear
Tarox Corsa brake pads
Castrol CSF brake fluid
Front Brake duct grills - custom
..........Brake duct adapters - Wasp Composites custom
..........Brake ducting 2.5" (grilled front bumper inlet w/wheelhouse panel couplers)
..........Brake dust shield adapters 2.5"
Rear Brake duct inlets
..........Underbody collector
..........Ducting supports
..........Bracke duct shield adapters 2.5"

BODY
Emblems shaved and filled
• (Available lowered front license plate holder)
Cooling Plate painted NFR
Science of Speed Hood Struts
Mugen rear 3-Piece Spoiler (may no longer be available)
Rear spoiler 3rd tail light
Custom Twillfast tan top
Soft top installation
Cabin sound deadening
Custom rear under tray, vortex generators and diffuser
10-30-2017, 02:05 PM
---
Here's one of my DIYs, not nearly complete though. The scratches are from experimenting with the filters they put behind the logos to even light out.
Not the prettiest looking, but the circuit board will be hidden when its done.
10-30-2017, 11:37 PM