***Official Post Your Dyno Numbers Thread***
09-24-2008, 02:04 AM
Registered User
Join Date: Feb 2008
Posts: 213
Likes: 0
Recieved 0 Likes on 0 Posts
---
Originally Posted by LagunaBlueS2k,Sep 23 2008, 07:07 PM
dynapack reads at the rear hubs. It tends to read a little high. On a roller style dyno, i'd probably be at around 215 - 220 HP.
Oh ok, thank god for that.
I was under the impression you needed 2.5 or 2.7 litre stroker kit and ITB's + management to get 300BHP.
09-24-2008, 07:28 AM
Join Date: Sep 2006
Location: Diamond Bar, CA
Posts: 2,441
Likes: 0
Recieved 0 Likes on 0 Posts
---
Originally Posted by petawabit,Sep 22 2008, 01:19 PM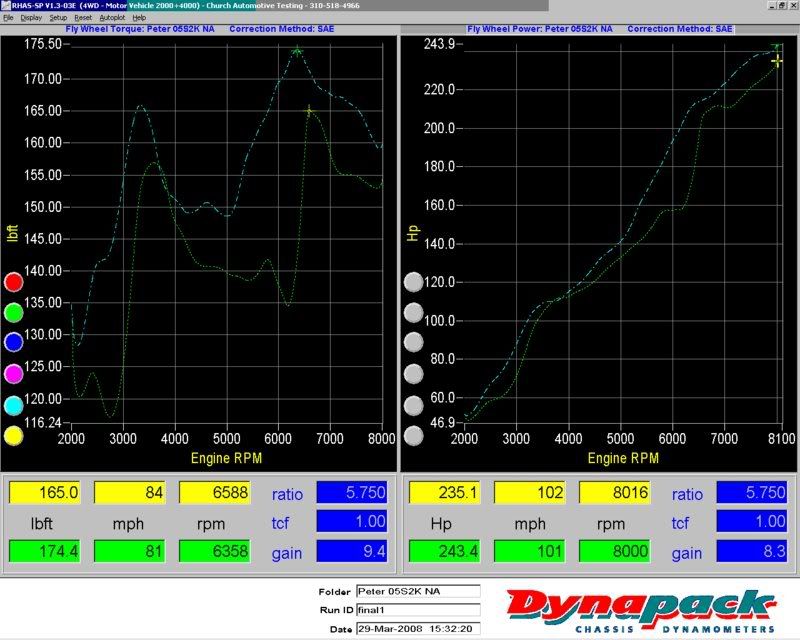 @church automotive
05 AP2
-Berk header
-Berk high flow cat
-amuse dual r1 (60mm)
-j's intake
-aem ems
Dyno is before and after tuning only.
Wow, bro
. Your numbers are almost identical to mine.
Mods:
AEM V2 coldair
Berks Test pipe/header
AEM EMS
* NO EXHAUST*
175 lbs tq/243 rwhp on the same dyno
09-25-2008, 11:34 AM
Registered User
Join Date: Aug 2007
Location: Anaheim
Posts: 3,512
Likes: 0
Recieved 0 Likes on 0 Posts
---
Well shit! I have had no luck finding my Dyno sheets on or off my computer.
I just called a local place here in Houston, and they have great Dyno rates; so I will be taking my car there within the next week.
09-25-2008, 11:45 AM
Registered User
Join Date: Nov 2006
Location: Stealing Seats
Posts: 287
Likes: 0
Recieved 0 Likes on 0 Posts
---
Nice Number guys Keep them coming.... I dynoed a 218.5WHP with just a Drop in K&N Filter I will dyno my car again soon with my new mods...

*Mods are on my Signature vvvvvvvvvvvvvv
09-25-2008, 02:48 PM
Join Date: Jul 2002
Location: Newcastle, WA
Posts: 1,464
Likes: 0
Recieved 0 Likes on 0 Posts
---
Car Facts
Year: 2005
Mileage: 27,000
Gas: Chevron 92
Rear Wheel: AP2 V1 wheels shod with 255/40-17 Bridgestone RE-01Rs @ 32 psi
Engine Oil: Red Line 10W-30; 1,750 miles old
Differential Fluid: Lubrication Engineer 607 Almasol; 6,150 miles old
Applicable Mods: AEM V2 Intake, Proflow Design Throttle Body, Berk Technology Test Pipe, HKS Hi-Power Exhaust, Hondata Heatshield (i.e., intake manifold gasket), A'PEXi AFC NEO
Dyno Facts
Model: Dynojet 248C
Before Tune: Run005: 03/27/2008 6:34 PM, 55.79 F, Humidity: 27%
After Tune: Run012: 03/27/2008 6.57 PM, 52.06 F, Humidity: 36%
Gear: 4th
IAT: N/A since my OBD2 scanner wasn't able to read this
ECT: monitored for each run and was within a few degrees of 190 F
VTEC Lo->Hi: 5600
VTEC Hi>Lo: 5400
Hi Thr: 81%
Lo Thr: 80%
The graphs below are post-VAFC2 tuning results. I spent 30 minutes for tuning, and it was the first time I personally tuned my car. I will be heading back sometime in the near future with the intent of lowering VTEC to ~5k along with a re-tune.
Do note that the most accurate reading is obtained when the x-axis is Speed and not Engine Speed due to potential RF issues. When doing that, my runs' HP increases 2+.
SAE Corrected Horsepower
Peak gain: +24.6 HP @ 5963 RPM
Gain at peak:. +5 HP @ ~8100 RPM range
SAE Corrected Torque
Peak gain: +21.66 TQ @ 5963 RPM
Gain at peak:. +1.32 TQ @ ~6300 RPM range
Air/Fuel Ratio
Leanest of 13.90 @ 6200 RPM
09-25-2008, 02:54 PM
Registered User
Join Date: Jul 2005
Location: formerly versionJDM
Posts: 11,993
Likes: 0
---
ok ill dust off my stuff.
http://uk.youtube.com/watch?v=zh66nCrcvz0
and some others from the old NA thread: