What happened to Sear's?
01-05-2016, 04:24 PM
What happened to Sear's?
---
What happened to Sears?

Liz works in the library one evening a week, so every Tuesday I'm on my own for dinner. I suppose I could eat at home, I'm pretty good with dry cereal and I do know how to boil water, but whenever I try cooking anything more sophisticated I end up going to bed hungry. Having grown up in Brooklyn, not too far from Coney Island, I developed an addiction to Nathan's Famous hot dogs at a very early age. Luckily for me there's a Nathan's in the food court of our local mall.

The Rockaway Townsquare Mall is like any one of a hundred malls across the country. Two floors full of stores with absolutely nothing worth buying, four anchor stores pretending to be the last word in fashion, and a food court with nothing worth eating except for the hot dogs and French fries at Nathan's.

After work I hurried home, changed into my jeans and drove to the mall. At the food court I gave my order, found a table and wolfed down my dinner. Come to think of it, Nathan's in Coney Island was better, but a hot dog is a hot dog. Anyway, it was far too early to go home. Liz works until 9:00 pm and right off of the food court is the entrance to Sear's.

Sear's used to be one of my favorite places to visit. Not the clothes, everyone in the clothing business knew long ago that Sear's really wasn't the place for fashion. Not the appliances, Kenmore was ok (actually it was relabeled Whirlpool) but the prices were too high. And certainly not the auto parts, you could do so much better anywhere else. But the tools, the glorious Craftsman tools were fine and the tool department was an oasis in the midst of all the wasteland of the mall.

Certainly Craftsman tools were not the finest in the market, there were better professional tools around, but they were as good as any homeowner or backyard mechanic would ever need. And for some strange reason they felt good and well balanced in your hands. I still have a few Craftsman tools that my grandfather the electrician bought in the 1950s and I just passed my ¾ inch ratchet wrench that my father bought in the early 1960s for us to share to my youngest son. Think of it, three generations using the wrench. For me, walking into Sear's tool department in the old days was better than walking into a candy store. I could spend hours looking at and playing with the tools.

So, after I finished my dinner, I got up and went into Sear's. To get to the tools you have to pass through the appliances. Lots of TVs and refrigerators, with lots of older big bellied salesmen standing and waiting to pounce. I stopped for a minute only to be approached by some older saleswoman who offered me a chance to win a $1000 Sear's gift card. I told her I wasn't interested and she looked disappointed. I suppose because there weren't too many customers in the store, she hasn't been too successful.

I finally made it to the tool department and much to my surprise it was just a shadow of what it used to be. There were lots of empty spaces where tools were supposed to be hanging. Things weren't neat and orderly as a fine tool department should be. The sockets were moved to a smaller section together with the screwdrivers and pliers, and there were ping pong tables where the bigger tools used to be. Worse still, there were treadmills where the garden tractors belonged. I couldn't wait to leave.

All the way home I wondered what had happened to Sear's. I know that this isn't an overnight thing. There have been rumors of Sear's demise for a long, long time, but I never saw it like this before. I guess some of this is because of the heightened competition. Back in the day there wasn't a Home Depot or Lowe's. Today you don't have to go to Sear's for much of anything you need. There also wasn't an internet. Today, with a few clicks of the mouse you can get it delivered to your door, usually at a cheaper price. And there weren't the venture capitalists who buy businesses with the intention of taking them apart and selling off the assets for more than the business as a whole is worth.

All of those things happened to Sear's, but some of the blame is on Sear's as well. They more or less owned the market but they fell asleep. They allowed their prices to get sky high, and didn't change with changing times. It happens an awful lot in retail. Stores come, have a run and get displaced by the stores that come after them.

Still, I miss the Sear's tool department. For me it was like going to the park and spending a few hours just seeing what there was to see. Oh well, I guess all things change. Next week after dinner I think I'll just come home and play my guitar.
01-05-2016, 05:00 PM
---
Lots of reasons. Harbor Freight, etc. Cars too complex to work on. Younger generation not interested in working with their hands or getting dirty. Tools that last don't need replaced. Our Sears parking lot is always empty except for a couple days a year when its got the overflow of the other stores who's lots are full. When you do need a part from them it is almost always no longer available.
01-05-2016, 05:15 PM
---
A well written lament, Rob. I have seen the same shrinkage of the tool department in Massachusetts Sears stores. My very unscientific, unsupported and unresearched theory is this:

The off-brand products from overseas sold by Harbor Freight and the like took away the bottom of Sear's market share. People on a budget were willing to forego the quality of Craftsman tools for the savings they would enjoy purchasing the offshore products.

Professional brands like Snap-On took away the top of Sear's market share. I am amazed at how many home garages are now stocked with professional grade tools that are simply over-kill for the hobbyist. But someone posts a question on a web site about what tools to buy, five people write a response along the lines that Craftsman is junk and you should only buy Snap-On or equivalent brands, and before you know it, a guy or gal with a white collar job and disposable income who never owned a wrench before has a tool box full of the high end stuff. In fairness, I think that Sears had to lower their costs to compete with the off-shore products, so maybe the quality really did erode enough to justify the purchase of professional tools, who knows? A lot of their stuff is probably made off shore in third world countries now, but I still think the Craftsman product looks a lot better than the Harbor Freight equivalent on most things.

Finally, the car hobby is dying or at least loosing support among the younger generations. That has certainly weakened the middle of Sear's market. You have a sad story of lost market share.
01-05-2016, 06:22 PM
Join Date: Apr 2007
Location: Long Beach, MS
Posts: 8,902
Likes: 0
---
What happened to sears? K-Mart-ification.

My first job out of the military was at a place in the Mississippi sticks that manufactured "wall decor", i.e. framed prints, and certificate frames. Our biggest and by far toughest customer was Sears. They were the 500 LB gorilla. They dictated what we produced, how we packaged it, how it was labeled, and of course price. Last time I was there on a visit about 10 years ago the relationship had flipped. The Sears buyer was willing to take whatever this little outfit would deliver.

Meanwhile store management at many locations went to hell and the general condition of the stores quickly followed. We've all seen the decline. Crowded isles (and not with shoppers), poor inventory management, aging stores that were never refreshed, all were symptoms of an obvious weakening of corporate management and a disintegration of the corporate culture that had made Sears such a powerhouse. The catalog became obsolete as the malls where Sears played an end cap roll aged and, in many cases, closed altogether. Sears failed to adapt to the big-box trend in retailing and never appeared in any of the new "main street" style shopping complexes.

Sear's big retail strategy? They bought K-mart, the corporate embodiment of retail decline.

Yeah, I too miss the Saturday afternoons prowling the hardware section at Sears drooling over the high quality Craftsman tools.
01-05-2016, 06:57 PM
---
Actually, it was the other way around. KMart bought Sears, then changed their name.
Rob- I noticed the same recently. I do hit the Sears in the mall periodically for specific items. I wanted the hose reel they sell, and they had a small shed (2x3) size that fits nicely on our back patio between a door and fence just to hold our cushions and some other stuff for outside. I went in one day looking for a replacement remote for our Craftsman garage door opener and the section was filled with empty pegs, and a few with 1 or 2 items on it. Ended up ordering online.
As to the tool comment, I think it's indicative of relative cost of items today for the white collar worker and possibly a case of 'the Joneses'. Years ago, owning an SLR camera meant you either had some money or you were an avid photographer. Now, you go somewhere, and the average schmoe (including me) carries $1000s in a backpack to take pictures. Pending the day, including the camera body, 2 lenses and a tripod (and not memory, batteries, the bag and little gadgets), I'm probably at $6000. Appliances in the average home years ago were typical, 4 burner, almond or white in color, etc... today, stainless, 5 and 6 burners, warming tray and all kinds of electronics.
For tools, I also agree that for the younger generation, working on today's cars with yesterday's tools isn't on most of their list of priorities. It's not on mine, but as a homeowner (and inline with the paragraph above), I have a whole basement full of tools, including Craftsman for many hand tools. Over time, I just accumulated what I needed for projects.
01-05-2016, 07:37 PM
Join Date: Feb 2010
Location: Mountain View, California
Posts: 421
Likes: 0
Received 0 Likes on 0 Posts
---
I agree on the younger generation not wanting to get their hands dirty comment. They are all glued to their iphones and social this and that.

I remember the old sears... when they used to even sell paint. I always thought their paints were better than Home Depot or Lowes crap. Maybe not as nice as Benjamin Moores. But plenty good for what I wanted.
01-06-2016, 03:44 AM
---
when most of us vintage folk were young, tune up maintenance was done every few thousand miles and not just oil changes but points and plugs.
The cost of ignoring that effort was being stranded somewhere with a car that wouldn't start.
it wasn't particularly difficult to learn how to do it and once engaged you believed that you could work on your car.
The cost of entry for those tools were pretty cheap. a screw driver and a plug socket and you were on your way.
Brakes were the next gateway activity and from there it was only a small step to believing it was no big deal to tear down an engine.
all the while you become one and vested in your car. you learned it's intricacies and nuances.
you knew what that sound meant and that you better deal with it soon.
Over time your tool box grew as you acquired parts.
after that it just seemed to make sense to buy that 400 piece tool set and the rolling cabinet to go with it.
and any serious work really needs an air compressor and pneumatic tools.
How does one "jump into" repairing a car today?
on a lot of vehicles the oil change interval is at least 7500 with some > 10K miles. ignitions never get touched and plugs are good for 100K.
almost any form of debugging requires an OBDII reader which can be a big outlay for some one trying to figure out if they can do this.
I used to be able to sit in the engine compartment of my Chevy C10 while i worked on it.
I can't get my hand between the sidewall and the engine exhaust manifold of my Benz.
Recently it took me four attempts on separate occasions to figure out the kabuki dance too change the burned out parking light on my GL550.
The secret was my 4" 45° bent tip needle nose pliers that i just happened to have in the tool chest.
otherwise, yeah it would be off to the dealer to change a friggin' light bulb. 10 years from now lights bulbs won;t exist in cars. it will all be LED's.
This weekend we did share a father son activity. His old benz I had given him failed inspection because the fenders were rotted out.
being a starving student we went on the cheap ( i.e. dad didn't want to dump a lot of cash into a car with a limited life expectancy. think hospice care not curating a classic)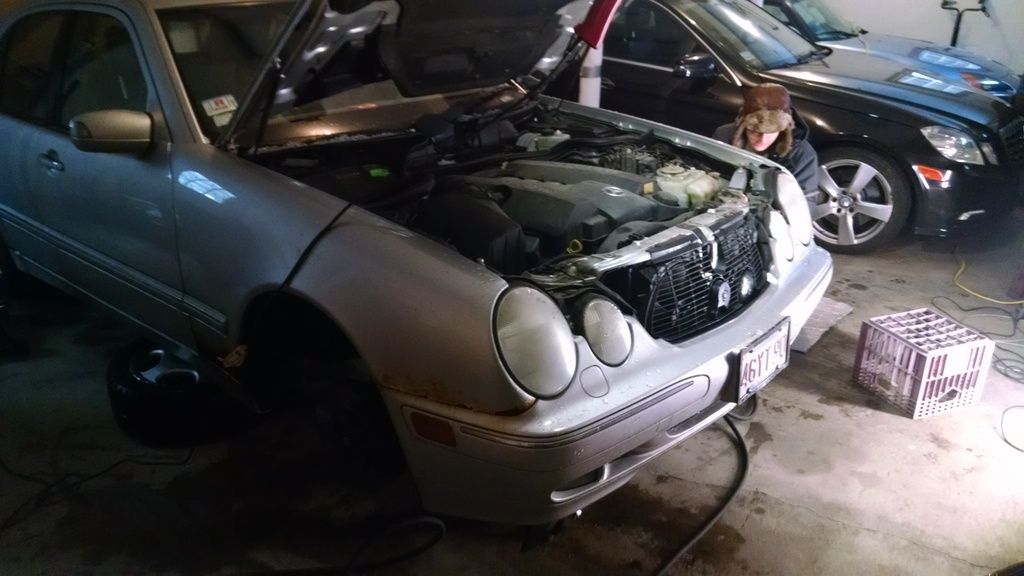 so we grabbed so from the local junk yard. ( auto recycler: that's a whole other story, you don't get to go junking anymore, they pull the parts for you)
tore down the front end
and put it back together.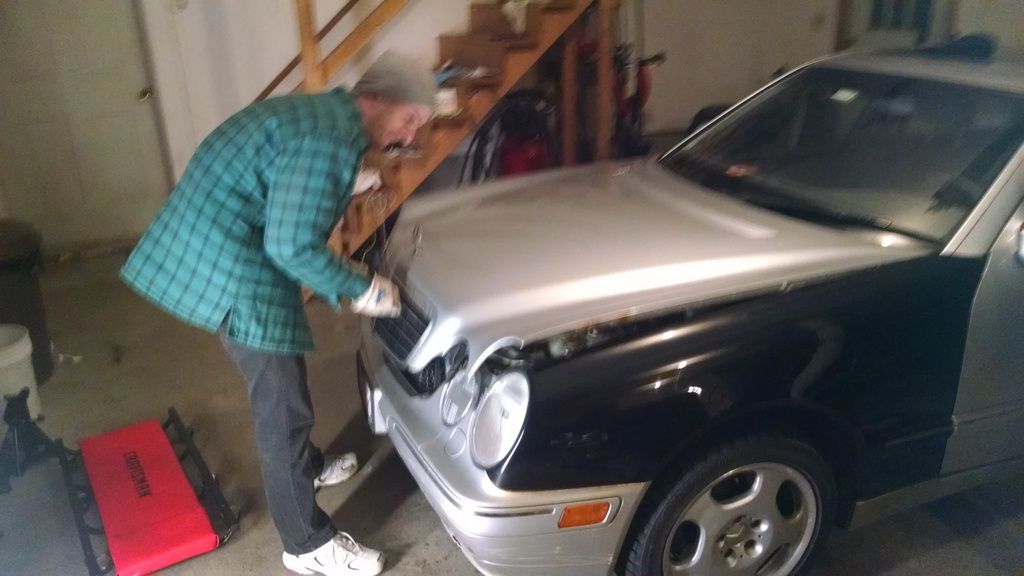 it now has a name, it's called the penguin cuz it's kinda formal in the black and silver like wearing a tux.
besides a two tone car builds character.
01-06-2016, 04:47 AM
---
Recently I had a taillight go out in my E350 (I thought) and went to the dealer to get a replacement. They told me that they should do the replacement because it was (now I'm not sure of this) a high intensity bulb? or some type that i could really screw up if I did it wrong. So the day of replacing a bulb yourself is already gone.
Turns out that I had my light switch setting in such a way that one taillight is not turned on. Seems in Europe they do this so that drivers approaching from the rear at 200 miles per hour in the dark know where the back of your car is.
01-06-2016, 05:57 AM
---