Moddiction/ AB-Speed Catch cans/coolant overflows
09-26-2010, 03:46 PM
Sponsor
Moddiction/ AB-Speed Catch cans/coolant overflows
---
I am now offering AB-Speed S2000 products.
First item I am carrying is the S2000 Plug and Play coolant overflow tank.
We also carry a custom S2000 Catch can/Coolant over flow combo tank.
Regular price is $359.99
Click
HERE!!!
to order!
These are made to order so please allow 1-2 weeks for them to be shipped out.
Some orders may be directly shipped from AB-Speed to the customer to cut back on wait time.
Price for the basic plug and play version without the fluid level indicator is $159.99
To order please visit my site by clicking
HERE!!!
Here is a copy and paste from my website with information on the overflow tank.
Moddiction is proud to offer AB-Speed S2000 radiator overflow tank.
Ditch the oem plastic overflow tank for this aluminum version to really clean up the look under your hood!
Now with a plug and play version, installation is as easy as sliding stock radiator overflow tank out and sliding new AB-Speed unit in it's place! Takes less than 1 minute!
- 100% hand made in USA
- TIG welded aluminum construction
- Billet aluminum machined one-piece cap
- Steel tube that extends to near the bottom of the tank to perform identical to the stock system
- Drop into stock Cruise Control bracket(Plug and Play), or bolt in design available(bolt in design requires drilling)
- Optional fluid fill level indicator w/ anodized fittings
- Lifetime Guarantee on aluminum tank
Plug and Play version shown with optional(+$15) fluid level indicator.
Please note. OEM unit holds more fluid than this unit. Fluid level needs to be about 1" over the metal tube inside to ensure proper functionality.
And pictures of course.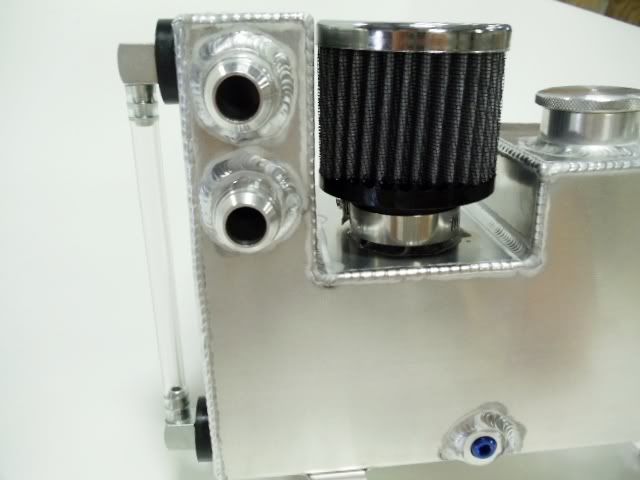 10-05-2010, 08:14 AM
---
Originally Posted by Moddiction,Oct 1 2010, 01:22 PM
Let's get some orders in and get this going! These things are sweet! Really nice touch to the engine bay!
Just ordered and thanks!
10-05-2010, 08:19 AM
---
Met the fabricator this weekend at our tech day and almost bought the one he had with him on the spot. Only reason I didn't was because I want everything black which will be worked out later. Better quality than those JDM brands for a cheaper price. Can't go wrong with this.