GB: SakeBomb Garage - High Performance Oil Cooler Kit!
11-23-2015, 08:14 PM
---
Hey everyone, sorry for the late reply, we've been extremely busy prototyping and processing orders… things get pretty crazy at this time of year, and we have lots of overlapping projects.

I promise I'll do a better job of checking in on here and answering questions as soon as we wrap up some pending projects such as our competition front and rear brake kit for S2000's (More details on that soon!). But I wanted to apologize for lack of communication. If anyone wants to contact us directly, or has any immediate questions please email [email protected] and I'll shoot you a response ASAP.

Sorry about the gloating but we can't resist, we're really excited about our upcoming S2K brake kits!! SBG designed 325mm AP Racing front, and our own vented rear
[IMG]
http://i723.photobucket.com/albums/w...psiifonkaj.jpg
[/IMG]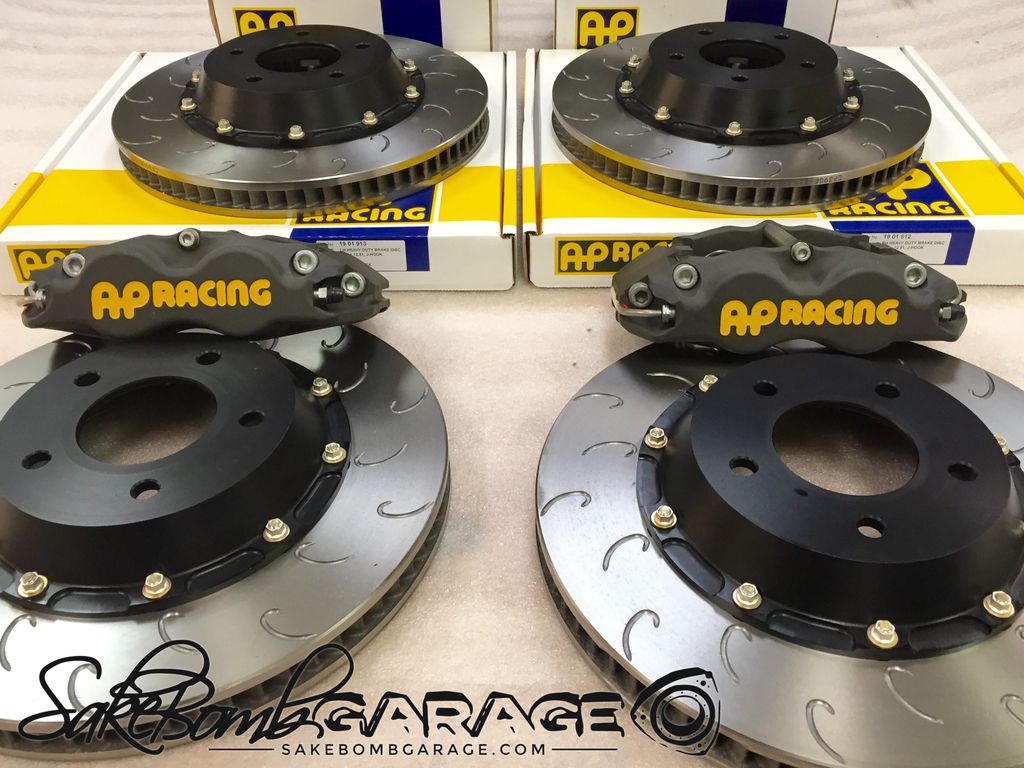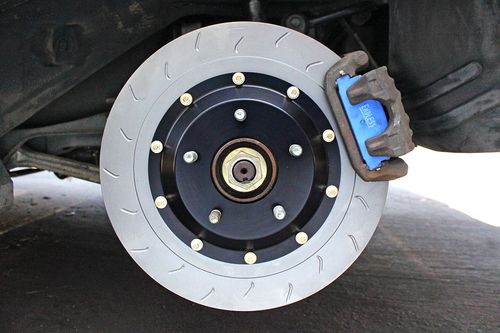 11-23-2015, 08:45 PM
---
To answer a few questions from here and the other Oil Cooler thread we have going...
Oil coolers and questions - We've put this kit through its paces on the street, backroads, and track over the course of the last 8 months, with rock solid results. Buttonwillow, Thunderhill, and Sonoma Raceways to name a few. The worst conditions this year were at Buttonwillow Raceway here in California during a particularly hot day topping out over 100 degrees F. ambient. We ran the car almost 7 sessions (lost our brakes a couple times and had to pit so it wasn't a full 7). Sessions were 25+ minute and mid-day temps were damn hot. Temps ranged from 205 early on in the day to a max of 228 at the hottest point in the day, though were rock solid and stable around 220F most of the day. This was with a baffled oil pan, intake, exhaust, basic bolt-ons, and the 25 row cooler. Running the 19 row cooler on other days for comparison (though they were cooler) I would guestimate an average of 230F, so a rough 10 degree difference between the two cooler sizes. There's a lot of variables but that's roughly what we've found so far. If anyone wants to do some hardcore testing on these things there's a t-shirt in it for ya
but I can say from our experience that we've put this kit through its paces over the course of 8 months and quite a bit of track testing… we're damn confident with it and the Setrab coolers are some of the highest efficiency out there.
So 10,000 ft view is: 220-230F depending on cooler size and track temp.
Pics of cooler mounted:
Hose Routing: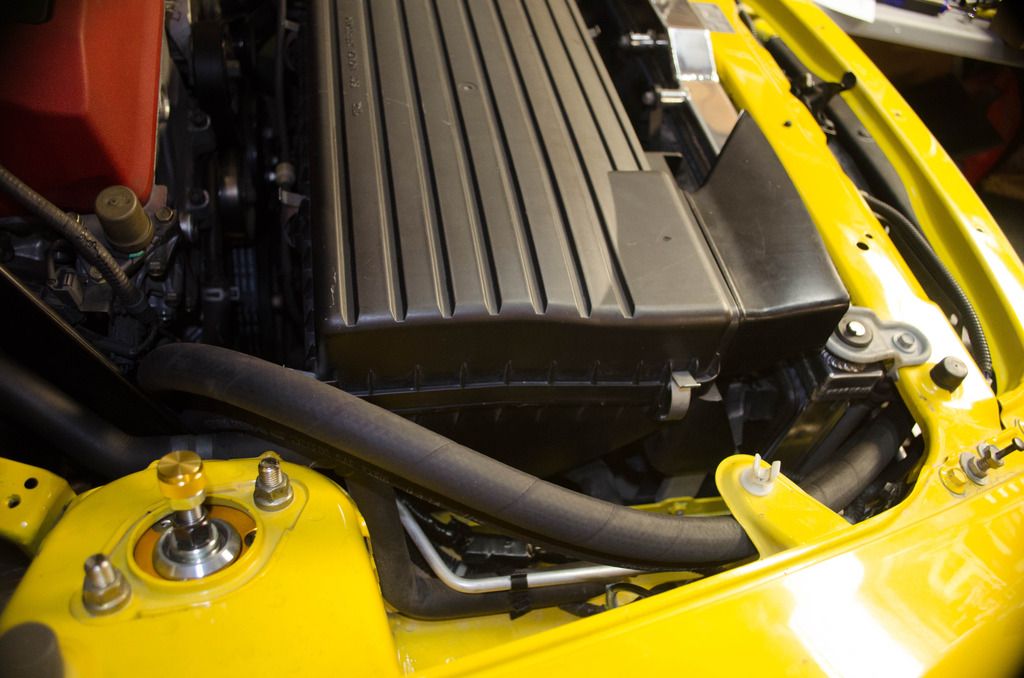 11-23-2015, 08:52 PM
---
***UPDATE****
With the huge interest in the cooler kit and emails/orders coming in quickly, we've rethought the whole group buy idea. We've sold nearly half of what was needed for the group buy in the first WEEK alone, so instead of making you guys wait we decided to simply list the cooler kits at the group buy price for the first 30 (more) that sell since we've been able to secure a large quantity of components upfront. So, long story short, the cooler kits are available now, and we have a handful of lines, coolers, and components in stock with more on order now. We've sold over 15 kits so far and have had some nice compliments from recent customers so we're hoping this will be a success.
Since Black Friday is already coming up we've wrapped this into the Black Friday sale. We've temporarily dropped the price of the kit on the website and you can USE COUPON CODE BF2015 to add an extra 10% off on top of the sale price to go beyond the listed group buy pricing!! Enter BF2015 at checkout on our website from now until Monday evening.
If you have any special S2K part requests... brake pads, suspension, radiators, etc just shoot us an email and if we have it available we'll add it
[email protected]