Evasive Motorsports | Exclusive Classic TE37
02-29-2016, 05:13 PM
Sponsor
Evasive Motorsports | Exclusive Classic TE37
---
Hey Guys,
[COLOR=&amp][SIZE="6"]Weight : 17lbs[/SIZE][/COLOR]
Now taking deposits on second batch!
Any Catalog size can be ordered. single wheels, pairs or full set
[COLOR=&amp]
[SIZE="6"]New order is being sent in October 14th around ~march- may 2017 arrival[/SIZE]
[/COLOR]
Due to Popular Demand and thanks to S2kSlav(Stan) for setting this up. We decided to custom order Classic TE37 in 17x9.5 +40 5x114.3
This size has never been made in a Classic TE37 before. Concave face same as 17x9.5 +41 te37rt
Brake clearance:
Will clear Stoptech 328mm kit
Spoon and AP Racing will require 6-7mm spacers
Any other brakes you would like me to check please send brake caliper diagram to
[email protected]
*Note: Flat Center Cap may possibly have clearance issue with s2000 rear Axle nut
[COLOR=&amp][SIZE="5"]
Price:
Bronze / White $3300 (Cali add 9% tax)
Special Color(any Volk Catalog Color) $3400 Shipped lower 48 States (Cali add 9% tax)

Shipping add $100 per set.

[SIZE="6"][COLOR=&amp]Actual Picture of wheels[/COLOR][/SIZE]




[COLOR=&amp][SIZE="6"]Actual Pictures of wheels (pictures taken with iphone)[/SIZE][/COLOR]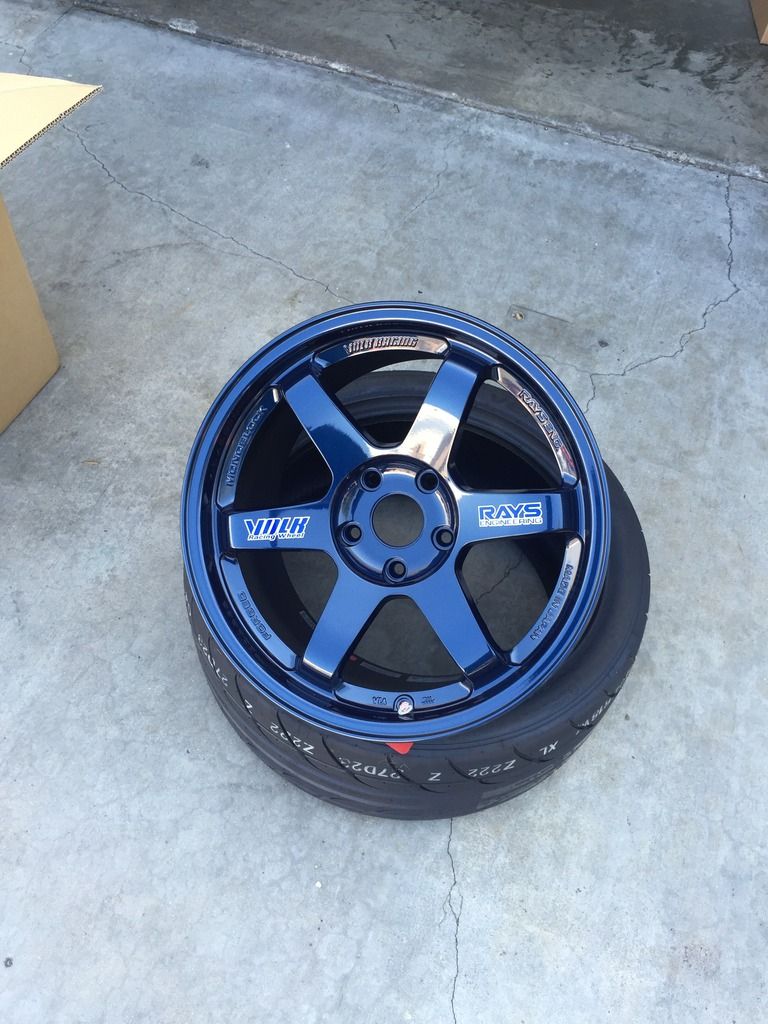 [/SIZE][/COLOR]
[COLOR=&amp][SIZE="5"]
$1000 Deposit Required (Non-Refundable)

ETA 4-5 Months


Give me a call at 626-336-3400

Ask for Josh
[/SIZE][/COLOR]
Deposits Received
1.Bronze Set - Stan (s2kslav)
2.White Set - Stan
3.Bronze Set- Kris
4. Bronze Set - Vic (Tmkpres)
5. Mag Blue Pair - Raymond (foxraycn)
6. Hyper Blue Set - Michael
7. Bronze Set - Bobby
8. Bronze Set - Hector
9.Formula Silver- David
Unspoken for sets Ordered For Stock
10.Bronze
11.bronze
12.White
13. Mag Blue
Our plan is to send in the order by 3/15
--------------------------------------------------------------------------------------------------
Payment Information
Paypal
Paypal Address –
[email protected]
Memo - #1 What you want to order #2 S2ki Member #3 Telephone number
We will only take confirmed paypal accounts with verified shipping addresses
Credit Card
Please give me a call at the office (626.336.3400) for any credit card transaction. The billing and shipping address has to be the same unless your shipping address is an alternative address filed with your credit card company
International
If you are an international customers we only take wire transfer as a form of payment. Please PM me for wire transfer information
9.0% California tax applies if you are in California.
Contact Information
Evasive Motorsports - 626.336.3400 -
[email protected]
Evasive Motorsports Website
Evasive Motorsports Blog
__________________
Evasive Race Preparation
- Alignment / Corner Balance / Suspension Tuning / Engine Building / Dyno Tuning
S2000 Performance Parts and Accessories Specialist
626-336-3400
Evasive Blog
/
Facebook
/
Twitter
---
Last edited by EvasiveMotorsports; 09-05-2018 at

01:29 PM

.
03-01-2016, 08:38 AM
Registered User
Join Date: Feb 2004
Location: In the Clouds
Posts: 7,298
Likes: 0
Received 0 Likes on 0 Posts
---
I hope the people that were in the feeler thead are gonna step up and put their deposits down ! I'll be getting ahold of you soon Josh ( well, probably Nathan will for me lol)
03-01-2016, 09:06 AM
Sponsor
---
__________________
Evasive Race Preparation
- Alignment / Corner Balance / Suspension Tuning / Engine Building / Dyno Tuning
S2000 Performance Parts and Accessories Specialist
626-336-3400
Evasive Blog
/
Facebook
/
Twitter
03-03-2016, 02:41 PM
Sponsor
---
__________________
Evasive Race Preparation
- Alignment / Corner Balance / Suspension Tuning / Engine Building / Dyno Tuning
S2000 Performance Parts and Accessories Specialist
626-336-3400
Evasive Blog
/
Facebook
/
Twitter