Sakebomb Garage | Competition Front Big Brake Kit - GROUP BUY
04-11-2016, 09:37 AM
Sakebomb Garage | Competition Front Big Brake Kit - GROUP BUY
---
***In final stages of production, available for pre-order now, for the one time only special introductory sales price! 15 kits available***
We developed this 325mm AP Competition brake kit as a complete out-of-the-box competition racing package, with no cost spared on components. This kit features 325x32mm AP Racing extreme efficiency 72 directional curved vane fully floating rotors, 2024-t351 racing grade extreme-temperature-stable hats, AP Racing Calipers with stainless pistons, high-temp piston seals, anti-knockback springs, and 20mm pads. 6061-t6 SBG designed caliper brackets, and SBG Stainless Steel brake lines. We built this kit as the ultimate track-ready brake kit with heat management, maximum braking capacity, and highest efficiency in mind.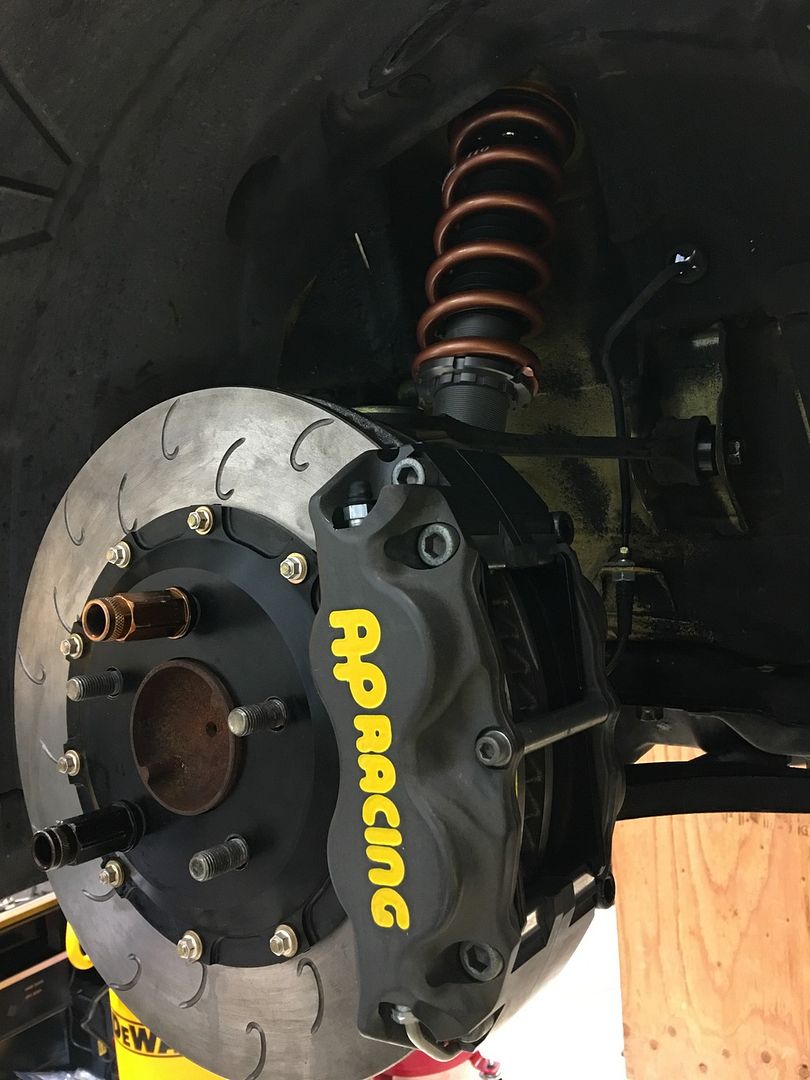 ...and yes, it's compatible with our
S2000 Vented Competition Rear Brake Kit
, out of the box!
Isn't there already an AP Competition brake kit?
We have worked hand-in-hand with Essex for many years now, who designed and sells the 299mm version of this setup (please check our website if you're interested in purchasing on of these kits, they are absolutely still for sale and an amazing braking setup). We had previously worked with Essex through development of our 325x32mm AP Competition BBK for the FD3S RX7 - considered the gold standard for track-ready competition brake kits for the FD chassis (please see the FD section of our website if you're interested). With a similar weight, 50/50 weight distribution, and power potential compared to the S2000, in general the FD platform requirements are comparable. After months of testing we found the 325mm kit to be the best balance of heat management, weight, and durability for the FD - a similar platform in many ways. We built the 325mm kit realizing that Essex was faced with the design constraints associated with the small stock S2000 rear brake which prevented a larger front rotor from being used (for bias reasons). While we feel the Essex kit is still a fantastic option, have sold many to date, and continue to recommend and sell the 299mm kit... when we developed the SakeBomb Garage 325mm AP brake kit as an up-sized option, which can be used with our SBG Competition Vented Rear kit (here). The SBG 325mm version employs the same caliper as the Essex 299mm kit, but with a larger rotor for more mechanical torque and higher heat absorption and extraction capabilities for an ultimate no-compromise solution. They're both great setups, and we happily recommend either depending on your cars particular application and use. For those running our vented Competition Rear RX8 Rear Brake Kit we recommend the 325mm version.
Our goal for this braking system was to shatter the performance limitations offered by most of the current braking solutions on the market. We chose to engineer our brake setup around AP racing components based on their continued success in top tier motorsports, such as the American Le Mans series, Grand-Am, NASCAR Sprint Cup, NASCAR Nationwide Series, and Formula 1.
The upfront cost of a brake package is not the only factor when deciding on a upgraded brake solution. The cost of replacement parts such as pads and rotor rings must also be factored into the equation. Fortunately the caliper we utilized has a very common pad shape, which translates into a potential $100+ savings as compared to average pad replacement costs. The AP CP8350 caliper also accepts 20mm pads which are significantly thicker than most setups, further adding to the reduced pad replacement cost and frequency. Combine the reduced pad costs with the long service life of the AP J-Hook rotors, and over the course of a few seasons, and this setup can potentially pay for itself in savings alone! Cheaper maintenance costs, better performance, race quality components... Our package is a no brainer.
Our Brake Package Includes:
Two AP CP8350 Forged Aluminum Calipers
Two AP 325x32mm floating J-Hook Rotors
SBG hard anodized bells/hats in 2024-t351 aerospace grade aluminum, with fully floating bobbins and mil-spec hardware (Anti-Knockback/Anti-Squeal clips optional)
SBG hard anodized caliper mounting bracket - 6061-t6 with hardware
SBG DOT approved stainless steel brake lines, with abrasion/dirt resistant sleeve
Step-by-Step pictorial installation guide
Brake pads are NOT included*
Brake pad buyers guide:
*Brake pads for this caliper are readily available from nearly every pad manufacturer. As pad choice varies greatly depending on personal preference, application, and desired cost, we decided not to include pads to reduce the total cost as one pad obviously can not fit all racing applications. To see a list of commonly used pads please visit the following Link. We are able to source many other pads such as Performance Friction, Ferrodo, Hawk, and Endless.
We have made custom hard anodized aluminum rotor hats, caliper brackets and brake lines creating a complete bolt on kit. The caliper we include with the kit is a true motorsports grade caliper (originally a rally caliper). We designed this kit to be used for primarily race use IE: Competitive racing, track days, time attack, hill climbs, etc. But through the use of Anti-Knockback clips (anti-rattle/squeal springs) on the discs we are able to offer a street friendly competition level brake package that will take any abuse you can throw at it.
The AP calipers used in our system allows 20mm thick pads, which not only add additional thermal barrier between the rotor and caliper, but they will also last longer then a standard competition brake pad. Many other calipers use pads that are 12-17mm's thick resulting in reduced thermal insulation (potentially more brake fluid boiling), and significantly increased pad replacement intervals. Bang for buck, for consumables such as pads and rotor rings, this kit is extraordinarily cost effective!

AP CP8350 Calipers Specs & Benefits: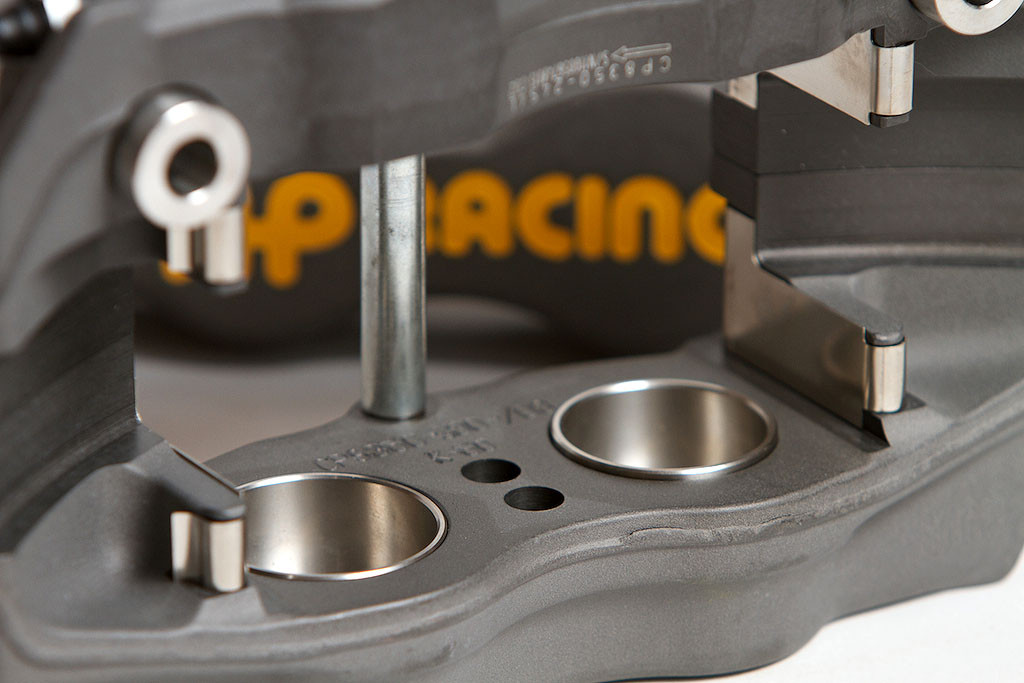 Stainless steel pistons
3lb. Anti-knockback springs (keep pistons in position in spite of any wheel deflection)
Forged aluminum caliper construction weighs (AP's street caliper line uses cast aluminum calipers)
Light weight (about 4 lbs)
Integrated bleed screw and crossover tube protection
Durable hard anodized finish - no paint to get destroyed by brake fluid and dust over time!
Common pad shape (readily available pads from various manufactures)
Calipers can be professionally serviced by Essex Parts Services (Exclusive Importer of AP Racing Motorsports products).
The AP 325mm J-hook rotor rings that are supplied with this kit directly come from AP's motorsports line of iron brake discs. The J-Hook slot pattern is AP's latest, most aggressive slot pattern available. These discs are similar to the discs being purchased by the top teams in various motorsports categories around the world. AP Racing's Heavy Duty J Hook Racing Discs are specifically designed to handle race abuse. They provide increased cooling, less judder, more thermal stability, fewer cracks, and an increased service life vs. competing discs. When you run an AP disc, you can be confident that you're using the best parts available at any price point. Years of research into metallurgy and rotor design has yielded some of the best rings money can buy!
"Most aftermarket discs have 30 to 48 vanes. Many times those vanes are straight, or non-directional, with a sub-optimal amount of space between disc faces. After extensive CFD and thermal stress analysis, AP designed the Heavy Duty J-Hook with 70 vanes and a wide 16.5mm air gap to increase airspeed and heat transfer, while reducing deflection and remaining reasonably lightweight."
"The increased directional vane count on the J Hook Heavy Duty Disc amplifies air speed through the disc, reduces air recirculation between vents, and also increases convective heat transfer and heat distribution. In other words, both air and heat move more quickly and evenly through the disc, creating increased stability under the extreme loads of racetrack use. The disc is less prone to coning, distortion, and cracking, while providing cooler running temperatures, less brake fade, reduced judder, and a longer service life."

AP3908 J-Hook Rotor Specs & Benefits: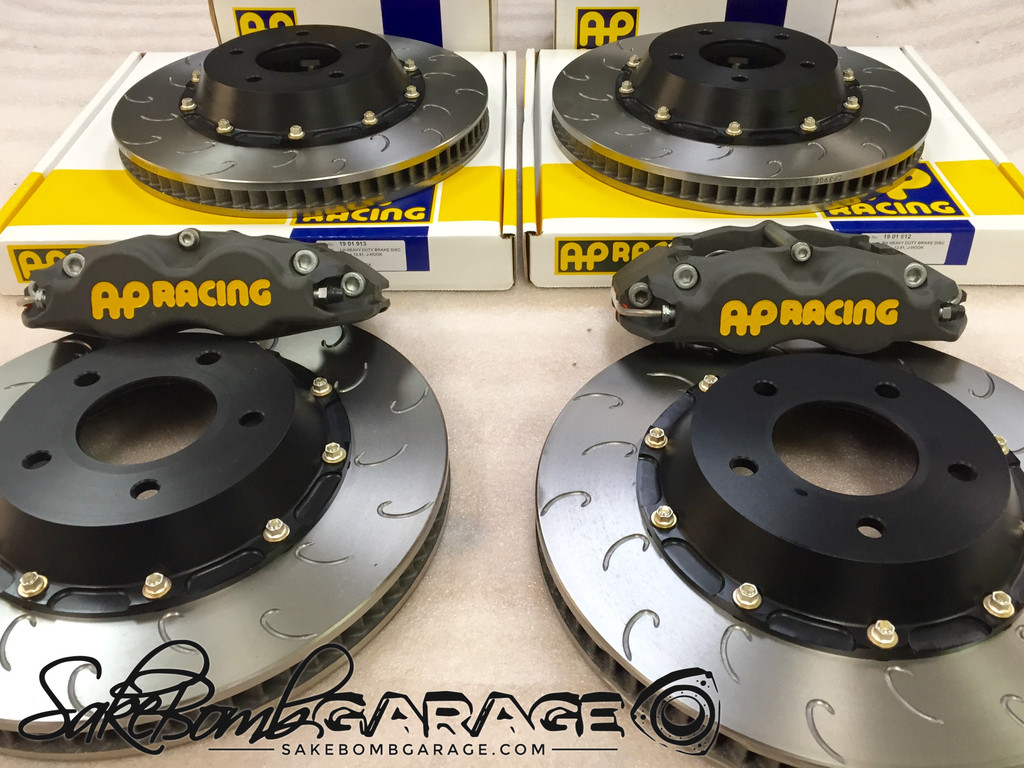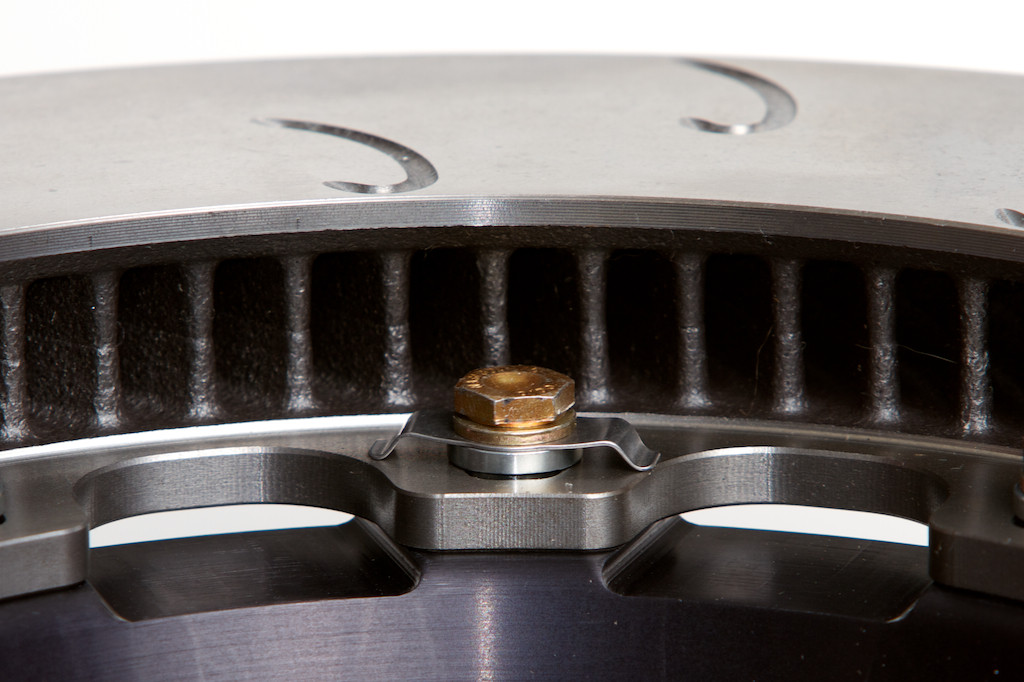 Industry/competition race standard rotors
70 directional vanes heavy duty design, 16.5mm air gap
True floating rotor design to allow axial float and radial heat expansion of the disc
Floating rotor also reduces stress and fatigue on the brake hats
Components in this kit are from AP's competition product line (these are NOT "street" components)
50 years of brake engineering experience are in these rotors and calipers
AP J Hook discs can be found on 75% or more of the NASCAR Sprint Cup grid, and AP components are supplied to most top teams in Grand-Am, ALMS, BTCC, WTCC, and Super GT.
AP's proprietary gray iron alloy with extreme temperature and wear durability
AP's exclusive J Hook design to promote even heat distribution and reducing cracking, as well as increased leading edge surface area for increased initial "bite" compared to standard slotted rotors.
Longer service life means less time and money spent swapping rotor rings.
Hands down, these rotors are one of the best competition rotors money can buy.
NOTE: 17" aftermarket rims are required. This brake kit will not work the the stock 16" rims. Please check for wheel fitment before purchasing, wheel spacers may be required depending on wheel spoke shape and offset.
Track test day =)
04-11-2016, 09:49 AM
---
04-14-2016, 02:36 PM
---
06-15-2016, 02:08 PM
---
Hi Everyone, we're providing some production updates! We're expecting our BBK kits to finish production and begin shipping around the end of the month, and wanted to share a few photos.

Front and Rear brake kit brackets, in mid-production:
Aerospace Grade 2024-T351 Aluminum Rotor Hats, waiting for their final production pass:
SBG Premium Rotor Rings, ready to go!:
We would like to thank everyone who's placed a purchase with us in advance, you early adapters are the ones that pave the way for the rest of the community! For everyone else, our introductory pricing is still available, and production is nearing completion. Reserve your kit while supplies last!
Front AP Competition Brake Kits available HERE! Rear Kits available HERE!
07-19-2016, 11:20 AM
---
The Introductory Sale for our Competition AP Racing Brake System is almost over! We're finishing up manufacturing, with a final stop at the finishing shop for mil-spec hard anodizing. We would like to thank all of our customers who have taken the jump to become early adopters, and provide everyone else with a reminder: The preorder price expires at the end of the month, or when we run out of inventory from this first production run (6 kits are left) ! We are very pleased with the response from the S2KI community, and have received an overwhelmingly positive response from our beta testers!
Thanks to the ultra-efficient AP Racing 325x32mm Rotors, this configuration far exceeds the thermal capacity of other brake kits. Being able to run a cooler rotor has allowed our beta testers to utilize a more street-friendly pad compound, while retaining consistent braking from the first, to final lap of the day. In our testing, we have experienced amazingly low pad and rotor wear, with both adhesive and abrasive pad compounds, due to lower operating temperatures, and increased swept disc area. If your goal is dollars per lap, we are confident that the maintenance costs associated with this setup will be lower overall than other currently available BBK kits for the S2000. This system will stand up to abuse which most brake kits could not tolerate at a competitive price!
The introductory sale ends July 31st at Midnight Pacific Standard Time (or when inventory runs out)!
08-03-2016, 03:17 PM
---
Kits are shipping this week, photos to follow!
10-20-2016, 08:38 PM
---
Between now and halloween use the code
S2kiTrickOrTreat2016
at checkout to get 10% your SakeBomb Garage performance brake systems! For orders of pads, lines ands fluids use the code
BRAKETOBERFEST2016
to get free shipping!
SakeBomb Garage Brake Systems
11-27-2016, 01:20 PM
---
Originally Posted by
SakeBomb Garage
FYI, here is how this template fits on an Enkei PF01 17x8 +50 offset. Tough to tell from the picture but there is ~3mm of clearance between the top of the Caliper and the spoke of the wheel:
11-27-2016, 05:31 PM
---