Jack smiths
01-14-2016, 08:50 AM
Registered User
Join Date: Jan 2014
Posts: 1,781
Thanks: 0
---
Originally Posted by
Fatbloke
Originally Posted by weatyGT' timestamp='1452780610' post='23852058
Hmm ok... So some more sketchy reviews than what I've previously heard then.... Hmm maybe I'll reconsider....

Hay fatty, missed you baby!! PWRR is what I'm joining so I'm at Catterick for 28weeks training.
Easy Tiger. Best of luck with that
Thanks fatty. How's chippofarter these days?
01-14-2016, 09:09 AM
Registered User
Join Date: Nov 2015
Posts: 135
Thanks: 0
Thanked 0 Times in 0 Posts
---
Mine is booked for the 20th Feb.
I'm sticking to it despite the feedback here.
In fact I'll probably print this off and take it with me and cover off as much as possible with him or whoever does the job.
I also ordered an internal liner off of here, and replacement elastics from Modifry along with some speaker mounts...

The other aspect for me is that mine is not a daily. When I drive it the roof is down, if it rains whilst I'm out then I'll liove with whatever shortcomings the new'un has.
It has to be watertight though...
01-14-2016, 09:14 AM
Join Date: May 2010
Location: Costa del Cornwall
Posts: 7,797
---
23 posts and 266 views so far, I'm saving my pennies and avoiding JS, just don't want the possibility of hassle.
01-14-2016, 09:44 AM
Join Date: Aug 2015
Location: In the woods
Posts: 284
Thanked 0 Times in 0 Posts
---
Originally Posted by
S2KIP
No major issues on mine, it keeps me dry when it rains and it goes up and down without issue.

I won't lie, there are a few very minor faults, like a bit of glue on the inside, a little bit of material hasn't been cut 100% straight in my rear view mirror. But for £180 I'm happy as it doesn't leak and does its job.
Also my experience...not perfect aesthetically, but fully functional and waterproof. Would I have spent threes times more (I think that's correct) on a monsoon hood if it was perfect...nah not worth it for me; I'd rather spend the money elsewhere
I got the replacement straps on Jacks recommendation and its money well spent. From here
http://www.modifry.com/index.php?rou...=86install.htm
01-14-2016, 12:07 PM
Registered User
Join Date: Jan 2015
Posts: 68
Thanks: 0
Thanked 0 Times in 0 Posts
---
I had a new roof fitted on Tuesday from Jack Smiths. He usually reuses the rear screens so you will probably end up with my rear screen if he hasn't done any other S2000's this week.
His place is down a back alley between rows of terraced houses. Not at all glamerous but he's a friendly and interesting chap who is good at what he does.
My passenger side seal was holding water and leaking a lot, so he sorted that out for free and the the last few days have been amazing. The joys of driving and not getting a soaked passenger seat!
Swansea is a sh!thole (sorry to anyone who lives there, but it is). Luckily I have access to an office there so I walked into town and did some work for 3 hours. However, if you don't have anywhere warm/dry to be then killing 3 hours in Swansea isn't going to be fun.
The walk into town takes around 20-25 minutes.
Anyway, a couple of pictures after I got home: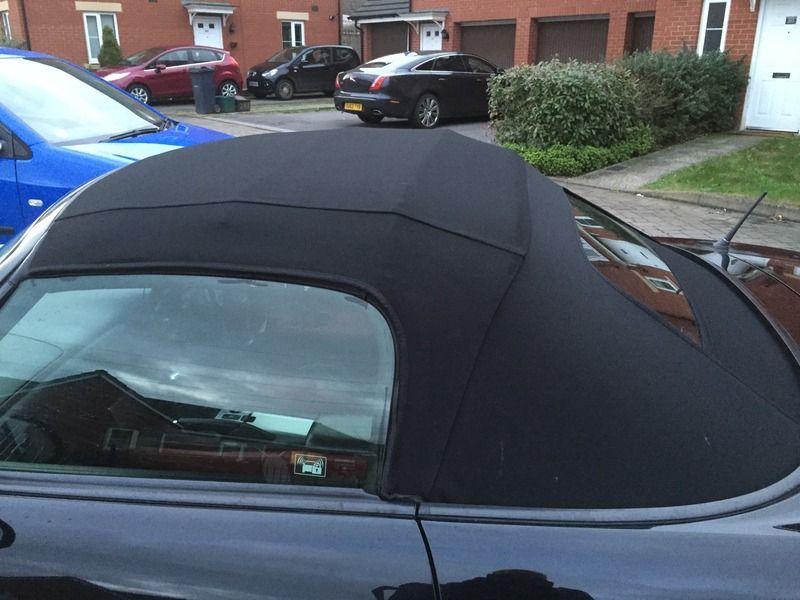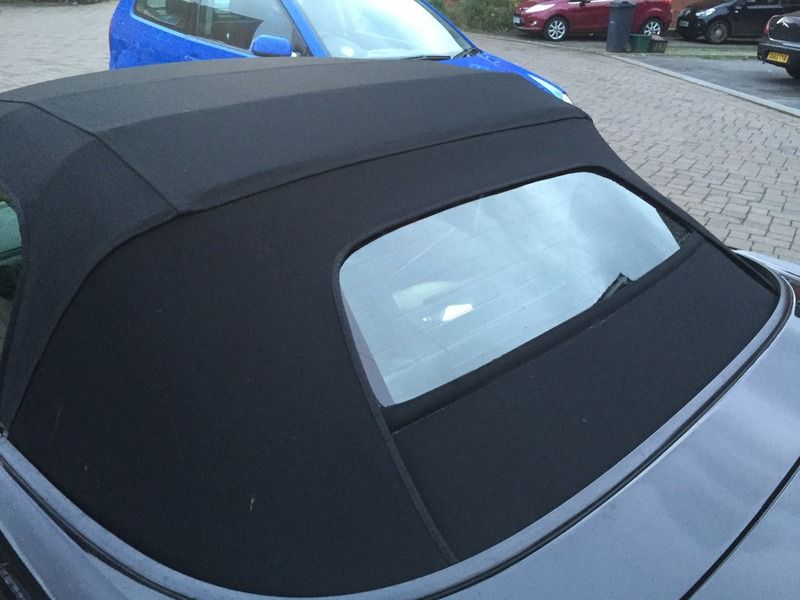 01-14-2016, 03:33 PM
Registered User
Join Date: Jul 2007
Location: Here and awake!
Posts: 7,193
Thanks: 0
Thanked 0 Times in 0 Posts
---
It's your money, mine went on a JS roof, it's been on for three or four years now, no leaks, no problems and my car sits outside all weathers 24/7. I don't understand the debate, it's like people can't believe something is so cheap so something has to be wrong with it, the same mugs will pay £600+ pound for a soft-top ... more fool them I say.