OBD Wiring Connections
08-03-2018, 01:39 PM
Registered User
Join Date: Jul 2018
Posts: 4
Thanks: 0
Thanked 0 Times in 0 Posts
OBD Wiring Connections
---
First post here and looking for some help.

Ive had an intermittent EPS light on the dash which is now permanently on and I have no power steering.

Ive been doing some research and see that I need to do the paper clip trick to read the codes by shorting pin 9 (Service check system) to pin 4 (earth) on the OBD socket. Only problem being that I didn't get any flashing of the EPS light and after a bit more digging removed the OBD socket from its holder and realised there wasn't anything connected to pin 9.

So am I missing something here? Has anyone got a picture of the wiring going to the OBD socket?




08-03-2018, 02:55 PM
---
Sure you're looking at the right connector? This brown wire is what you want. It should go to Pin 9 on the OBD2 port. Honda calls the OBD2 port the Data Link Connector (DLC). Shows going from the SCS to pin 9 in my service manual for all years. Pretty universal in Honda cars. Sometimes the connector is upside down (or seems that way when I crawl under the dashboard).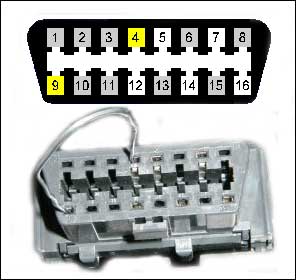 This works on my 2006 USDM car.
-- Chuck
08-03-2018, 03:52 PM
Registered User
Join Date: Jul 2018
Posts: 4
Thanks: 0
Thanked 0 Times in 0 Posts
---
I've had my OBD reader connected up OK so sure I'm at the right connector.
This is the back of the connector. The brown wire is at pin 5 as far as I can tell.
Where are the wiring connections in your first picture? Tomorrow I will try and trace the correct wire from there and see where it goes.
Thanks
08-03-2018, 04:17 PM
---
08-03-2018, 04:31 PM
Registered User
Join Date: Jul 2018
Posts: 4
Thanks: 0
Thanked 0 Times in 0 Posts
---
Connector in my hand is the back side of what Im sure os the OBD Port (on the left hand side of the transmission tunnel just behind the lower dash) after I removed it from its bracket to get a better look at it.

I found that page listing the connections earlier and thats what confused me as what I'm seeing on the car doesn't match up.

I'll trace the wires from the ECU tomorrow and see if I can see whats going on or where I'm going wrong.
08-04-2018, 06:24 AM
---
There is some conflicting data in the wiring diagrams.

A. In my official, printed service manual for years 2000-2007 there is a Brown wire from Pin 8 (SCS) of the EPS Control Unit (not ECU, sorry) to Pin 9 (nine) of the DLC. Different diagrams for '00-'03 and '04-'07 cars but the same wire color and the same pins.

B. In the commonly found 2003 PDF service manual (bikini model on the on-line cover) page 17-27 (PDF page 546) shows the Brown wire from Pin 8 (SCS) of the EPS Control Unit leading to Pin 1 (one) of the DLC.

Both manuals are for the USA and Canada.
-- Chuck
08-04-2018, 01:23 PM
Registered User
Join Date: Jul 2018
Posts: 4
Thanks: 0
Thanked 0 Times in 0 Posts
---
Managed to get a look at it with no success. I did find a post which said the Euro Pre-facelift cars did not have the same wiring to the OBD and was missing the SCS connection? That would make sense with what I'm seeing.

I decided to just go through the troubleshooting steps in the manual as much as I could and everything seemed to be OK and I found myself getting to the suggestion of swapping the EPS control module several times so think that may be the next step.
08-07-2018, 10:00 AM
---
Wiring is different in USA connectors they don't like us messing but anyone with a snap-on or Launch can read the eps for you, the most common fault is a dirty connector on the rack there's two one for the angle sensor and one for the motor
08-07-2018, 03:07 PM
---
There is a way to get a UK car to flash out codes. I know this from (very) painful experience with my car which has AEM so doesn't talk to the OBD port at all. Abs and eps won't talk to cheap readers.
An autoelec fixed a fuse socket across two ports for my abs which allow me to diagnose via blinks. There is no other way for me. No readers work.

I have a Honda PGM tool, it talks to a STD car but not my modded one.

Dave is always right btw.. apart from when he says anything bad about me. Err.



Thread
Thread Starter
Forum
Replies
Last Post
UK & Ireland S2000 Community
New York - Upstate New York S2000 Owners