Review of some boring but useful stuff - phone mount, aerial, washer jets, boot light
01-28-2018, 09:24 AM
Review of some boring but useful stuff - phone mount, aerial, washer jets, boot light
---
Afternoon all - this is my first post on here, after having bought a 2007 S2000 a few months ago. The forum has been a great source of info on a few issues I've run in to (including multiple roof leaks!) so thought I would post a quick review of some boring but useful bits and bobs I've bought that other new owners might find useful. First big job coming up is a proper speaker install so may document that as a build thread some time!
Modifry Dash Bracket + Aukey Magnetic Holder
I needed a phone holder for the car but hate those generic side clamp ones as they look terrible when not in use. Really liked the placement of the Modifry Dash Bracket, but it seemed a big large and the suggested phone attachment didn't look nice. So I bought the Modifry and a magnetic phone holder, then went about modifying the bracket with a Dremel to fit the round shape of the holder. This then just glues on, pop the metal plate inside your phone case and job done! Took about an hour all-in, didn't even need to paint the cut edges of the Modifry, just used a black permanent marker! Happy with the result, and it's very secure - hasn't come loose during spirited driving! Link to
bracket
and
holder
.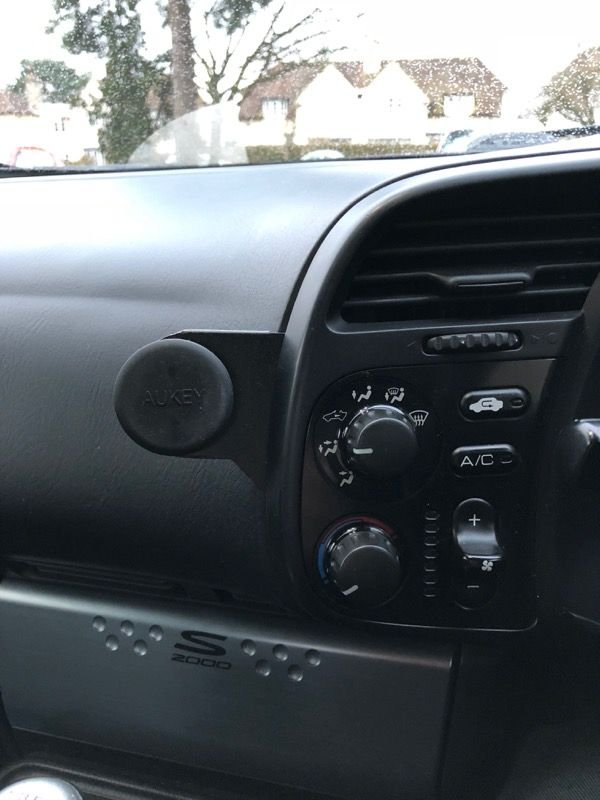 Honda Jazz Washer Jets
My washer jets were in a terrible state, one being mostly blocked and neither providing much useful spray! Jazz washer jets seem like a popular upgrade so thought I would give them a try. Very easy to fit, they are a bit loose in the hole but the feed hose keeps them pointing the right way. Nice spray pattern. I bought from
Tegiwa
, can't go wrong! Definitely recommended for darker colour cars, the lack of body colour coding might put me off on a lighter coloured car.
Peugeot / Citroen Stubby Aerial
My aerial had a terrible bend in it which looked ridiculous so hunted down a stubby one instead. I wanted one that would cover the threaded section of the base, which is quite wide compared to others. Ideally would want one a little bigger than this but haven't been able to find one that isn't really pricey, so thought I would give this one a go. Looks fine and reception seems unchanged (though I never really listen to the radio anyway). £7 from
eBay
, and it does appear to be a genuine part!
Boot Light
Finally I was getting annoyed that I could never see in the boot at night, and couldn't work out why Honda didn't fit a lamp in there. However after a bit of investigation it became clear there is in fact a lamp, for some reason mine just didn't have a bulb! It didn't look like a little 501 bulb was going to cut it though, so I bought an LED plate from
eBay
which came with an adapter for the bulb housing. Fits perfectly in the lamp housing, no modification needed, and plenty of light! Can't go wrong for £2.17 - buy one!!
01-30-2018, 11:32 PM
02-01-2018, 10:36 AM
---
Might look into the aerial too, I think a cat has taken to chewing mine...
02-01-2018, 11:15 AM
Sponsor
Join Date: Oct 2006
Location: Dallas, TX
Posts: 5,176
---
You can check out some more pictures of my LEDs on an S2000 here:
https://www.s2ki.com/forums/sponsor-...terior-812229/
I've been manufacturing and selling LEDs specifically for S2000s since 2009. I specialize in quality LEDs, ones that you won't find on eBay or Amazon. I've shipped many sets across the pond.
__________________
AP1 and AP2 Clear Headlight Diffusers!!! - Clear out your S2000 headlights!
LED Conversions for all S2000 lights
Keyhole Covers - Get the Shaved look
Oil Drain Valve - Easiest Oil Change ever!
_________
For LEDs for your other cars, head to our new website:
SupernovaLEDs.com
. Same great quality, easy-to-use website. Pick your car, we'll show you what fits.
02-05-2018, 11:15 AM
---
02-06-2018, 02:07 AM
Registered User
Join Date: Oct 2017
Posts: 20
Thanks: 0
Thanked 0 Times in 0 Posts
---
Originally Posted by
alexrobinson202
Apologies, I didn't see it in the write up yesterday - I see it now. Thanks very much again, I've ordered 2