Herap1's Build Thread
12-03-2016, 05:15 AM
---
Wow that is unfortunate as well
I don't understand why shipping companies are so careless with other peoples property.
So you ended up going through your insurance company? I wonder if I should do that as well.
Thanks for sharing your story, ya hopefully it will be made right by the end of all this bs.
12-17-2016, 05:09 AM
---
I am still fighting with Sameday for the hardtop damages.. Meanwhile I have been piecing together a Shine spec-s aero kit. So far I have only purchased a front bumper, I need some help sourcing out the fog lights and covers. I also need to find the rest of the kit. I would like to buy used as it would save me a ton of cash. Worse case I will buy directly from shine.
So right now I would like to find a set of fenders and rear quarter flares. If anybody knows of any aero parts for sale please let me know
01-14-2017, 09:18 AM
---
I got quite a bit done yesterday, got the engine and transmission out. I am having it rebuilt since it has 235k and does burn oil.
Since I have everything out I will be putting in a new clutch and resurfacing the flywheel. I purchased OEM disk,throw out bearing and pilot bearing and went with a ACT pressure plate. I am also going to install ap2 retainers and arp head studs encase I decide to go with more power next year. I also ordered a hondata im gasket, oem headgasket and oem vtec solenoid gasket. I might powder coat my intake manifold while I have it out and maybe switch out my rad hoses for spoon. Is it worth upgrading the springs and valves or are the oem ap1 fine?
Here are a few pictures
.
01-19-2017, 02:21 AM
---
I dropped my flywheel off at the local machine shop to get it resurfaced, wow was it ever bad...
Also after inspecting the clutch, it had lots of cracks and all the springs were very loose. I am glad I bought a new oem disc.. that should be arriving tomorrow thanks to Eric over at Teknotik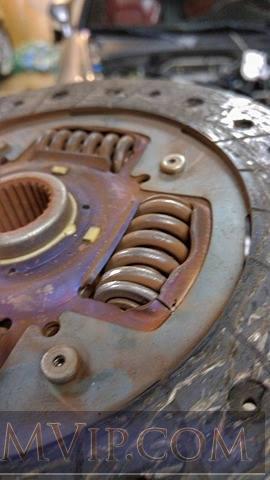 01-24-2017, 04:17 AM
---
I ordered Innovate 75a engine mounts and trans mount. Since I had everything apart I figured why not. I have the same setup for the rear diff. They are back ordered so I likely won't get them for a week or two, which is fine because my engine is still at my buddies being rebuilt.
01-24-2017, 04:24 AM
---
I forgot to post my shine bumper I receive a couple weeks ago. I really like it, but I still don't know if its worth buying the fogs and all the other parts plus get them painted this year. It is adding up fast and I rather put the money on go fast parts right now lol... So it will have to wait till next year or I will sell it.
02-18-2017, 09:10 AM
---
The engine is all apart. It needs rings, rod bearings, oil seals and of course a new head gasket. I have everything on order from Teknotik should have the parts within a week.

More to come!
03-21-2017, 01:58 AM
---
All my parts have arrived!! Super excited to get this engine back together. I am hoping to have it back in the car by Sunday and possibly running
We had to push it out of the garage last Sunday so my husband could put is Integra in the middle of the garage. His buddy did all the body work and primed it, its going for paint Friday. We are super busy with both cars!! Car show in less then a month, hopefully everything will be completed.
And I also got my intake manifold back from powder coating.
Still looking for rear hardtop brackets and ap2 red floor mats
Posting Rules
You may not post new threads
You may not post replies
You may not post attachments
You may not edit your posts
---
HTML code is Off
---