The Lowdown on Bride Replicas
11-23-2014, 04:11 AM
The Lowdown on Bride Replicas
---
Greetings fellow s2ki members,
By now it comes to no surprise to anyone that the vast majority of Bride seats we see for sale today on places like eBay, Facebook classifieds, and various car forums including s2ki are in fact replicas. I am writing this post to compile the highlights and key points of my research on this matter to assist those who may be in the market for genuine seats, or those who have recently come into possession of seats (such as myself) and would like to know if they are genuine or not.
Before any accusatory comments about 'replica bashing' or 'genuine snobbery' are made, I'm making this thread simply to point out the differences between the real deal and not-so-real deal. I'm not saying you have to buy one or the other, but I'd like to help those in the market for authentic seats not end up with replica ones and not know it. Ignorance is bliss, but having your 'genuine' Bride seat catastrophically fail in an accident would not be a nice surprise to have. Unfortunately, I am one of those people who have been fooled by replica seats marketed as genuine, as you will see in Part B.
The first and foremost sign that leads us to this deduction is their price point being at around a quarter or less of what they should cost brand new from an authorized distributor ($650-1000 for a pair of seats that would cost no less than $1500 each). While this doesn't concern those in the market for replica seats nor those in the market for genuine articles due to the obvious difference in price, we enter a grey and dangerous area when one starts looking for
second hand seats being sold as 'genuine' articles at seemingly fair prices, but turn out to be replicas.
These seats can be on the very high end of the quality scale for replicas, and may
not
have most of the go-to characteristics shown below to help identify genuine versus replica.
Secondly, we have obvious physical indicators within the design, manufacturing and material selection of the product which can give us clues as to whether or not they are genuine Bride-spec articles.
These may include the following images which I've found in my research:
PART A: SIGNS OF REPLICA SEATS
Courtesy of JDMPhasis
For GIAS/STRADIA models, which are arguably the most replicated seats on the planet:
Low quality or inaccurate embroidery of BRIDE logo on headrest and cushions
https://www.s2ki.com/s2000/topic/110...t__p__23417314
Incorrect BRIDE stamping on plastic harness grommets:
Steel (magnetic) frame in place of light-weight aluminum frames: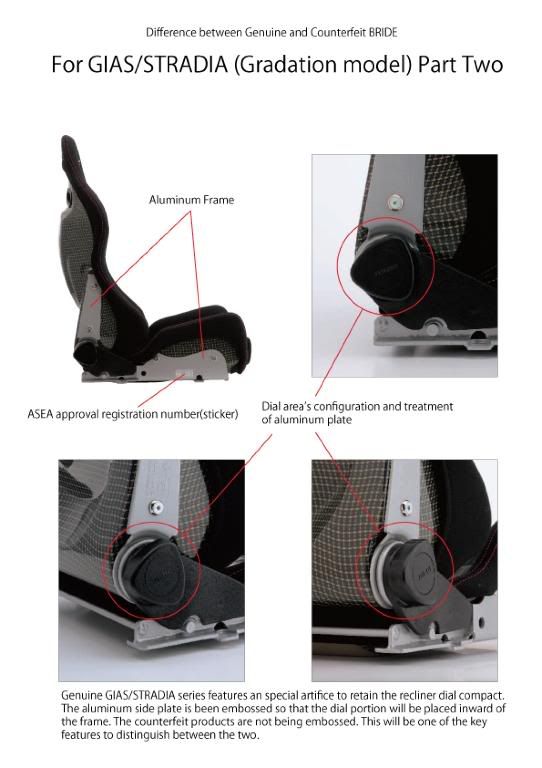 The 'artifice' refers to this curve in the metal frame to mount the control knob flush with the side of the seat:
The presence of mystery bolts and tabs on the metal frame or plastic pieces:
Courtesy of Chris_Lum on s2ki
Please note that features such as logos, tags, stickers and serial numbers can and are easily replicated, and thus should not be used as means of authentication, although their absence could provide a hint. An example would be the omission of 'MADE IN JAPAN' on the reverse side of the Bride logo tag.
11-23-2014, 04:11 AM
---
Now to the fun (and scary) bit..
PART B: HIGH END REPLICA SEATS
So you've checked all of the above and the seats check out as being genuine.. or are they?
This is where it becomes a concern for those who bought seats sold as genuine, but are having second thoughts about whether or not they are indeed genuine.
Now have a look at these:
The plastic grommets have the correct stamp.
The design of the metal frame is consistent with the genuine Bride design.
There are no mystery bolts or tabs.
From afar and most pictures the fabric and stitching look pretty good.
There are no obvious flaws or defects in their design and manufacture.
Authentic or replicas? These are
replicas
made by a so called 'Japanese owned' company in China (Wujiang Jianwu FRP Co.), and the above pictures were taken at their factory early this year. These seats are usually imported for less than $1000 a pair with universal rails, and even for replicas are very impressive in quality from first glance.
Impressive enough to fool myself and the two guys who bought it before me, thinking these are the real deal. Here's a picture of them sitting on my bedroom floor. The fabric is nice and soft but not silky, the stitching is nice and consistent, the plastic and metal bits look the same as genuine (just like in the factory pictures), the logo and cushions look genuine, and I bought them for much more as
a used set
than how much brand new replicas go for.
Now before you say it'd be obvious that they were replicas the moment you see them in person or touch them, let me tell you that I've seen, felt and sat in replica Brides (Gias and Stradia too) on multiple occasions and they simply do not compare. The fabric on these are much less coarse, tight fitting, and the stitching quality especially around the logos is much nicer.
So how did I figure out they're not genuine?
Apart from finding the source of these replicas, there are also a few other steps I'd like to point out which helped me confirm that these are in fact replica seats.
1) Check the serial number against the official Bride catalogue
I've noticed the Bride website doesn't make it very easy to find their catalogues so I've uploaded them myself:
2014 All Seats
2016 Reclining Seats only
Searching for the model name and serial number found on the bottom of the seat (G33SMF), I found these to be Low Cushion, Black Stitch (cushion style) Stradia II Sport seats with FRP Silver backing. But hang on, they aren't silver at all!
Upon research, I found that Gias and Stradia II Sports were only ever made with silver FRP since they're the lower cost version of the Stradia. They did not offer these in Super Aramid (Black Shell), Carbon Aramid or Venus options, unlike the traditional Stradias.
These were sold to me as Stradia II seats, not Stradia II Sport so I didn't pick up on this at all prior to purchase, until I actually looked at the seat label. On top of that, if they were
actually
Stradia II, the black Super Aramid material should always look like this instead of plain gloss black painted fibreglass:
To my knowledge, the only FRP shell Stradia and Gias seats Bride have ever sold will have either silver-black glitter or the colourful Venus backing.
2) Check every detail against a known genuine Bride article
To make matters more confusing, I did the magnet check and was distressed to find that they stuck to the side metal rail, but then found out that Stradia II Sport seats have a
steel
frame so they
should
stick. All good, right? Unfortunately not. After finding someone with supposedly the same model seats, I found that the steel frames made by Bride come in
black
, unlike mine which are the same as in the factory pictures above (grey - imitation aluminum). The picture below shows the real deal with correct FRP shell, and black metal frames.
3) Check every detail against a known replica Bride article
And the final nail in the coffin is, of course, finding out that they match a replica 100%, which in this case as shown above, I've narrowed it down to be the 'Stradia II Style FRP with black Gradation cushion' seat offered by that Chinese company mentioned earlier.
Fortunately for myself, this story does have a happy ending. The seats were sold to me by a friend of mine who has gladly offered to take them back and return my money as both he and
his
friend whom I've met were utterly convinced they were the real deal (and unfortunately paid more than they should've) until I showed them otherwise. They weren't happy to find out that they were replicas after having them for so long, but at the end of the day, I'd still consider myself to be the lucky one to come out of this ordeal with money still in my pocket and a handful of knowledge to share with everyone here.
This guide isn't comprehensive as these replica makers are continuously improving their craft, and there tens if not hundreds of these companies out there copying exactly the same thing. I would not be surprised if there are replicas out there that are virtually 99.99% undetectable until it is far too late. The moral of the story here is exercise caution and be informed when buying parts that have a direct impact on your safety such as bucket seats, and
if it's too good to be true, it probably is.
Although as we've found out, even if it's not too good to be true, it's worth double checking just in case
.
11-23-2014, 05:23 AM
---
11-24-2014, 10:08 PM
---
VERY VERY VERY good info.
I'm glad one of my past posts was included in your research and aided this thread. I've been trying to help fellow S2ki'ers from being duped for a long time now. Your list is very comprehensive and informative.
I'm glad you mentioned those "high end' replicas in Part B. They are for sure the scariest of the bunch. Good call on checking the model number on the Bride website! something i never thought of doing.
2 things that i want to add. You can see these on the seats you purchased:
1. The bride logo on the headrest is curved (or some or all of the letters aren't completely straight), ever so slightly (or a lot in some cases). Authentic Bride seat logos are ALWAYS embroidered completely straight. The fakes usually have curved logos, presumably because they aren't able to correctly embroider the logo and compensate for the stretch of the seat skin over the frame, so the logo ends up with a slight curve.
2. For the Gias/Stradia specifically, the Bride Gradation down the center of the seats is wrong on the replicas. It's hard to notice at first, but if you compare pictures of authentic next to fakes, you will notice that the fakes have a 'bolder' (thicker) font and thusly, the number of Bride logos is different from authentic to fake. Since the fakes have bolder font, they usually have 1 or 2 LESS logos on the backrest portion.
11-24-2014, 10:44 PM
---
Thanks Chris! More great info to add.
I also did have some suspicions about the BRIDE logo with its very slight curvature and also the fact that the letter spacing is slightly wider than genuine, which is particularly noticeable in person between the overhang of E and D. Those with a keen eye for detail will never be completely satisfied with seats that aren't 100%, no matter how good the quality.
However, even though this particular maker didn't get the lettering right, I have little doubt many others would've gotten very close, but it definitely pays to keep an eye out!