chilicoke's DIY flared OEM fenders
06-26-2009, 10:51 PM
Registered User
Join Date: Sep 2005
Location: Irvine, CA
Posts: 673
Thanks: 0
Thanked 0 Times in 0 Posts
chilicoke's DIY flared OEM fenders
---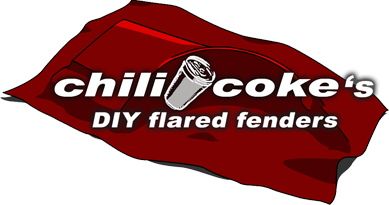 Continuing my history of DIY mods (see sig), my first (project) attempt at flaring OEM fender is finally up to my standards and at a presentable level.
Ever since Diez first posted pictures of his car, I've been obsessed with low offset, non-staggered wheels, and meaty tires on S2ks. Through out the years, inspired by number of members here (rob.ok's, s2kologist etc..), I knew exactly what I wanted and slowly followed my plan as soon as I got my car.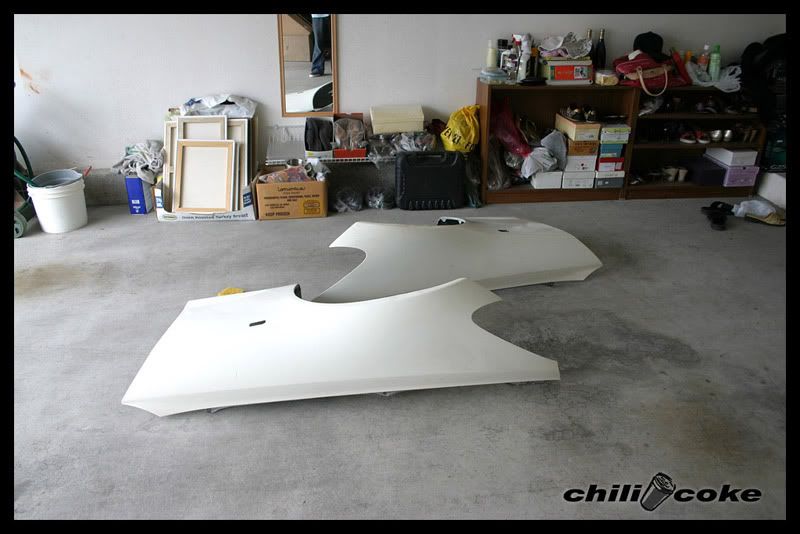 Picked up a spare set of fender from a member here for a great price and he was incredibly friendly, thanks!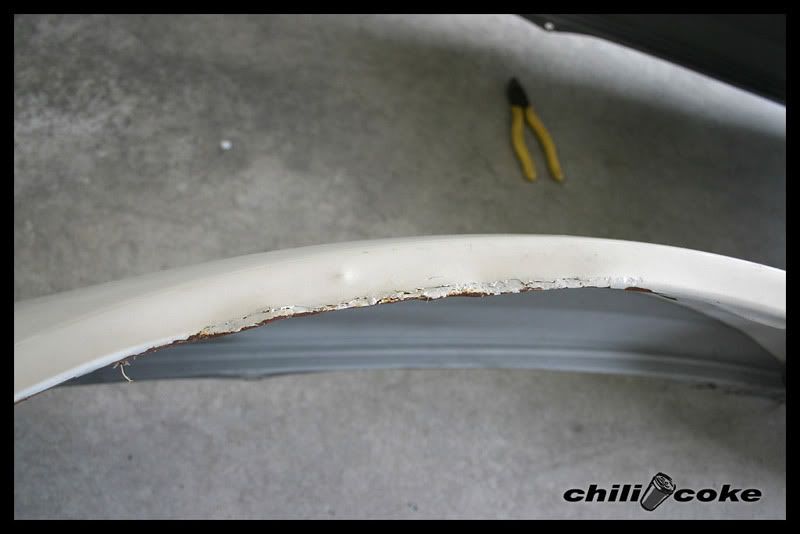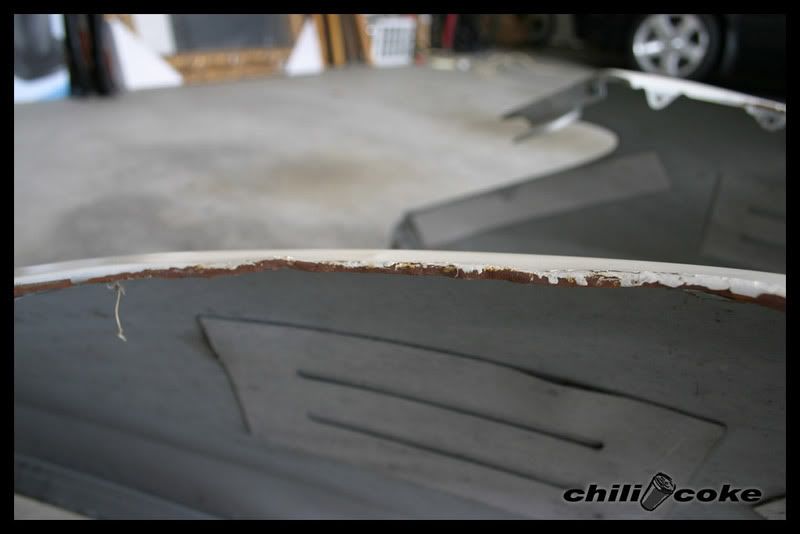 They were a little beat up, since I had never done anything remotely like this before, I started off with the left fender which was in better condition.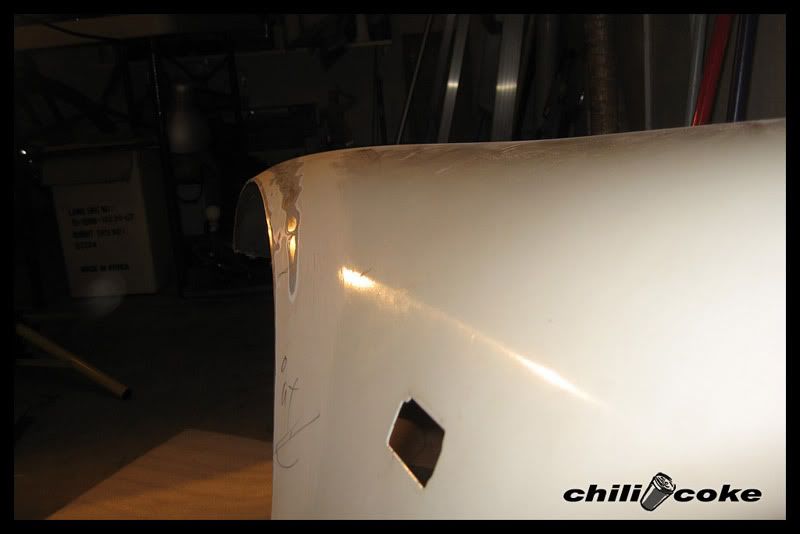 Starting to take shape, even at this early stage I was super excited. First time doing anything's always exciting, or maybe I was just having fun hammering things without getting yelled at.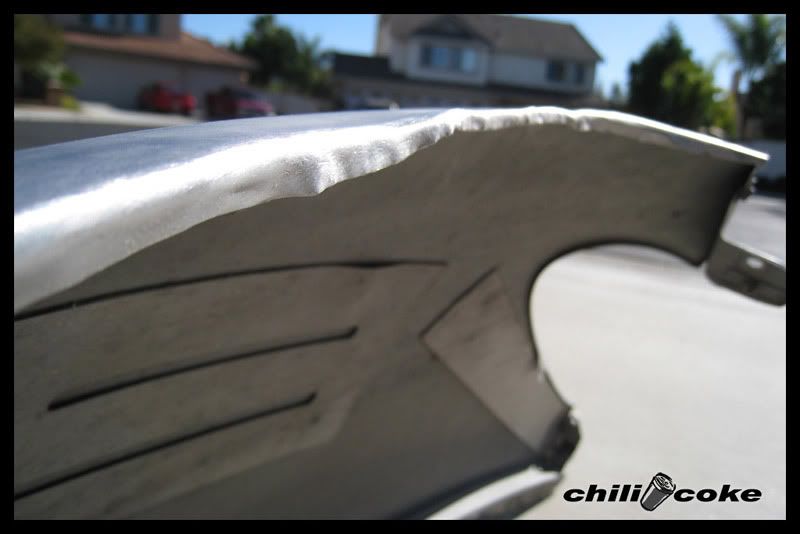 After getting the left side to look somewhat decent, I started on the right. Oh man this one needed tons of repair .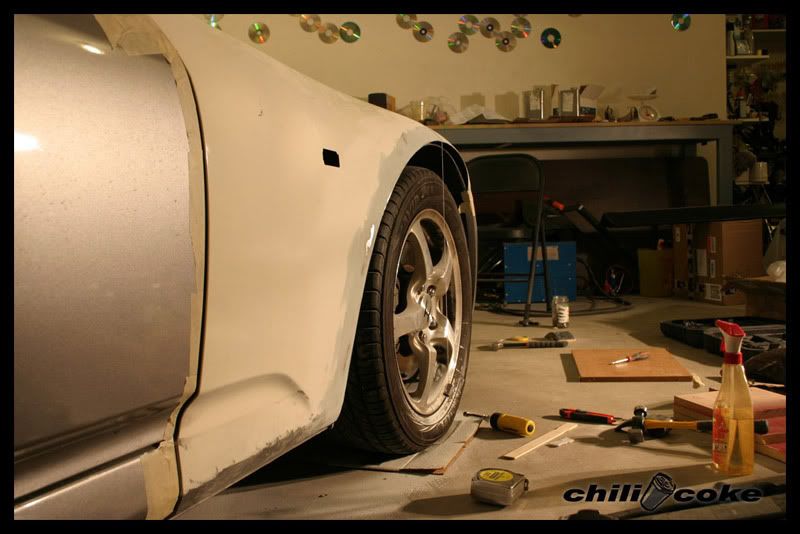 Tested fitted both fenders on my sister's car while she was out of the country
, great opportunity to make sure both sides are even and smoothed everything out. (don't worry, she knows and is cool with it)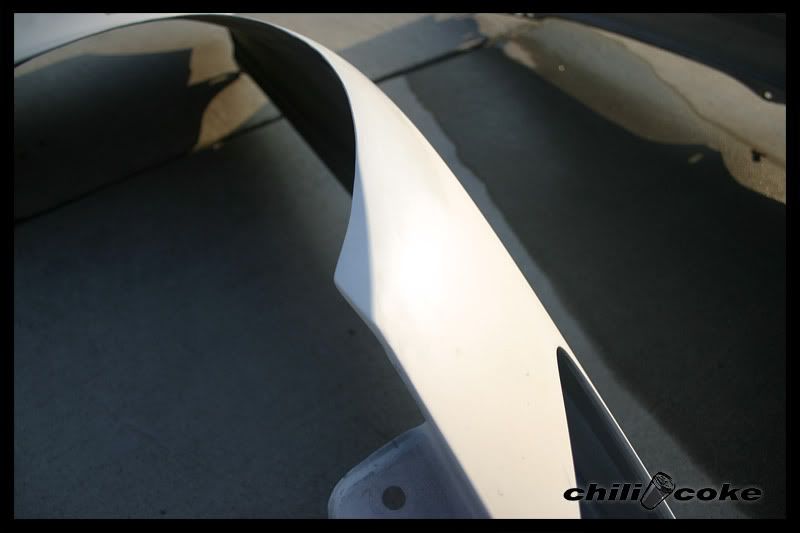 transition triangle...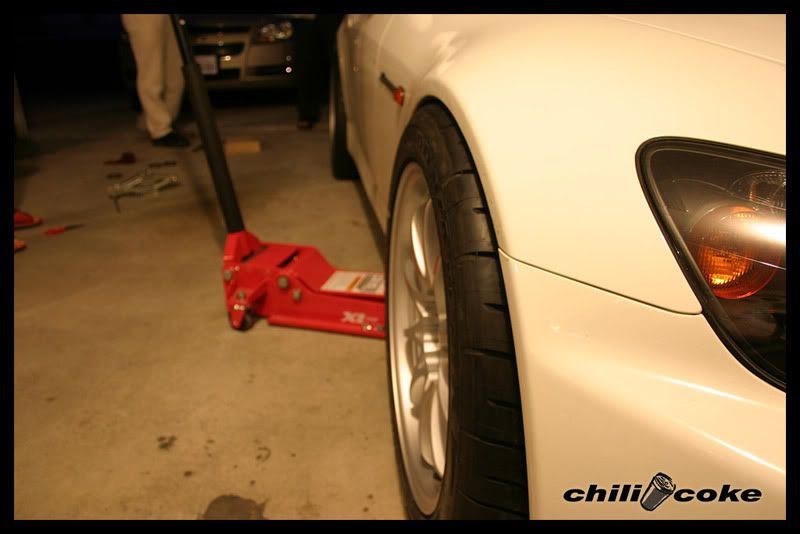 New wheels on my car with stock fenders, 17x9 +35. After seeing how much they stuck out I was a little bit scared they weren't gonna fit.
Moment of truth: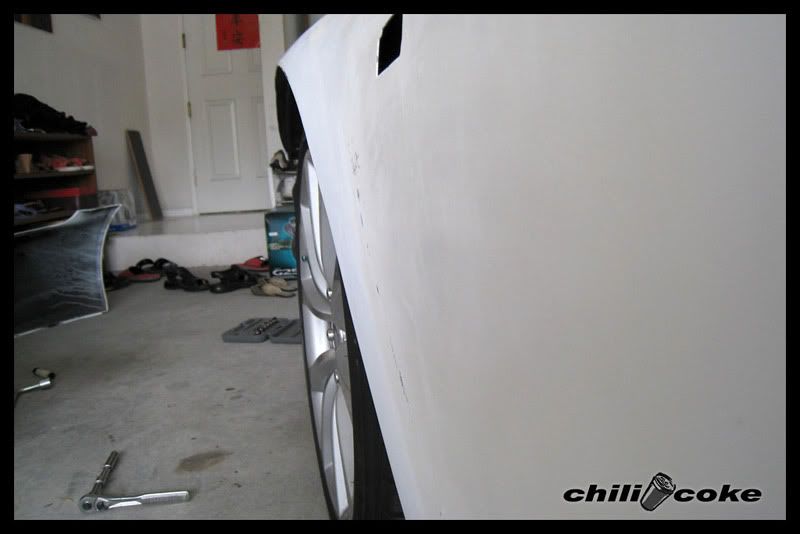 Left fender on...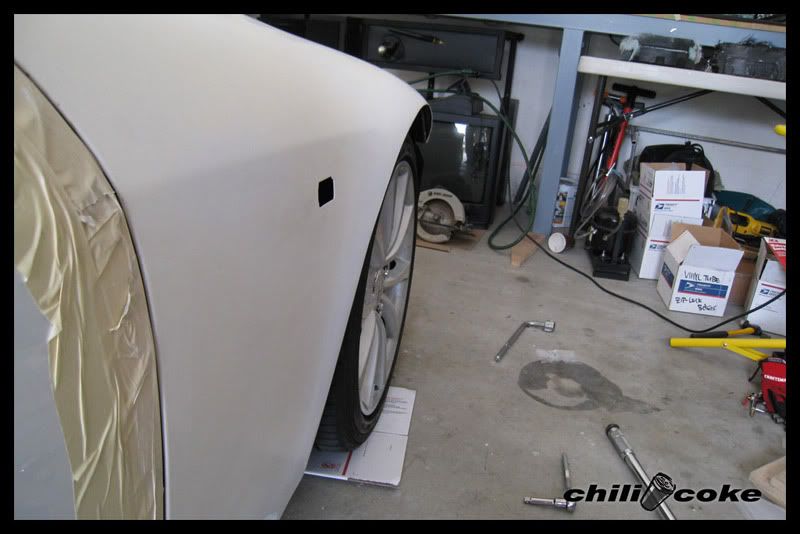 Right fender on...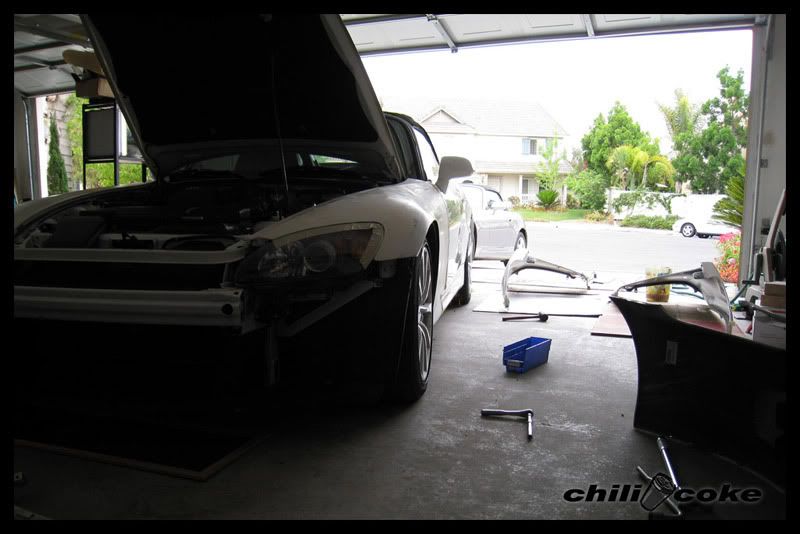 so far soo good!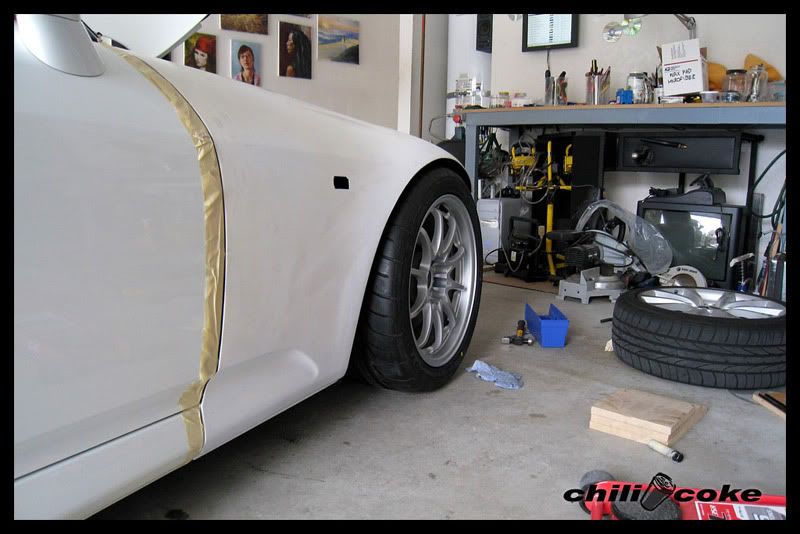 OMG YES!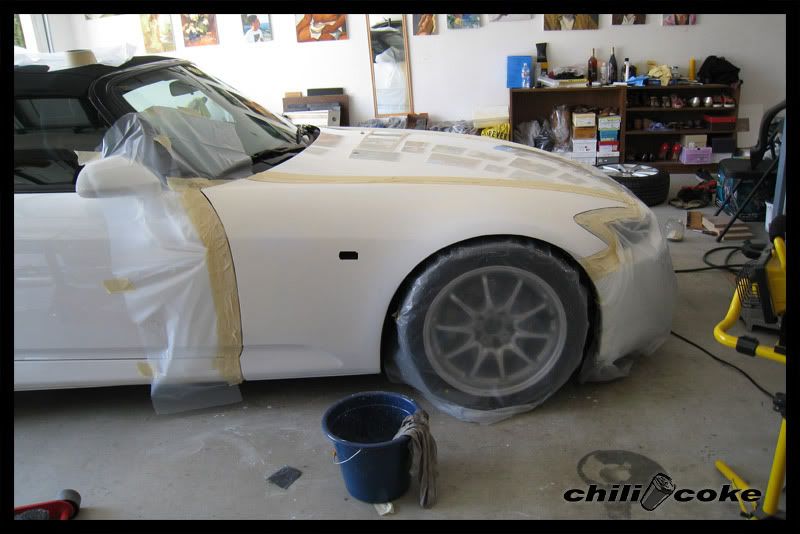 First time everything on the car, PERFECT FIT!
Both fenders needed some minor repair, tape time.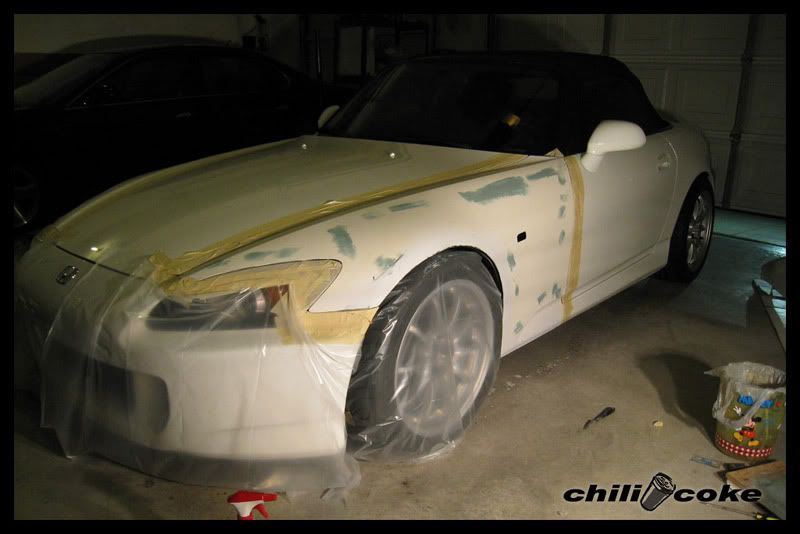 Worked late into the night...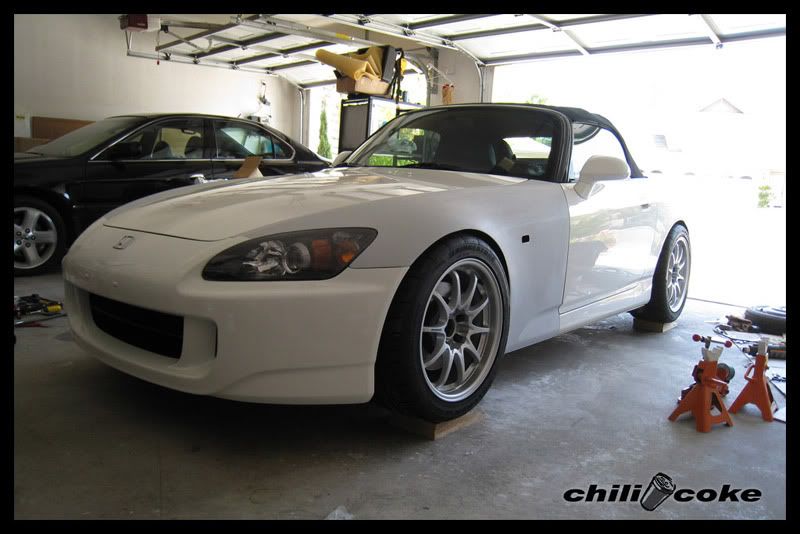 My friend helped me sprayed a layer of high-build primer, both fenders had to be sanded smooth, LOTS of sanding!
That was last Thursday. Sanded the fenders, roll the rears (HUGE THANKS to Isaac for letting me his tools, I own you a big one!) and went to local Metro meet ghetto style in my mis-matched s2k
. Wheels were not aligned yet and the car still looked a little weird.
Made an appointment with Evasive as soon as I had a chance, Kel took his time and got the car aligned, your the man!
This is how the car looks now, still unpainted but I absolutely LOVE it
. . . . .
. . . .
. . .
. .
.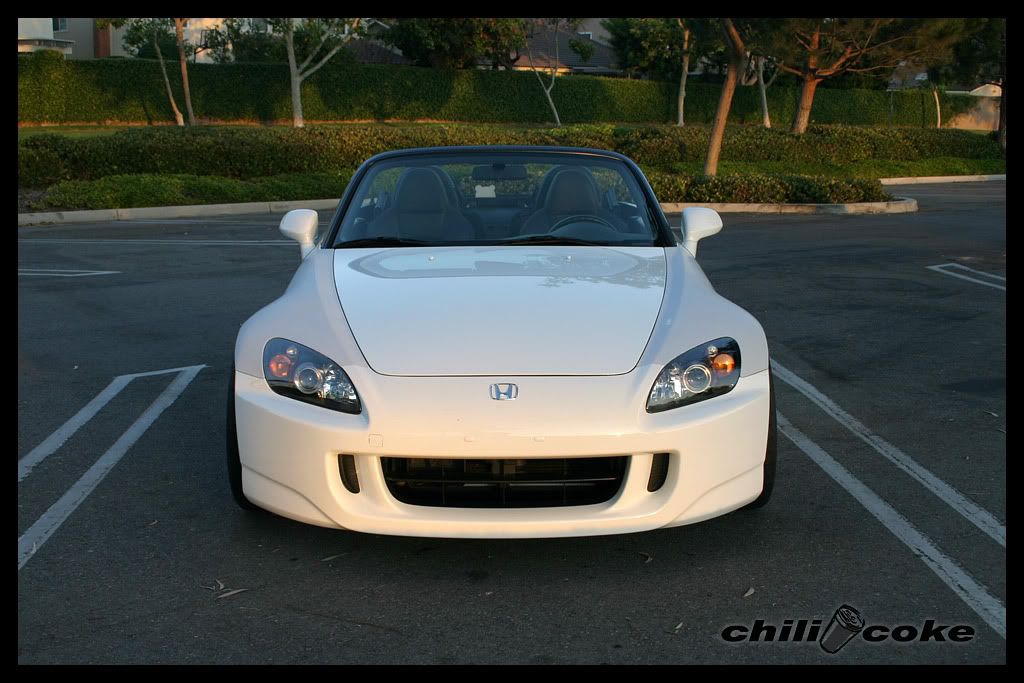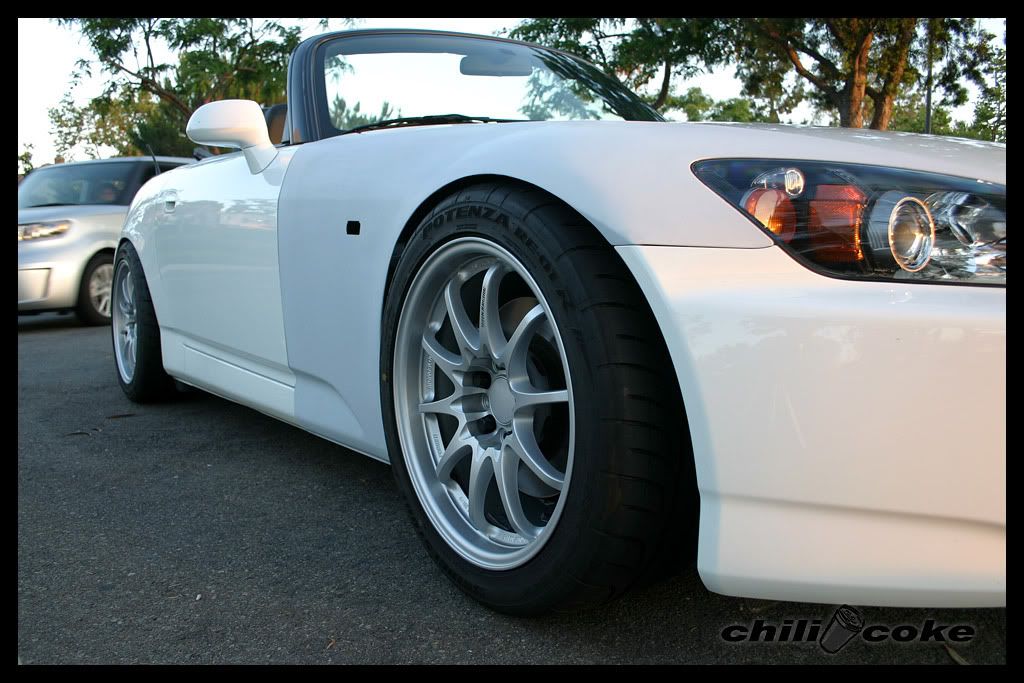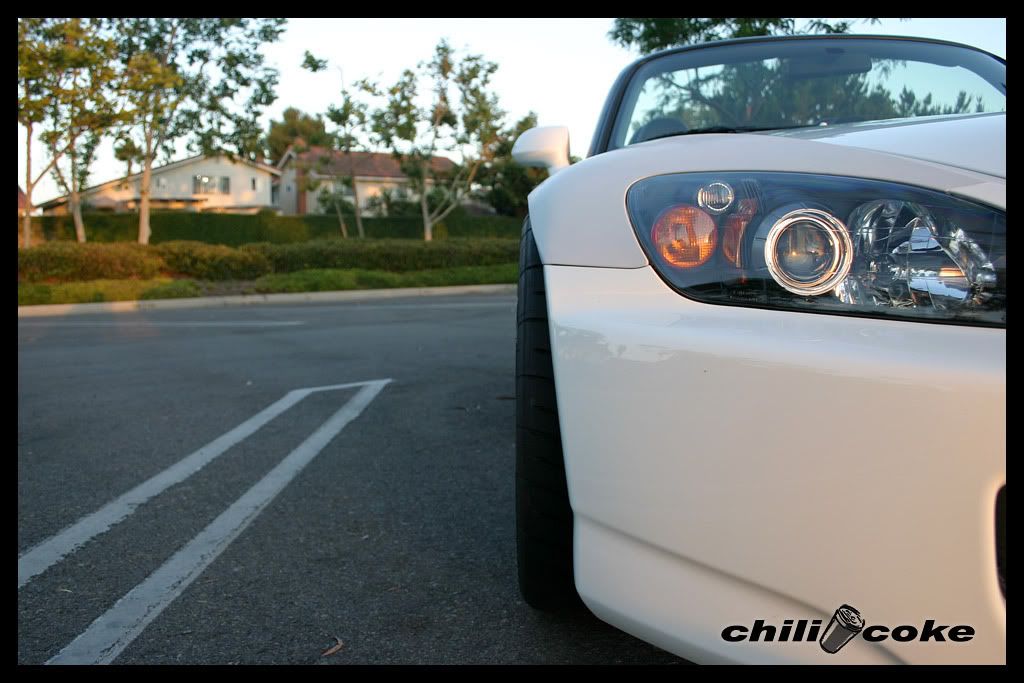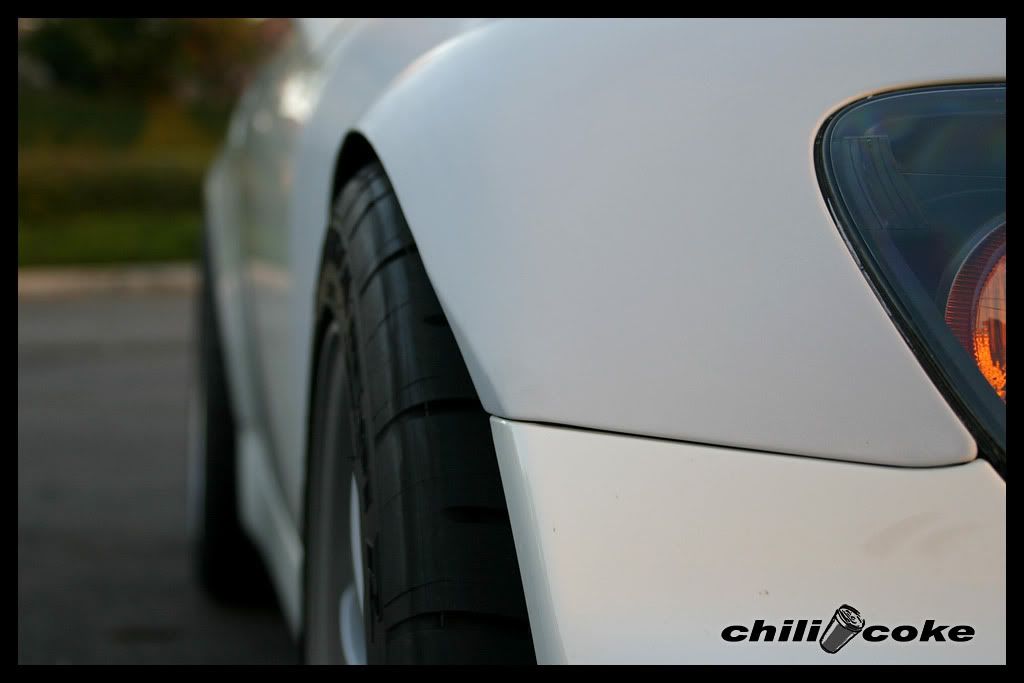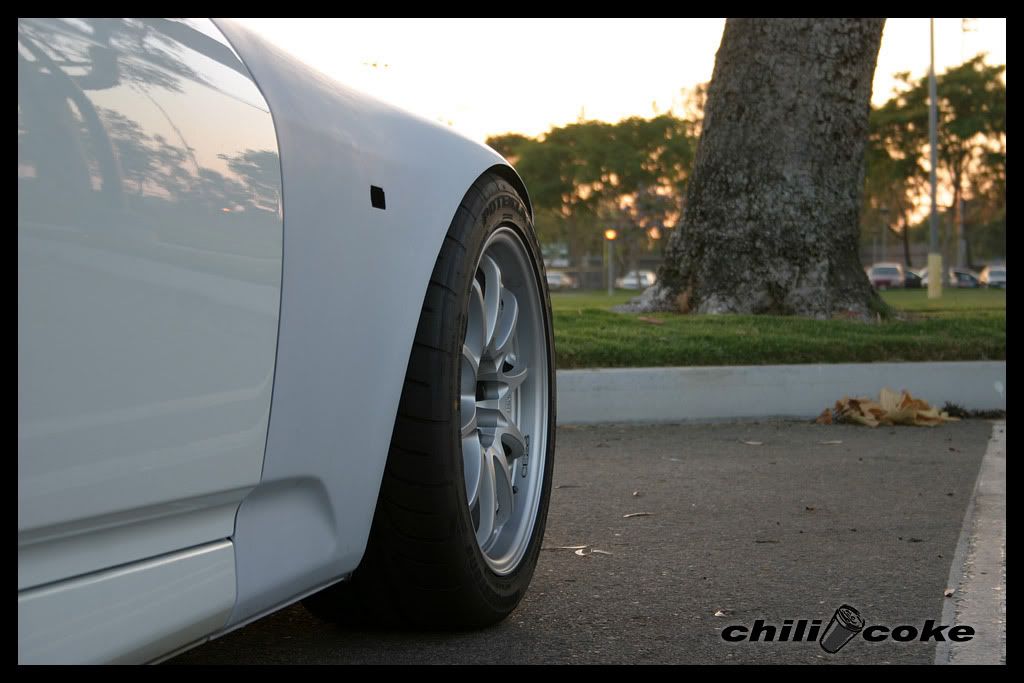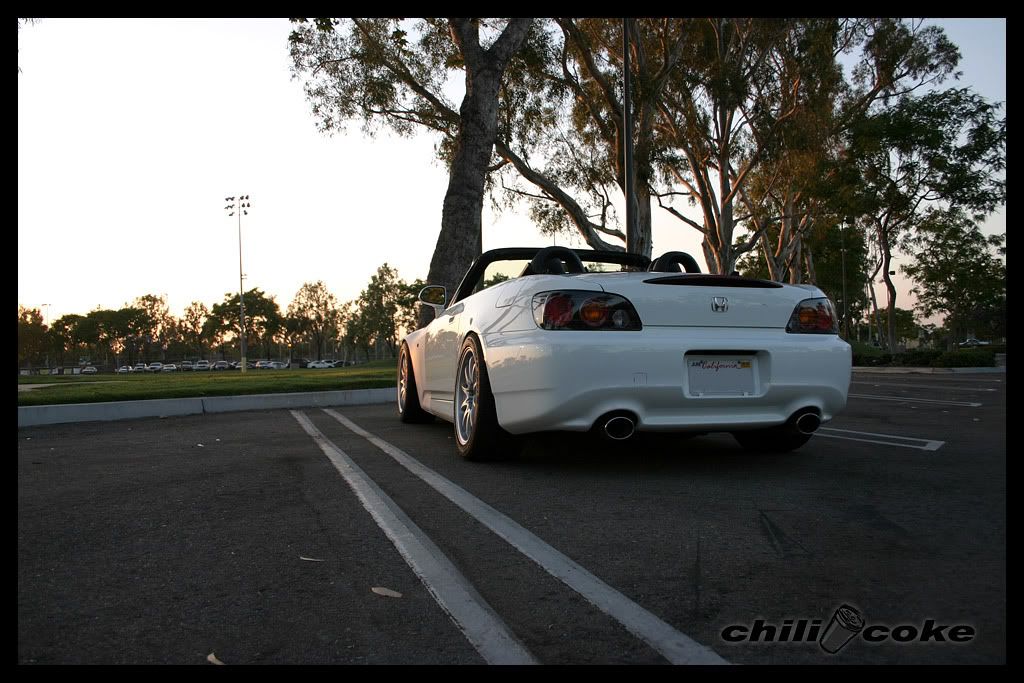 And finally, favorite shot of the day...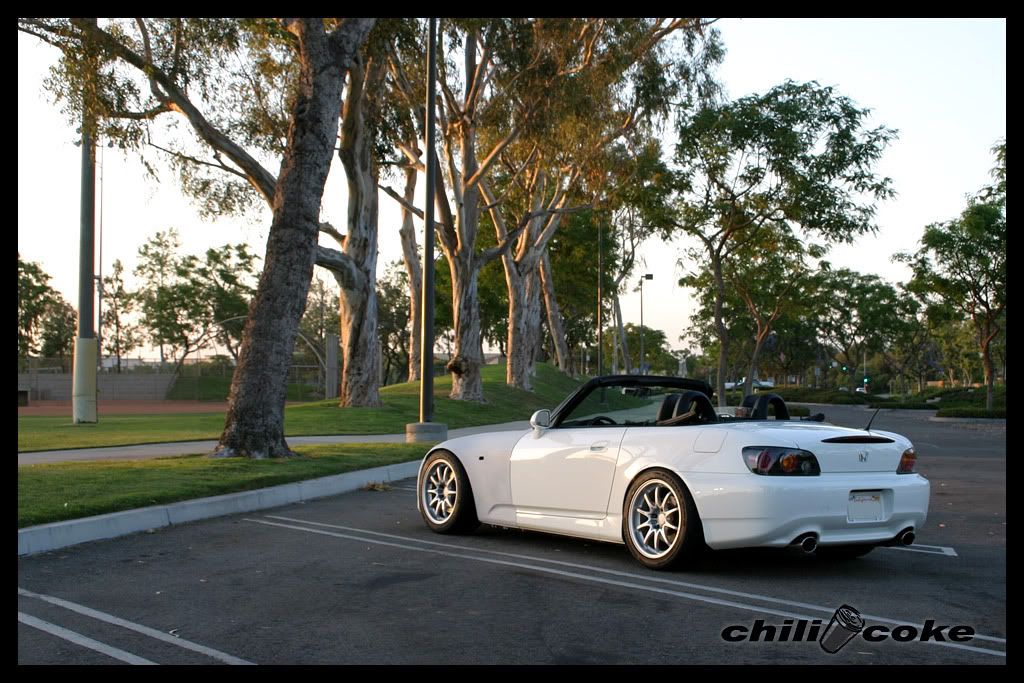 Before anyone ask how long it took to do both fenders, I wish I could give you a simple answer but this was actually the very first project I started for my car, since then I've started and finished the snorkel, finished the cockpit, and also worked on a few other projects that I'm not ready to show at the moment. All in my free time between classes and weekends. So your guess is as good as mine.
At this point, I'm still searching/comparing around to have both fender painted. As much as I would love to spray myself, I'm just not confident enough without some sort of proper guidance. If you know any paint shop that does quality work around So Cal (Irvine, CA area) without breaking the bank, please send me a PM.
UPDATE: 7/12/09
Finally got the fenders painted!
Because I have a fairly limited budget, I decided to only have my painter prime/paint the fenders and will cut (color sand)/buff the paint myself.
Paint came out pretty nice, but like all straight-off-the-paintbooth paint jobs, needed tons of work to make them shine.
Right after I mounted them on the car, notice the lack of reflation compare to the door. Gross
Orange peel everywhere.
Color sanding. Yup, I took sand paper to my band new paint job, I have never done this before and definitely took a lot of courage.
After sanding with 2000 grit, took out all the orange peel. Absolutely zero shine and zero reflection, looked similar to primer, almost felt like a huge step backward.
After two days of non-stop sanding, buffing, (sorry I didn't take any pictures, couldn't stand how ugly they looked
) and tons of sweat, this is how they turned out:
.....
....
...
..
.
These are all the pictures I have for now. Took bunch of pictures today only to find my viewfinder was out of adjustment, these were the only ones in focus.
I'll try to take more tomorrow.
All comments welcome!
Brandon.
06-26-2009, 11:02 PM
Site Moderator
---
Very nice. I have seen your DIYs before, and you are doing a great job.
06-26-2009, 11:26 PM
Registered User
Join Date: Jul 2007
Location: Northern Nevada & Oregon
Posts: 884
Thanks: 0
Thanked 0 Times in 0 Posts
---
Sweet project! Thanks for sharing.
06-26-2009, 11:28 PM
Registered User
Join Date: Jul 2006
Location: orlando,fl
Posts: 4,316
Thanks: 0
Thanked 0 Times in 0 Posts
---
Insane job
Whats the alignment specs?
06-26-2009, 11:44 PM
Registered User
Join Date: May 2007
Location: GAINESVILLE
Posts: 2,344
Thanks: 0
Thanked 0 Times in 0 Posts
---
what do you use to roll your fenders?
06-26-2009, 11:50 PM
Join Date: May 2002
Location: Vancouver
Posts: 18,981
---
Looks great. You got a nice transition on the fenders to the bumper, which is the hardest part. Good job!
06-27-2009, 12:06 AM
Registered User
Join Date: Sep 2005
Location: Irvine, CA
Posts: 673
Thanks: 0
Thanked 0 Times in 0 Posts
---
[QUOTE=**Jay-V**,Jun 26 2009, 10:56 PM]Great work by the way
Posting Rules
You may not post new threads
You may not post replies
You may not post attachments
You may not edit your posts
---
HTML code is Off
---