BMT Fall 2012 Satuday 11/3/2012
10-05-2012, 06:09 PM
Registered User
Join Date: Aug 2005
Location: Shreveport, La
Posts: 3,630
Likes: 0
BMT Fall 2012 Satuday 11/3/2012
---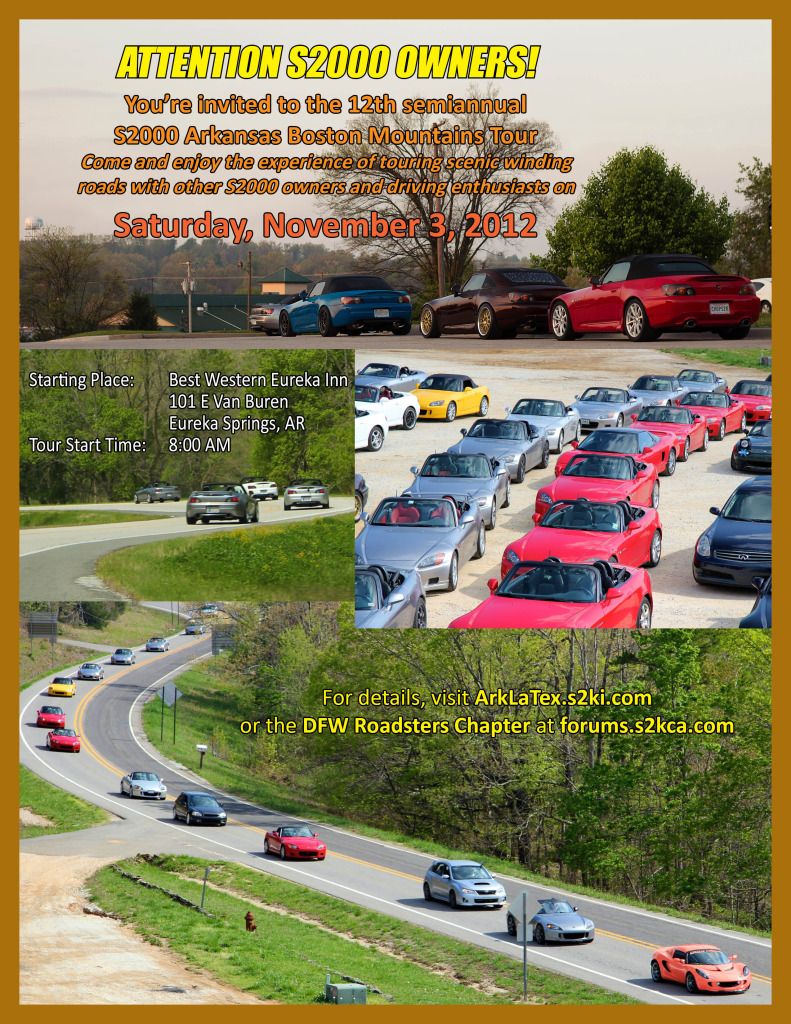 Dear Friends
You are invited to attend the 12th Semi-annual S2000 Arkansas Boston Mountains Fall Tour 2012. The Fall 2012 Tour will cover some of the best winding and scenic roads that the Arkansas Boston Mountains range has to offer. Those that have attended a BMT in the past can tell you how much fun this event is.
When :

Saturday November 3, 2012
Time :
Registration Opens at 7:30 a.m.
Mandatory Drivers Meeting at 8:00 a.m.
Tour Start Time 8:30 a.m
.
Where :
Best Western Eureka Inn
101 E. Van Buren
Eureka Springs, AR 72632
Hotel Information:
Best Western Eureka Inn
101 E. Van Buren
Eureka Springs, AR 72632
For reservations, call 479-253-9551.
Group Rate name:"S2000 Boston Mountains Tour"
We were able to get the same group rate as usual $89.95/Night for 2 queen bed room AND INCLUDES full breakfast buffet.Those from out of town, don't forget to make your reservations for 2 nights since we are ending the Tour in Eureka Springs.
Food:
TBA
*****NEW*****FOR THIS TOUR I AM LIMITING TO 35 CARS
. We usually set the cut off at 50 cars but due to timing limitations and not being able to have a 4th Tour Guide I do not want the groups to be too congested as we have had problems in the past. So please be sure you are 100% sure on your attendance before confirming.
Also
***NEW***
for this tour, Julie (JulieU) will be our photographer.
Reminders will be given periodically as we get closer to the event to inspect your: Car, Tires, Fluids, Brakes . Also be sure to arrive to the starting point with a full tank of gas.
BMT Pre-Drive is scheduled for Saturday October 13
Here are a couple of Videos from BMT's of the Past
:
BMT08
BMT Fall 07
CONTINUE TO CHECK THIS THREAD FOR PERIODIC UPDATES
Please post your Name (Real Name), What state your attending from, if you will have a passenger (+1) and if you are confirming your attendance. Confirmed names will be bolded in the lists below.
List of Attendees by State
:
ARKANSAS
Jmoore2k (Jerome)
S2kcurbdog +1 (Jamie and Donna)
Marshman +1 (Mason and Leigh)
LSWhat?! +1(Josh and Adrienne)
deckan315 +1 (Alredo and Mindy)
Willpower +1 (Willis and Regina)
OKLAHOMA
JulieU (Julie-San)
Humbles2k (Enrique)
CallOrlando (Orlando) Tour Guide
Kelly 350 Z (Orlando friend)
vbmarcus (Martini Marcus)
Janet&Travis (Janet)
Dirtybird (Mike)
Tulsas2k (Jacob M)
ncboy7o4
Don Miguel +1 (Mike and Monica)
TEXAS
Zbillster +1 (Bill and Ray)
SimonRL +1 (Simon and Maddy)
02cls +1 (Hooves McMuffin and Kristen)
Trentor (Trent)
DToler (Donnie)
DaddyS2000 +1 (Bobby J and Tim)
Bobby J's Friend +1 (James)
silstone05 (Matt)
MISSOURI
Oheim +1(Dave and Sara) Tour Guide
MiniCh0pper (Kegan-San) Tour Guide
ntenseone +1 (Skyler)
EagleDon (Don)
Gruff (Mike)
LOUISIANA
Ch0pper +1 (Andy and Daniel) Tour Guide
KANSAS
05Goldenrod +1 (Phil and Rhonda)
10-05-2012, 06:38 PM
Join Date: Jun 2010
Location: Springfield, MO
Posts: 147
Likes: 0
Received 0 Likes on 0 Posts
---
Count me in!
10-05-2012, 06:43 PM
Join Date: Jun 2010
Location: Springfield, MO
Posts: 147
Likes: 0
Received 0 Likes on 0 Posts
---
Also, Salim (my friend) is coming down again so add him to the Missouri list. Maybe he'll bring a different car this time...
10-06-2012, 05:47 AM
Registered User
Join Date: Jun 2008
Posts: 87
Likes: 0
Received 0 Likes on 0 Posts
---
Count me in, as of right now ill be solo. Jacob m
10-06-2012, 05:47 AM
Registered User
Join Date: Jun 2008
Posts: 87
Likes: 0
Received 0 Likes on 0 Posts
---
Oh, and I'm from Oklahoma
10-06-2012, 12:46 PM
---
Andy, I am confirming that I will attend the pre-drive and BMT event. I expect to
have a 3rd November BMT passenger, but will have to post that name later. I already have
the new Arkansas Highway Maps and will give them to you this Saturday.

Jerome
10-06-2012, 01:19 PM
---
10-06-2012, 04:31 PM
Registered User
Join Date: Oct 2008
Posts: 205
Likes: 0
Received 0 Likes on 0 Posts
---