BMT Spring 2011 4/2/11
02-17-2011, 08:31 PM
Registered User
Join Date: Aug 2005
Location: Shreveport, La
Posts: 3,630
Likes: 0
BMT Spring 2011 4/2/11
---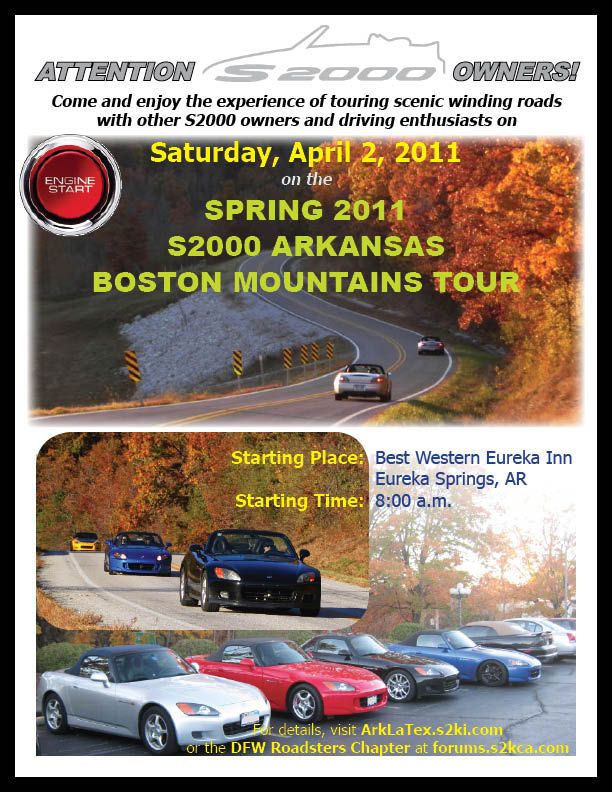 Dear Friends
, you are once again invited to attend the 9th Semi-Annual S2000 Arkansas Boston Mountains Spring Tour 2011. The day long tour will cover some of the best winding and scenic roads that Arkansas has to offer. Those that have attended in the past can tell you how beautiful and fun this tour is.
Planning is underway !!!
The wait is almost over, time for everyone to get their cars out and DRIVE!!
When
:
Saturday April 2, 2011
Tour Start: 8:00 a.m.
Where
: Parking Lot of the Best Western Eureka Inn, Eureka Springs, AR
Hotel Info Best Western Eureka Inn
101 E. Van Buren
Eureka Springs, AR 72632
For reservations, call 479-253-9551.
Group Rate name:"S2000 Boston Mountains Tour"
We were able to get the same group rate as the Spring Tour $89.95/Night for 2 queen bed room AND INCLUDES full breakfast buffet.Those from out of town, don't forget to make your reservations for 2 nights since we are ending the Tour in Eureka Springs.

Food:
LUNCH: Lunch and mid-tour re-fueling Added 03/28/11
Our lunch stop will be very similar to last Spring. We'll have a buffet set up at The Arkansas House in Jasper, AR . The buffet will consist of salmon, chicken, brisket, salad, potatoes, drinks and dessert.

** The price per person for our private buffet will be $16.35 which includes meal, drink, tax and gratuity. Meals must be paid for in the Cafe (cash or credit card) and a token must be presented to receive a plate at the serving line.
DINNER:
Our Dinner Stop/ Tour Ending Location this Spring will be At Forest HIll Steakhouse in Eureka Springs, AR. I have a private room reserved for our group.
We will have a menu service and people can order what they choose. We ate there on the Pre-Drive and it was very good!
****NEW AS OF FALL 2010****
On the Fall 2010 BMT, Bret, from Arkrider.com took professional photographs of the groups as we passed through sections of the a.m. and p.m. route. These photgraphs were/are avilable for purchase on his website,
www.arkrider.com
I will be contacting him again to see if he is willing to do the same for our Spring Tour.
Photos of the Fall 2010 BMT can be seen here:
Arkrider.com photo link page
This tour, like tours of the past will be limited to 50 cars.
As with any tour, and I will remind again as we get closer to the event, make sure you
inspect you car (i.e. TIRES, fluids, ect.).
Please arrive at the meeting location on time and with a full tank.
Continue to check this post for periodic updates
Here are some vids of BMT's of the past: BMT08 BMT Fall 07
Flame throwing posts will be deleted
*****Currently Seeking Volunteers for this event, please post if you would like to volunteer******
Please Post Your Name, Which State you are from, if you will have a +1, and whether you are confirming your attendance. Confirmed Names will be Bolded.
List of Attendees by State:
Arkansas
Jmoore2k (Jerome)
Davidjs2k +1 (David & Jing Jing) Tour Guide
Shotgunjimmy (James) Tour Guide/ Volunteer
Ans2k +1 (Alan)
OkiDan +1
Slracer +1 (Kyle) Tour Guide
Kev!n +1 (Kevin)
Motempo +1 (Alex)
Uncleben +1 (Ben)
Alterran (possible +1 (Jesse)
Oklahoma
JulieU (Julie-san) Scout car
Humbles2k (Enrique)
Spets (Andrey)
01YLWS2k +1
Rmarsh +1 (Ryan &Andrea)
Okstill (Ron)
vbmarcus (Marcus)
engear2005 +1 (Quinton)
Ditybird (Mike)
Downeast (Dave)
Daniel B18c (Daniel)
Texas
Pmptx (Peter)
SimonRL +1 (Simon and David) Tour Guide/Volunteer
Tomauto(Tom)
Mic Crispy (Tim)
proj3ctm4yh3m +1 (Matt)
zbillster (Bill)
HLNA55 (G-money)
DaddyZ (Bobby Jay)
DonnieT +1 (Donnie and John)
Missouri
mpetus +1 (Matt&Becky Tour Guide
Mini Ch0pper +1(Kegan-San, haha) Tour Guide
oheim +1 (David and Sara) Tour Guide
ntenseone +1 (Skyler & Skyla)
jimmij (Jimmi)
Javajohn (John)
EagleDon +1 (Don&Cece)
Jim and EJ (RX-8)
Louisiana
Ch0pper (Andy) Tour Guide
Retarmy +1 (John)
Ohionab (Nick)
Jerry +1
iceman2k02 (Bobby)
02-18-2011, 06:58 AM
---
Sweet, sign me up fro sure....
Arkansas +1
02-18-2011, 07:51 AM
---
YES!!!! I am sooo in!

Kyle- Arkansas possibly +1 but we will see once it gets closer

Also if you guys need any help let me know, thanks for organizing this guys that was a blast in the fall!
02-18-2011, 08:32 AM
Registered User
Join Date: Jul 2009
Location: ARKANSAS
Posts: 189
Likes: 0
Received 0 Likes on 0 Posts
---
I am in for sure too haha
+1 for Anthony&Alexa (Arkansas)
You guys should permanently put our names on the list haha
02-18-2011, 12:22 PM
---
Yes I already asked off work this time! Im in!
Maybe +1 (I have to do a trial run with the gf to make sure she wont throw up)
02-19-2011, 05:03 AM
Registered User
Join Date: Mar 2010
Location: Bossier City. Louisiana
Posts: 20
Likes: 0
Received 0 Likes on 0 Posts
---
I am in I owe the PIG TAIL lol
02-19-2011, 06:50 AM
Registered User
Join Date: Sep 2010
Posts: 301
Likes: 0
Received 0 Likes on 0 Posts
---
Hey Andy

Put me down as a 'maybe' for now..... should know for sure within a week.
02-19-2011, 10:07 AM
Registered User
Join Date: Jun 2009
Location: Little Rock AFB
Posts: 850
Likes: 0
Received 0 Likes on 0 Posts
---
I should be able to attend this. As this will be my last meet before i go to Afghanistan in May.

Ill have a +1