Spring 2010 Boston Mountains Tour 3/27
02-10-2010, 10:31 AM
Registered User
Spring 2010 Boston Mountains Tour 3/27
---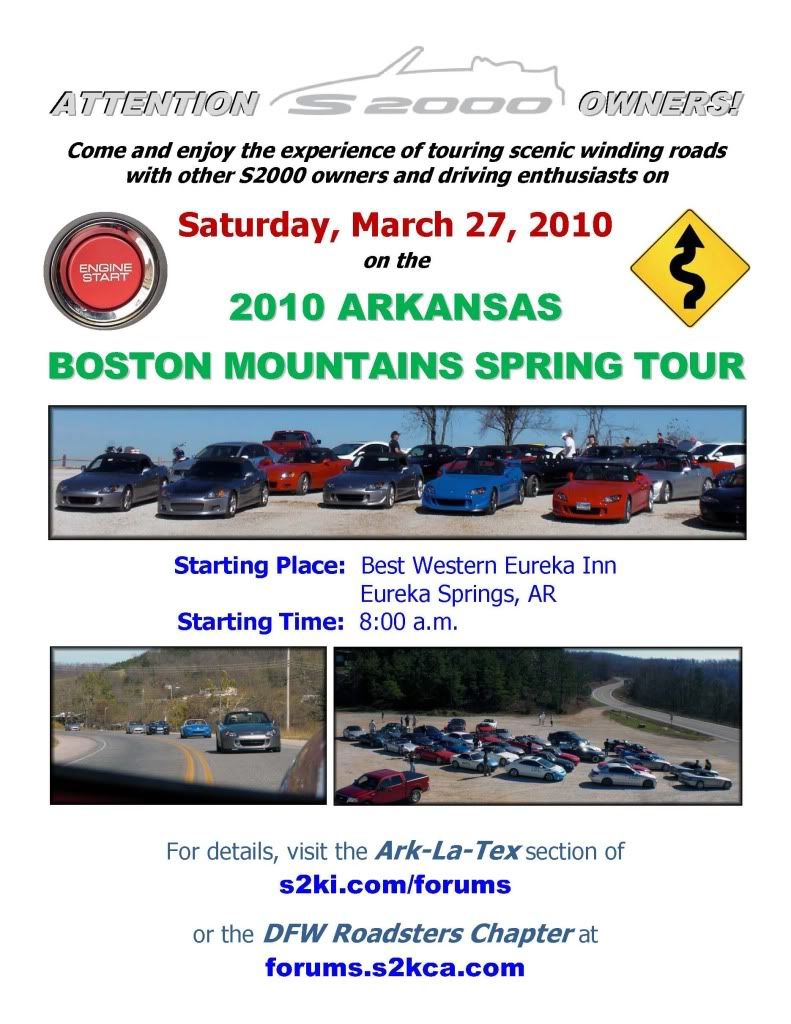 Greetings friends! Ready to drive through the mountains and experience the beautiful scenery that Notthern Arkansas has in store for us again ?
Planning is well underway for the seventh semi-annual all-day S2000 tour through the Arkansas Boston Mountains. Weather permitting.
At the beginning of the tour, each driver will be given a detailed morning and afternoon route which includes a stop for lunch in between. The route will be selected to travel over some of Arkansas' best S roads
Here it is, Boston Mountains Tour Spring 2010!!!
When
: Saturday March 27, 2020
7:10 a.m.
with rainout date of April 10, 2010
Where
: We are starting in Eureka Springs, AR in the Parking lot of the Best
Western Eureka Inn
Hotel Information: For those driving in the night before.
Best Western Eureka Inn
101 E Van Buren Street
Eureka Springs, AR 72632
1-800-221-3344 Mention you are with "Boston Mountain Tour Group"
We have a block of 12 rooms set aside. Group rate price is $89.95/Night with Full Breakfast.
Ending place
:
Something new this year, we will be ending the BMT in Eureka Springs. So those of you that usually stay with us Saturday night make sure to make your reservations for 2 nights
This Tour, like previous tours, this will be [SIZE=7]
limited
[/color]
to
50
cars
.Please Post up so I can add attendees (by state). We would like to get an idea so reservations can be made for lunch and dinner. If you're not certain if you can join us please let us know as soon as possible.
Lunch and mid-tour re-fueling Added 3/7/10
FYI, our lunch stop will be very similar to last Fall. We'll have a buffet set up at The Arkansas House in Jasper . The buffet will consist of salmon, chicken, brisket, salad, potatoes, drinks and dessert.
1. The price per person for our private buffet will be $16.35 which includes meal, drink, tax and gratuity. Meals must be paid for in the Cafe (cash or credit card) and a token must be presented to receive a plate at the serving line.
Dinner Information Added 3/19/10
: Dinner will take place after the tour at The Rowdy Beaver. Many are already familiar with this place and some of us will actually be eating there Friday night after we arrive to town.
The Rowdy Beaver - 417 West Van Buren (Hwy 62), Eureka Springs
They will have a buffet set up for us: Roast Beef/Chicken/Corn/Mashed potatoes/Salad and Soup Bar.
The Price for this is $21.07 per person, which includes: Meal, full Soup and Salad Bar, Drink, Tax, and Gratuity.
As with any tour, and I will remind again as we get closer to the event, make sure you inspect you car (i.e.
TIRES
, fluids, ect.).
Please arrive at the meeting location on time and with a full tank.
Registration will open at 7:10 a.m. In the VICTORIAN ROOM to the right of the check -in counter
Here are some vids of BMT's of the past:
BMT08
BMT Fall 07
There has not been a real need for passing, so there will be NO passing on this tour. Most of these roads are not safe for passing anyway because of all the turns.
Added 3/1/2010: BMT Pre Drive Saturday March 6.
Continue to check this initial post periodically as it will continously be updated
Flame throwing posts will be deleted
Total Individuals Confirmed as of 3/10/2010 (47 and that is +1's included)
If you plan on having a +1 make sure to update or PM me so I can add it to my total.
List of Attendees by State:
Texas[/b]
HLN A55 (Grayson)
SimonRL +1 (Simon and Maddy)
Mic Crispy (Tim)
Volunteer
pmptx +1 (Peter & Jordan)
prj3ctm4yh3m (Matt)
Trentor (trent)
mikechim85
(Tim and Matt's friend)
Donnie +1 (Yellow Z06)
Tomauto +1 (Tom)
Arkansas
Jmoore2k +1 (Jerome & Vic)
Sweep Car
mr flannery77 (Mason)
Sweep Car/ Volunteer
Chase (Mason's friend 99 Si)
davidjs2k+1 (David & Jing Jing)
Tour Guide
Whitenoise (Keith)
Uncleben +1 (Ben)
Oklahoma
JulieU (Julie)
Tour Guide
Spets (Andrey)
hariku821+1 (Garrett)
TheSoundman21 (Damon)
Webfoot + 1 (Walt)
Ditrybird + 1 (Mike)
Janet&Travis (Janet)
Missouri
Oheim (Dave)
Tour Guide
Hatcher (Justin, Dave's friend)
ChuckWoody (Chuck Dave's dad)
mpetus +1 (Matt &Tam)
Mike (Trent's Dad, WRX)
rblosser+1 (Bob & Melinda)
rblosser's friend+1 (Bob & Burleson)
Louisiana
Ch0pper +1 (Andy & Derek)
Tour Guide
Scheffsky +1 (Dustin)
Rinaudo (Adam)
djblyss +1 (Justin)
RetArmy +1 (John)
Tennessee
Kansas
Bolded names are those that are confirmed. Names not in bold are not confirmed.
02-10-2010, 11:18 AM
Registered User
Join Date: Sep 2007
Location: Fort Worth, TX
Posts: 3,536
Likes: 0
Liked 0 Times in 0 Posts
---
You know I'm down.

P.S. Let me know if you need help with anything. Not sure that I would be a good leader but I can sweep/help with other things.
02-10-2010, 11:46 AM
Registered User
Join Date: Aug 2009
Posts: 52
Likes: 0
Liked 0 Times in 0 Posts
---
Well you can count me in!!!!!!! If you need anything let me know and I will try to help.
02-10-2010, 12:34 PM
Join Date: Oct 2009
Location: Keller, TX
Posts: 3,370
Likes: 0
---
Add me. I will have the HPDE the weekend before so maybe it will help out.
This should be a blast.
If Grayson/Jordan or anyone else want to caravan to AK or need a place to crash before heading out, lmk.
Although a rookie, noob, happy to help.
02-10-2010, 12:59 PM
Registered User
Join Date: Oct 2008
Posts: 205
Likes: 0
Liked 0 Times in 0 Posts
---
I know I speak for everyone when I say thanks a million for taking this on Andy. Will we be measuring tire depth again?
02-10-2010, 01:42 PM
Registered User
Join Date: Sep 2007
Location: Fort Worth, TX
Posts: 3,536
Likes: 0
Liked 0 Times in 0 Posts
---
Originally Posted by SimonRL,Feb 10 2010, 04:59 PM
I know I speak for everyone when I say thanks a million for taking this on Andy. Will we be measuring tire depth again?
We did that last year and it still didn't help keep people on the road, so I figure it's pointless.