Fake TAKATA harness !
11-20-2007, 05:40 PM
Registered User
Join Date: Nov 2003
Location: Hamilton
Posts: 92
Thanks: 0
Thanked 0 Times in 0 Posts
Fake TAKATA harness !
---
there's a lot of these floating around... especially on ebays etc... please take a good look and dont get fooled... buying fake safety gears is just plain suicidal....
REAL
A genuine Takata Harness (Made in Japan) has FOUR (4) cross stitches where it sews together. As shown in the following pictures (Taken from the Offical Takata website).
real latch
real lock piece
real end hooks
FAKE
The FAKE Takata Harnesses are almost the same in everyway. They still have the FIA labels etc... the only difference is the cross stitching. The FAKES have SEVEN (7) Cross Stitches. As seen in the following photos.
http://www.onthelimit.co.nz/images/TAKATA-1.jpg
(big image for detailed look)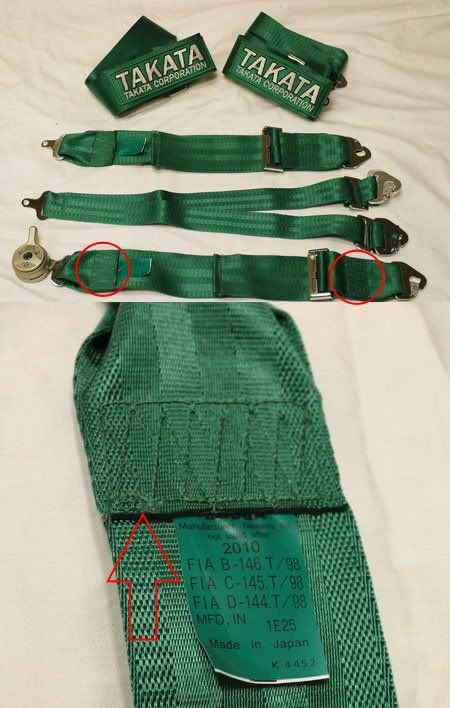 also, the expiry date on the fakes are almost always 2010..
take a look at your harness, and see what you got...
11-20-2007, 05:57 PM
Join Date: Jan 2003
Location: @ Fortyone.co.nz
Posts: 101
Thanks: 0
Thanked 0 Times in 0 Posts
---
Sorry Phil didn't read your username. Relevant post but can ya please re-host on imageshack or such, to save me paying metric truck loads of bandwidth which costs heaps here in Kiwiland! Ta =]
11-20-2007, 08:37 PM
Join Date: May 2006
Location: Chicago Burbs
Posts: 16,133
Thanks: 0
Thanked 0 Times in 0 Posts
---
also, all the new current belts just say "TAKATA" on the belt. "Takata Corporation" is no longer on the belts under the logo. It is on some of the older generation ones tho but they all expire before 2010 if i recall at this point