Hey guys want to introduce myself
10-19-2015, 07:02 PM
Join Date: Nov 2005
Location: Lynnwood, WA
Posts: 173
Thanks: 0
Thanked 0 Times in 0 Posts
Re:Re-introduction and NatsukiS2k
---
Hey everyone. Just thought I would introduce myself. Name is Mike. I live in Bellevue and am picking up Spa Yellow ap1 next week. It'll be my second go around with an ap1 and I can't wait to get it.

Few things I wanted to ask before I start diving in to it. What are the preferred Honda Tuners in the Seattle/Bellevue/Tacoma area? Its been about 6 years since I was on this forum and 9 years since I had my supercharged s. Just wanting to know from your experience where to avoid. Where you recommend.

The car is completely stock but I'm ordering J's goodies for it in tandem with writing this post. Hoping to have it and some goodies on the car by the NW Toy run.

Anyway, thanks in advance!
---
Last edited by SpokaneS2000; 12-27-2018 at

03:45 PM

.
10-19-2015, 10:44 PM
---
Hey man, As far as tuners to avoid, that would be CarbConnection in Kirkland. Too bad because they are the most convenient. But not worth losing your motor, due to inexperience with s2000 and EMS tuning and making any attempt at taking responsibility when you pay for their education and then still screw it up. No other "local" tuners in the Puget sound i can recommend personally, but a bit further out you have Jason at PSI which has a very good rep as well as the boys at speedfreaks. SpeedFactory.
11-03-2015, 09:09 AM
Join Date: Nov 2005
Location: Lynnwood, WA
Posts: 173
Thanks: 0
Thanked 0 Times in 0 Posts
---
Just a quick update that she came home yesterday. Tucked her into her new home next to the IPL. Can't wait to dig it. I was shocked to find a factory radio! It's that untouched!
Quick teaser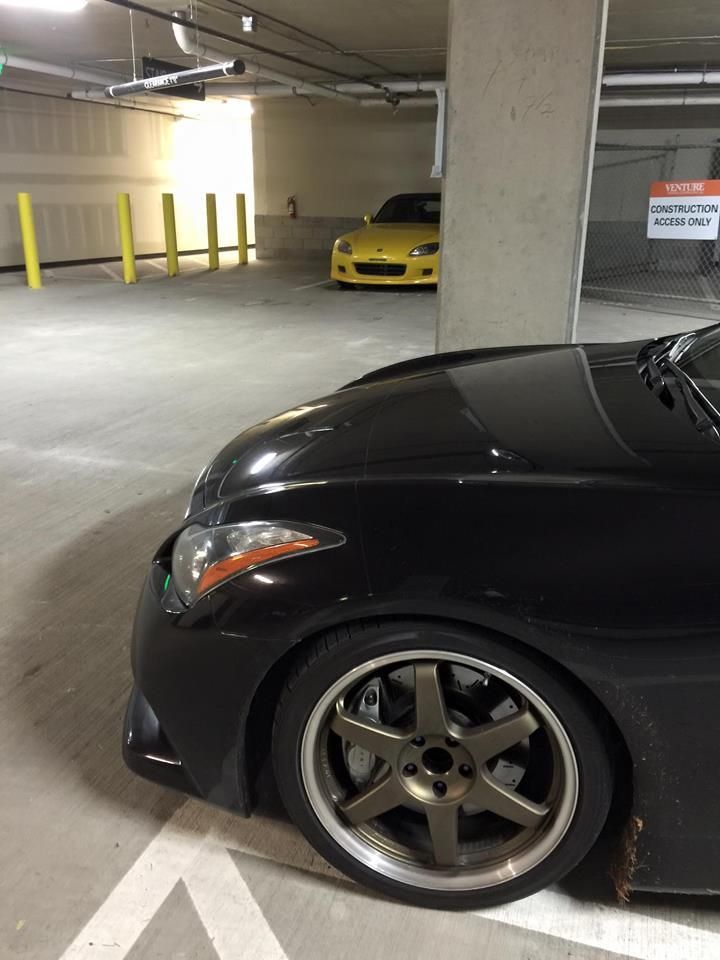 11-05-2015, 06:43 AM
Join Date: Nov 2005
Location: Lynnwood, WA
Posts: 173
Thanks: 0
Thanked 0 Times in 0 Posts
---
Thanks! I am in the middle of moving into a new place in Bellevue or else I would have come out for the Wednesday meet. I'll for sure be at the NW Toy Run and hopefully a couple in between.
12-27-2018, 03:45 PM
Join Date: Nov 2005
Location: Lynnwood, WA
Posts: 173
Thanks: 0
Thanked 0 Times in 0 Posts
Re:Re-introduction and NatsukiS2k
---
Bringing this post back up from dead as I wanted to reintroduce myself and update on what I'm working on. I'm not sure where exactly build threads belong so figured I would just continue on with this thread. As you can see from the earlier posts I have been around for awhile (2006 to be exact) but I'm the definition of a lurker. I bought my current Spa Yellow AP1 back in 2015 and drove it for a year before I started to get the mod bug again. To say things got serious is an understatement. Since 2015 I have been amassing parts to start a full bottom up build of the car.
My inspiration came from a few different places. I have always been a fan of Spoon Sports and the attention to detail they create a balance within the entire car. I fell in love with the 2013 Super Taikyu S2000 and told myself one day I would build a car with that kit. Secondly, Evasive Motorsports S2k racecar had begun piquing my interest when it started setting records years back. I continued following along their build and gained further interest in the HKS GT PRO Supercharger they were using. That led me to my 3rd inspiration which is the Arvou AP1 from Japan. In the early 2000s I was super into Tsukuba Super Lap and always dreamed of building a sub 1 minute car for Tsukuba. When I began digging into Arvou and found their car was capable of that feat the inspiration was set.
As a result my car has a bit of all three of those inspirations. The major project started Labor Day 2017 when the car was dropped off at R-Tuned Motorsports in Spokane, WA. In the two years leading up to that as I had previously mentioned I began acquiring parts and what started out as a mild to moderate build snowballed.
As things sit now the car is in the process of being built up. We had a major setback which cost significant time delay due to a Machine Shop that accepted the job to work on the block but did nothing with it for over 6 months. Thankfully, the result of that was the block ended up with Dan Benson (those who have been in the Honda game long enough surely will recognize the name). Dan built the block and balanced the crankshaft and the build is back on track.
Here is the build list:
Engine
Dan Benson Race Engines Sleeved F20c
Dan Benson Race Engines Balanced Crankshaft
Wiseco 11:1 87.5mm Pistons
Skunk2 Alpha Connecting Rods (replaced ARP2000 w/ ARP CAR625 Rod Bolts)
ALC Race Bearings
Supertech 80lb Dual Valvespring + Ti Retainers
Supertech Valve Guids
Supertech Valves
Supertech Valve Seals
ARP Head Studs
TODA Oil/Timing Chains
TODA Timing Chain Tensioner
HKS Exhaust Manifold
Tomei Expreme Ti Test Pipe
Tomei Expreme Ti Catback
HKS GT Pro Supercharger
HKS High Boost Pulley
Deatschwerks 320lph Fuel Pump
Deatschwerks 800cc Injectors
AEM Fuel Rail
HPS Rad/Heater Hoses
Mishimoto Radiator + Fan Shroud
Mishimoto Oil Coiler
Canton 2qt Accusump
Hondata Kpro4 + Installation kit
Transmission/Drivetrain
Clutchmasters FX300 + OEM pilot/release bearing
Clutchmasters 15lb Flywheel
Puddymod Stage 2 Differential w/ 4.10 gear
Puddymod Upgraded Axles
EVS Tuning Differential Collars
Suspension
AST 5300 3 Way Coilovers
EVS Tuning Front/Rear Bumpsteer kit
EVS Tuning Half Shaft Spacers
EVS Tuning Ball Joints
Spoon Sports Rigid Collars
Spoon Sports Steering Collars
Brakes
Sparta Evolution 355mm 4pot Triton BBK
Wheels and Tires
17x9.5+41 Takata Green OG TE37 (static display only)
255/40/17 Hankook Ventus RS4
18x10.5+29 TE37SL Black Edition (Track wheels)
285/35/18 Hankook Ventus RS3
18x10.5+29 TE37SL Dash White (Normal use)
255/35/18 Hankook Ventus V12 Evo
Aero
Spoon Sports S-Tai Front Bumper
Spoon Sports S-Tai Front Fenders
Spoon Sports S-Tai Rear Bumper
Spoon Sports S-Tai Rear Diffuser
Spoon Sports S-Tai Hard Top
Spoon Sports S-Tai Hood
Spoon Sports S-Tai Wing
Interior/Saftety
Bride Vios III Blue Gradation w/ CFRP shell
EVS Tuning Low Position seat rail
Full Suzuka Blue Interior Swap
As mentioned above the project has been a little slow due to a hang up at the machine shop but since moving to a new shop progress has started and I'm excited to see updates as they come in. the expected completion is sometime in October. I picked up sponsorship from Sparta Evolution and AST Suspension NA and both companies would like me to bring it to Las Vegas in November for SEMA. Time is going to be tight with the setback but I'm confident it'll complete in time. I promised my wife when I started this that it would be done with money out of every day play money and nothing from savings or whatnot. Its been pretty cool to pick up the couple sponsors I have but also equally rewarding to have worked for everything that I have acquired for the car and paid retail for. I'm incredibly excited to see what comes of the car and where it continues to go once this first phase is complete.
Anyway I just thought I would share with everyone and provide updates as I get them going forward.
Below are mostly pics of the parts as they came in as well as the pictures of the block and head as they completed.
NatsukiS2k
Tomei Expreme Ti Catback w PLM Header which has been replaced
Tomei
Internals with Personal Grinta (replaced) and NSX Type S Horn Button
Sparta Evo Triton 355mm BBK
Sparta Evo Pegasus 2pc 355mm Rotor
Sparta P518 Brake Fluid
Sparta Triton 4 piston Calipers
Sparta Triton Calipers, Goodridge Brake Lines, and Pads
Mock up of Sparta brakes behind Volk TE37SL
Sparta brakes installed and OG TE37
TE37SL on Hankook RS3 for the track
My Unicorns! OG TE37 in Takata Green
Daily wheels TE37SL in Dash White
NSX Type S Horn Button
Puddymod Stage 2 4.1 gear
Puddymod progress pic
Puddymod progress pic
Progress pic of the block at Dan Benson Race Engines
Progress pic of the block at Dan Benson Race Engines
Progress pic of the block at Dan Benson Race Engines
Completed block
Dan Benson Signature!!!
Completed block and crank
Completed Head with Supertech parts
Completed Head with Supertech parts
Deatschwerks 320lph fuel pump
Deatschwerks 800cc injectors
HKS Supercharger boxes
HKS GT7040 blower
HKS Intercooler
KPro4 install parts and Spoon rear over fenders
Clutchmasters FX300 Clutch and Flywheel
HPS heater/rad hoses
HPS heater/rad hoses
EVS Tuning Balljoint and Rear Bumpsteer kit
EVS Tuning Half Shaft Spacers
EVS Tuning Rear Bumpsteer kit
EVS Tuning Rear Bumpsteer kit
Spoon Sports Rigid Collars
Mail Order Bride from Japan
Bride Vios III Blue Gradation
Misc. Accessories
---
Last edited by SpokaneS2000; 12-27-2018 at

03:49 PM

.