HEL Performance 2012 Time Attack Build
11-01-2010, 11:49 PM
UK Trader
Join Date: Oct 2010
Posts: 740
Thanks: 0
Thanked 0 Times in 0 Posts
HEL Performance 2012 Time Attack Build
---
Hi all. Joined the club this week to start learning some more about the S2000, looks a great club
For those that havent heard of us we manufacture braided brake, clutch and oil lines in the UK and 70 different countries round the world. HEL worked predominantly in the motorcycle sector until about 2 years ago when we then ventured into the automotive market and began producing car kits. We've had great success with that and continue to expand our ever growing database of kits we can produce.
This year we built a Time Attack Evo 6, which we entered into the Club Pro Class with pro-driver Charlie Butler-Henderson (Yes, brother of Vicki Butler-Henderson, 5th Gear, Top Gear etc.). Charlie brought alot to the table with not only his previous racing experience, but also his experience as a driving instructor with Palmer Sport. It was the latter experience that helped in our decision to do an S2000 for the 2012 season......
At the end of this years season we fell out of love with the Evo having had a series of annoying niggles with it all year. We had the opportunity to use a freshly re-built ex-BTCC Civic EP3 (Halfords 2004 BTCC winning one) for the last round. To say we enjoyed this would be a MASSIVE understatement.....it was awesome! Handling was out of this world as you'd expect of a highly fettled with chassis, but also without doing anything other than putting fuel in it, it just went round and round all weekend!!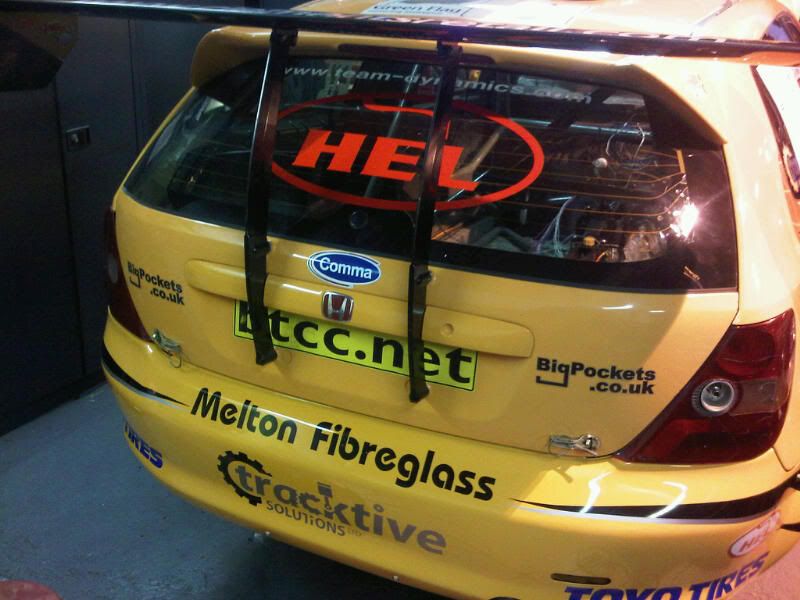 SO, lets cut to the chase. We decided to stick with Honda after that experience, and do something not yet been done in the UK Time Attack Series. An S2000. The car will be built throughout 2011, tested in early 2012, and run in the 2012 TA Series. The build will be documented on here, and in the new Total Honda magazine, which comes out in early 2011, where a full write up of the progress on the car will be made.
We havent wasted any time with it anyway....
Bare S2000 shell arrives TODAY. Thanks to
[email protected]
for sourcing for us. Full roll cage and seam welding first on the list.
Updates to follow!
11-02-2010, 05:27 AM
Registered User
Join Date: Mar 2009
Location: Miami, FL
Posts: 1,077
Thanks: 0
Thanked 0 Times in 0 Posts
---
Sweet... Can't wait to see what you do with it. The S2000 is a very capable chassis to start out with.
11-02-2010, 05:41 AM
UK Trader
Join Date: Oct 2010
Posts: 740
Thanks: 0
Thanked 0 Times in 0 Posts
---
Shell is already booked in this morning for full seam welding and completely custom rollcage and chassis strengthening work, should be back with us again by the end of the month
Its not even arrived here yet!!!
11-02-2010, 06:24 AM
Registered User
Join Date: Oct 2007
Location: Washington DC
Posts: 484
Thanks: 0
Thanked 0 Times in 0 Posts
---
Good luck with the build! Sounds like it'll be awesome.
I have gotten your brake lines for each of my motorcycles, and you guys just went up a few more points in my book with choosing the S2000!
11-02-2010, 08:00 AM
UK Trader
Join Date: Oct 2010
Posts: 740
Thanks: 0
Thanked 0 Times in 0 Posts
---
Project 2011/2012 has landed!
Not much to look at but a good place to refer back to when its progressing next year to see how far its gone!
First impressions - LOTS of unneccessary weight to get out of the shell, I can see the angle grinder coming in very handy this month!
11-02-2010, 08:28 AM
Join Date: Sep 2007
Location: SW London
Posts: 3,708
Thanks: 0
---
Hel, 99.9% percent of all UK S2000s are Silverstone, I think they paint them with extra Lead flake because they are always the slowest.

I hope your going to come up with a nice alternative colour scheme for your project.
11-02-2010, 09:06 AM
Member
Join Date: Sep 2010
Location: London, UK
Posts: 387
Thanks: 0
Thanked 0 Times in 0 Posts
---
Subscribed, a huge fan of TA (almost competing in the club class last year with my EP3). Cant wait to see an S2000 compete, if you ever fancy some photographs done of it over the next year feel free to drop me a PM!
Thread
Thread Starter
Forum
Replies
Last Post
Posting Rules
You may not post new threads
You may not post replies
You may not post attachments
You may not edit your posts
---
HTML code is Off
---