Semi-part out
01-15-2012, 12:34 AM
Semi-part out
---
Local have priority!!!! Make me an offer on whats left!!

3 autometer digital gauges (oil pressure, coolant temp, oil temp) in custom radio location ($150)
Oil pressure and oil temp sensor ($100)
AEM boost solenoid ($90 new) $80 ->$70
v tech block off bolt $3
greddy turbo timer $50
ziptech O2 simulator $35
OEM battery -$40


4 blue rays valve stems $35 (new, came with my rays rims)sold
Autometer tach and shift light $120 sold
hasport 70A polyurethane diff mounts (Used for 200 miles) $sold
turbo back 3 inch stainless exhaust
---RAYS 57 motorsports G07WT rims. Sold
FB radiator wih slim fan $sold
SOS 60mm pillar gauge pod with autometer boost gauge
speed factory 3 bar map ($90 new) $80 ->$70 sold!!
Inline pro's 800hp intercooler (24/10.25/3.5 core) (700 new) ($550)->$450 >$420 SOLD!
aem ECU 1052u ($1000)($830)
aem wideband SOLD!
oil relocation (greddy/canton/ with custom -10 nylon lines) ($250) $200 sold
ID 1000cc inj ($460 new) sold
love fab gt-1 turbo manifold (T4) sold
3 inch stainless downpipe with flex section and v band (heat wrapped) sold
tial BOV ($230 new) sold
4 inch intake sold
tial 44mm wastegate ($360 new) sold
stainless dump pipe (v band) sold
PTE6262JB turbo .68 A/R (T4) ($899 new) sold
Custom aluminum chargepipes sold
4 inch exhaust piping with v band- SOLD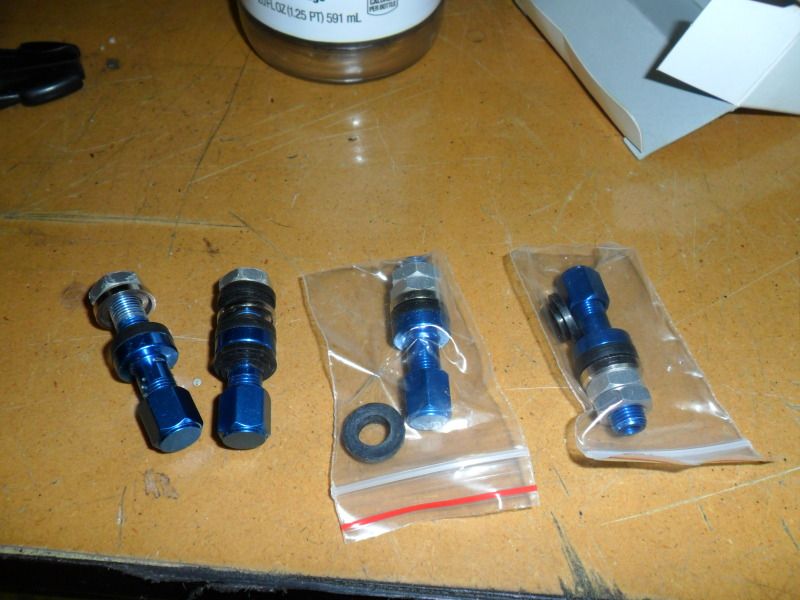 02-02-2012, 09:51 AM
---
Parts still for sale
02-21-2012, 11:14 AM
Registered User
Join Date: Dec 2011
Location: Libertyville
Posts: 231
Thanks: 0
Thanked 0 Times in 0 Posts
---
Will u do 30 on the center console
02-21-2012, 03:24 PM
Registered User
Join Date: Aug 2008
Location: Madison, Wisconsin
Posts: 3,093
Thanks: 0
Thanked 0 Times in 0 Posts
---
Interested in the console as well.

Got pics of the scuffs?
02-21-2012, 04:09 PM
---
The scuff's are in that picture. They are small and hard to see, but they are under the hazard and roof switch on the plastic.

Pm'd both about console.
03-03-2012, 08:41 PM
---
More parts added i found in storage! message me for pics
03-11-2012, 08:57 PM
03-20-2012, 04:49 PM
04-09-2012, 03:39 PM
---
Bump! Parts still for sale!!! Make your car faster this summer!
Posting Rules
You may not post new threads
You may not post replies
You may not post attachments
You may not edit your posts
---
HTML code is Off
---