pcm revision numbers?
06-10-2019, 01:54 PM
Registered User
Join Date: Jun 2019
Posts: 2
Likes: 0
Received 0 Likes on 0 Posts
pcm revision numbers?
---
im having trouble finding out which pcm revision number is correct for my s2000

I purchased a 2005 honda S200 convertible with an aftermarket programmable AEM ecu.i have to revert back to a factory ecm to pass smog inpection, but. . . .
I do not have the original ECM. recently i purchased an ECM out of a similar make and model with the part number 37820-PZX-04. i paid to have it programmed but afterward the check engine light would set for o2 sensor heater upstream. while checking i found out that the ECM wasn't grounding the heater circuit when it clearly was grounding the one for the downstream O2 sensor.
so while searching for another replacement ECM i found that only 37820-PZX-05-A is available. the only difference being the 05 at the end. from what i understand it is just the version code. im wondering if the ECM i bought has a bad circuit on the inside or because of the version code may have a different pin out. evrrywhere i look i find that the ecm ending in 05-A is the number that supercedes all others. Finding someone that can reprogram the key is no problem i just need someone that knows if the 05-A version code ecm willl work. i dont want to end up with an auto transmission ecu or something. please help thanks

again i have a 2005 Honda S2000 Convertible 6spd manual with an F22C1
06-11-2019, 05:53 AM
---
According to Google and Hondapartsnow
37820-PZX-
A05
(not 05-A) is the part number for the 2004-2005 ECU. But... I see several different revision numbers listed on Ebay for "2005" cars including A04. Have no idea if Honda made a mid year part change. And A05 may indeed be the replacement for A04.
My basic familiarity with Honda part numbers indicates that
37820
is the general code for a ECU.
PZX
is more specific to the S2000.
A05
is the revision number -- in this case 2004-2005. Without crawling under the dashboard I believe my 2006 ECU is 37820-PZX-
A14.
Since my 2006 is DBW it won't work in your2005 car.
Part number should show on the unit as in this sample: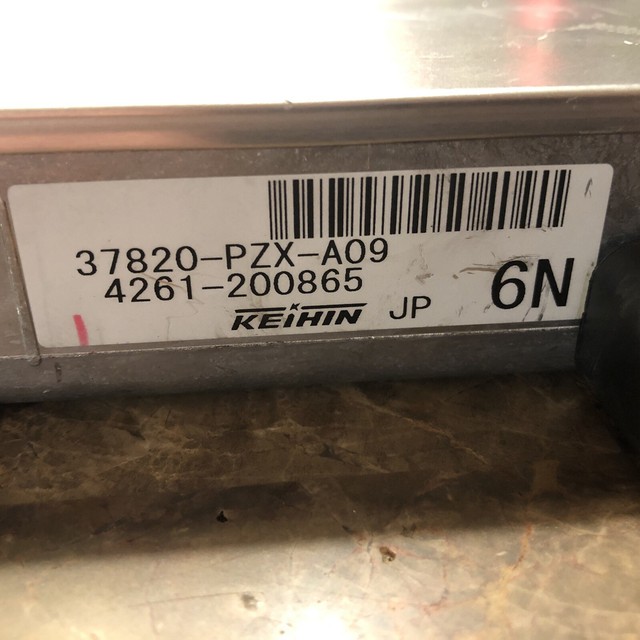 -- Chuck
---
Last edited by Chuck S; 06-11-2019 at

06:04 AM

.
06-12-2019, 04:47 PM
Registered User
Join Date: Jun 2019
Posts: 2
Likes: 0
Received 0 Likes on 0 Posts
---
yeah, sorry about the A04 thing yes the A comes first. Im just wondering when i did a reverse lookup it does come as A04 not A05. Im wondering if tha'ts the year for revision or something. Like i said i didnt have an original ecm so i dont know what came in it and looking it up and calling dismantlers has led me to the A04 variant. but now the ECM not switching the front o2 sensor heater makes me wonder if its becausde of the variation. i also came across something wierd was with the O2 sensors. The post Cat o2 sensor ohms measurement is at 14 whereas the precat one is less than 4. im stumped in wondering if the ohms measurment is keeping it from even attempting. the only option ive seen is hack the connector and use up a post cat and see if it starts switching. im going to order an A05 variant and see if it was just a bunk ecm i ordered.
06-13-2019, 01:25 AM
---
Your O2 sensor heater resistances are correct. Pre-cat should be around 3 ohms and post-cat should be around 13 ohms. The post-cat heater needs to be a lot beefier in order to get the sensor to the same operating temp as the pre-cat sensor, since it's further down the exhaust and therefore in a colder location.
06-13-2019, 02:57 AM
---
It appears the part number was upgraded some time in the past 14 years as -A05 shows up in available NOS (new old stock) parts lists by the major suppliers and -A04 ans -A05 show up in the used market. If PZX is in the part number it's a S2000 part.

-- Chuck
Thread
Thread Starter
Forum
Replies
Last Post