PTUNING S2000 turbo system re-release
03-16-2017, 06:32 AM
Sponsor
PTUNING S2000 turbo system re-release
---
PTUNING S2000 Turbocharger System Re-Release For those that are unaware, PTUNING released an S2000 Turbo System 7 years ago, but stopped production just a few years back to focus on kits for some newer cars. Demand for our turbo system has grown since our last one sold. We at PTUNING would like to re-release our famous track-ready turbocharger system. This kit was originally released in 2010, and the thread for its release can be found here (
https://www.s2ki.com/forums/s2000-fo...ricing-788561/
)
http://www.ptuning.com/subdir/searchresult.cfm?cmbCategory=forced&cmbSubCategory =turbok&MakeModel=s2000&Brand=per
We're looking to put together a group buy. Starting at $6,145 and with 10 pre-paid orders, we'll deduct $400 off the price of a full kit. Don't want a full kit? No problem! We'll sell the kit without an intercooler system for $1,070 less, perfect for people who want to do a V-mount system or retain/fabricate their own front mount intercooler, and deduct $250 off of that option.
Here is a quick rundown of some of the main design criteria for our turbo system:
- The kit is basically unchanged except the addition of a heat shield for the motor mount.
- No frame or sheet metal bending, massaging, grinding, notching, painting, etc. required for installation.
- No need to relocate the battery, fuse box, A/C lines, EPS module, or oil filter. In fact, you will not even need to move or rotate the factory heater control valve or water line.
- No need to tap the oil pan or girdle or weld on any return fittings for the turbo oil return line.
- No need for extra, unsightly heat wrap or heat shielding covers in the engine compartment.
Key design features:
Benefits of the low, bottom-mounted turbo location:
- The turbocharger is situated low and further back in the chassis for better weight distribution and handling.
- The turbo manifold design keeps the hot exhaust runners, down pipe, and turbine housing low to reduce excessive engine bay heat.
- The design also prevents any unnecessary heat soak to the oil filter (factory location).
- Another very important aspect of the low mount design is that it allows us to develop an EXTREMELY high flowing 3" downpipe with only two, VERY low angle bends. This, among other design aspects, greatly contributes to the very quick turbo spool-up and high overall power output.
Turbo Manifold design:
- True Equal Length Design (all runner lengths are within ~ 5/8" of each other).
- Very smooth flowing runner design with gentle radius bends and minimal directional changes. (no tight radius welds were harmed in the production of this manifold).
- The full T304 SS construction (including even the CNC-machined head flange) creates what is essentially a rust-free manifold.
- True, symmetrical merge collector (this is not a mini-me style collector).
Down Pipe design:
- V-band inlet, v-band outlet, all v-band wastegate connections (Incl. recirc tube) and all constructed from T304 SS.
- Our down pipe will have provisions for an optional re-circulating wastegate dump tube for those looking for a stealthier set-up. A DTA set-up will be standard.
- The optional re-circulating dump tube will have a properly designed, long-tube, low-angle merge collector downstream of the down pipe.
Turbo Oil Scavenging System:- The external oil scavenging pump used with our turbo system eliminates the need to modify the girdle or oil pan for a turbo oil return line.
- It will integrate with our optional engine oil cooling system
- No need to debate whether to tap the pan or the girdle.- In our opinion, tapping the girdle is too much of a PITA for the average enthusiast. The oil pan is too thin for just a tapped fitting and welding a fitting onto a very old oil-penetrated S2000 oil pan (even when properly prepped) can sometimes have mixed results.
- The oil scavenging system will theoretically allow you to drive your S2000 upside-down without any turbo oil draining issues (of course we know this is not possible).- You can basically go around an off-camber, left hand circle all day long with full slicks and not have to worry about the turbo oil return backing up with oil.
- The turbo oil-scavenging pump we use is a very high-end and quiet spur-gear pump (not a diaphragm pump). It is designed specifically for scavenging hot oil. It uses internal components (brushes and high precision bearings) that are selected to provide 10,000+ hours of service (For example, if you drive your s2000 an hour a day, everyday, you can still expect over 27+ years of service).
Here is a full price point break down (not guaranteed to be re-release unless we have at least 10 committed):
Option 1
Tuner kit
(complete but no fueling or tuning option – that is sold separately. $400 off group buy pricing):
http://www.ptuning.com/subdir/searchresult.cfm?cmbCategory=forced&cmbSubCategory =turbok&MakeModel=s2000&Brand=per
· $6145 = w/ GT3076R
· $6445 = w/ GTX3076R (Gen 2 available, same price)
· $6245 = w/ GT3582R
· $6845 = w/ GTX3576R (Gen 2 available, same price)
· $6845 = w/ GTX3582R (Gen 2 available, same price)
More info on the Garrett GTX Gen2 turbos:
http://atpturbo.com/info/garrettgen2gtx.html
+$0 = polish IC pipes
+$180 = Red or Black IC pipes
Option 2 Tuner kit
(minus Front mount intercooler kit- for those who are going with a v-mount setup or their own FMIC, $250 off group buy pricing)· Same as Option 1 but no front mount intercooler setup, hardware, piping, BOV, Spal fan, etc.)· Deduct $1070 from price of Option 1 (depending on turbo option)
Here is a list of other Ptuning S2000 products to accommodate the turbo kit, these pieces can be added to option 1 and option 2 listed above:
Ptuning oil cooler system
Ptuning recirculation dumptube
Ptuning vacuum manifold kit
Ptuning oil distribution kit
For those who like to read up on the details, he is an itemized list for the full kit:
PTUNING Billet Aluminum Motor Mount Assembly
PTUNING Heat shield to protect engine mount
PTUNING Turbo oil Scavenging Pump System (includes all oil lines, fittings, relay, and PnP wiring harness)
PTUNING Equal Length V-Band Turbo Manifold (full T304 stainless steel)
Garrett GT(X)3076R Ball Bearing Turbo with Tial SS V-Band Turbine Housing .82AR
PTUNING 3" T304 SS V-band downpipe
PTUNING turbo manifold T304SS heat shield
Turbo GT oil restrictor, feed, and coolant lines
Turbosmart Hyper-Gate 45mm WG
Turbosmart Race-Port 50mm BOV
PTUNING 2.5"-2.75" polished aluminum IC piping w/ integrated vacuum block, WMI bung and DBW AIT bung
PTUNING 4" intake tube with AEM Dryflow air filter (integrated 3/8" NPT fitting for valve cover breather or oil catch can)
PTUNING hardware installation kit
SPAL 16" HP radiator fan w/ brackets (*optional bracket available for Koyo radiator)
PTUNING SPAL Fan relay kit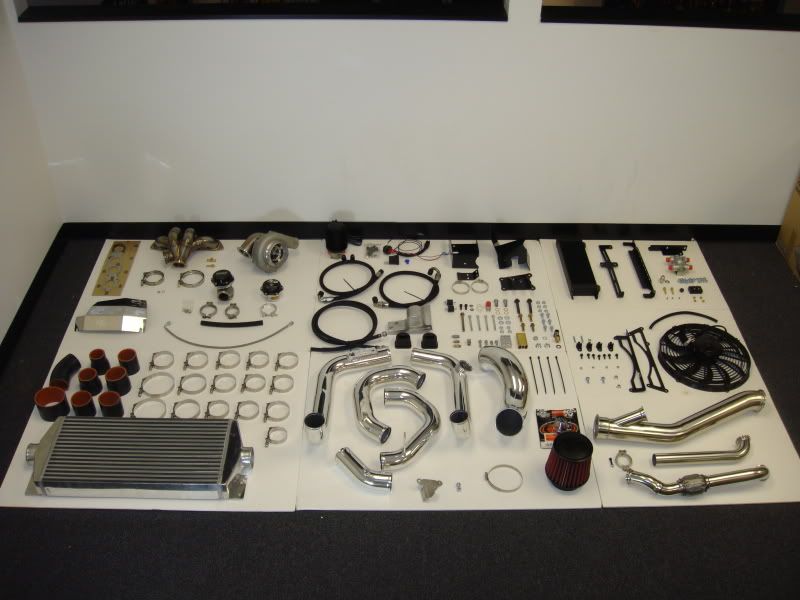 Potential Group Buy List:
RAIN H8R - option 1
DEPOSIT PAID!
Janus00 - option 1
Rmerchant3 - option 1
DEPOSIT PAID!
Soulicious - option 1
DEPOSIT PAID!
Sirbikealot - option 2
DEPOSIT PAID!
Duhelo - manifold only
DEPOSIT PAID!
TougeFactory - option 3
Foertmeyer - option 1
TwinS2k12 - option 2
DEPOSIT PAID!
Ap1carson - option 1
Ludeboye1 - option 1
DEPOSIT PAID!
RollCage - option 2
DEPOSIT PAID!
Moody91180 - option ?
Fourstar91 - option 1
DEPOSIT PAID!
S2000442 - option 1
DEPOSIT PAID!
Memo6453 - option 1
DEPOSIT PAID!
Zerocharmer - option 1
DEPOSIT PAID!
Ivanaguilar - option 1
Visionxboy - option 2
DEPOSIT PAID!
Maybes:
Redline S2K - option 3
Lex - option ?
Laxhero2 - option ?
Please PM or email me if interested!
Freddy
phone: 703-257-1728
email:
[email protected]
---
Last edited by Ptuning; 10-20-2017 at

07:12 AM

.
03-16-2017, 06:36 AM
---
Put me on the list.

Glad this is finally happening! I passed on this kit many years ago and have regretted it ever since. I'm very happy to get a second chance to buy this new. I have a strong feeling this kit will hold its value very well in years to come, just like the Horsepower Freaks turbo kit for the BMW E46 M3.
---
Last edited by RAIN H8R; 03-16-2017 at

07:24 AM

.
03-16-2017, 06:45 AM
Sponsor
---
03-16-2017, 08:01 AM
---
I have installed and run several of these kits and can confidently say it is the best engineered and most complete. Coupled with the catback it makes one my all time favorite street cars! Glad to see you bringing it back!
03-16-2017, 06:05 PM
---
Do you offer an option to upgrade the turbo water coolant lines from rubber to stainless. That was my only real gripe with the kit. Heat from turbo will cause premature leaks from these lines.
03-16-2017, 06:35 PM
03-17-2017, 05:46 AM
Community Organizer
Join Date: Jul 2014
Location: Fort Walton Beach, FL
Posts: 2,631
Likes: 0
---